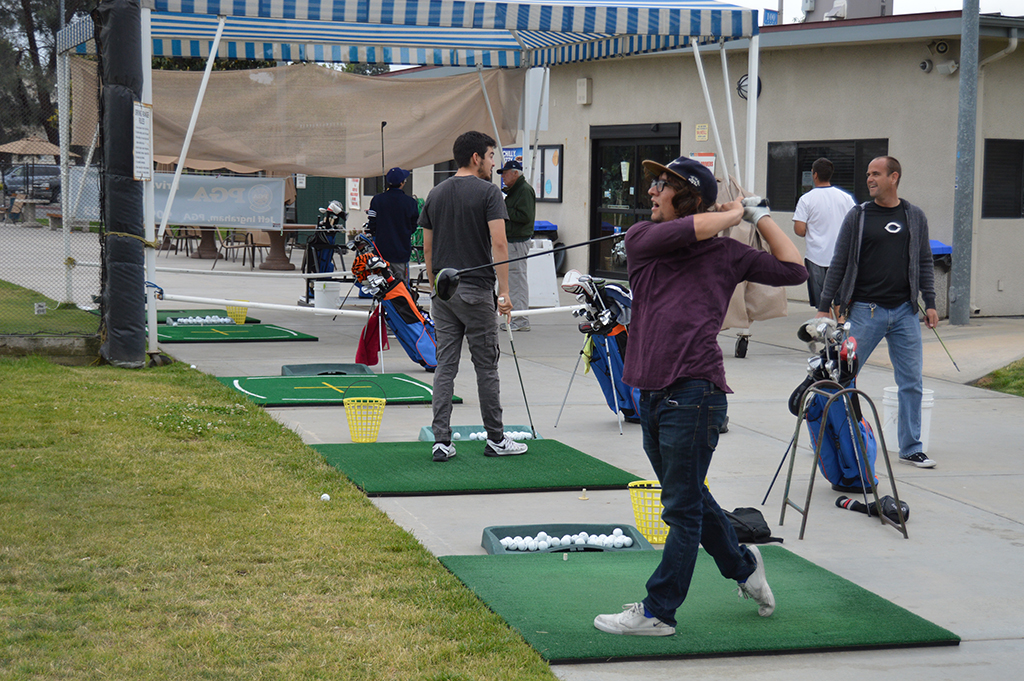 ---
Growing up in "show business" is rough for most child stars acting in Hollywood.
Before finishing elementary school, child actors are expected to be mature working professionals who can deliver to the camera.
At four years old, John Gaynor, began his acting career as J.B. Gaynor. Now a 24-year-old sophomore, he is a leading member of the men's golf team at Citrus. He tells how the fast pace world of a young performer shaped his easygoing outlook on life.
Gaynor remembers at a young age wanting to follow in his sister Jennifer Gaynor's footsteps in becoming an actor.
"My sister was in [the business] first," Gaynor said. "She was in a bunch of commercials."
Gaynor recalls landing his first acting job for toothpaste commercial that involved him kissing a girl at 5-years-old. After his first gig, Gaynor quickly began auditioning for bigger roles and landed guest appearances on various hit television shows like "Frasier," "Party of Five" and "Buffy the Vampire Slayer."
In spite of a full schedule every week, "He never called it work, he called it fun," said Mary Gaynor, John's mother.
At 9-years-old, Gaynor played the recurring role of Tommy on "Boy Meets World." The role had a special significance to the Gaynor family with John's sister guest starring in "The Wonder Years" with Fred Savage, then later Gaynor worked with Fred Savage's younger brother Ben Savage in "Boy Meets World."
For his performance as Tommy, Gaynor received a Young Artist Award in 2000 for Best Guest Star Performance in a TV Comedy Series.
In later years, Gaynor continued to star in well-known TV comedies such as "George Lopez Show" and "Grounded For Life."
"Being on set was amazing," said Gaynor.  "I would honestly talk to everyone wanting to know what they are doing."
During down time on the "Grounded For Life" set, Gaynor recalls running into popular celebrities and being star struck.
Mila Kunis at that time was receiving lots of attention for her role within the industry. At the time he could not believe Kunis recognized him as a young developing actor.
"We were right next to the set of 'That 70s Show'. The first time I met Mila Kunis, she came up to me and was like, you are the little kid from 'Boy Meets World," Gaynor said.
Auditions are essential to an actor's career. A casting agent's feedback can be brutal, making an undesirable experienced even worse.
"I've cried in an audition before. I have gotten really down on myself," said Gaynor. "You just have to know they are just giving you advice. You have thousands of auditions where you are told no, then have that one big break where everything changes."
Seeing how other parents would "parent or manage" their kids, Mary Gaynor, knew she needed to be supportive and allow John to be a kid. Some parents and crewmembers either at auditions or on set view everything as a competition as well as an opportunity.
"They are not there for your child. You have to be there for your child," Mary Gaynor said.
Mary Gaynor encouraged John to "go have fun" and be "generous with other kids." She would plan outings to theme parks or dinners with other supportive parents. Even with a packed schedule, she wanted to create a healthy work and fun balance for John and his fellow acting peers.
"She is a work-aholic," said Gaynor. "She was the glue that stuck me together."
In his down time, Gaynor on his days off from set would go out golfing with his father.
"I was like 10 years old," said Gaynor. "I was on an actual golf course, my dad took me out [golfing] right away. I started playing and fell in love with it."
Although he had interests in other sports, Gaynor's childhood hobby has turned into his new passion. Besides practicing everyday at the Citrus Range, John also works at El Prado Golf Course during the summer.
Coming back from being red shirted last season for an arm injury, Gaynor's head coach Julian Horton looks to him as a team leader.
"John is one of the returners on a very young team this year," said Horton. "He has done a good job keeping [them] together."
Horton, five seasons with men's golf, values Gaynor's outgoing and accepting presence.
"Being in that lifestyle, he matured a lot faster than most people," said Horton. "He doesn't judge quickly."
"With all these kids, I try to make friends for life, and John will be my friend for life."
After Citrus, Gaynor is considering transferring to Cal State Northridge.
Although Gaynor has taken time away from acting, he still has plans to return to the business.
"I have been in front of a camera my whole life. I still have a lot of friends in the business I still keep in touch with," said Gaynor. "I still have my agent now. I am probably going to get back into it."
From his experiences in show business, Gaynor has developed thick skin to the fear of failing.
"You just have to keep pushing. You might get a door closed in your face. But there is another door there wide open," Gaynor said.
---
---