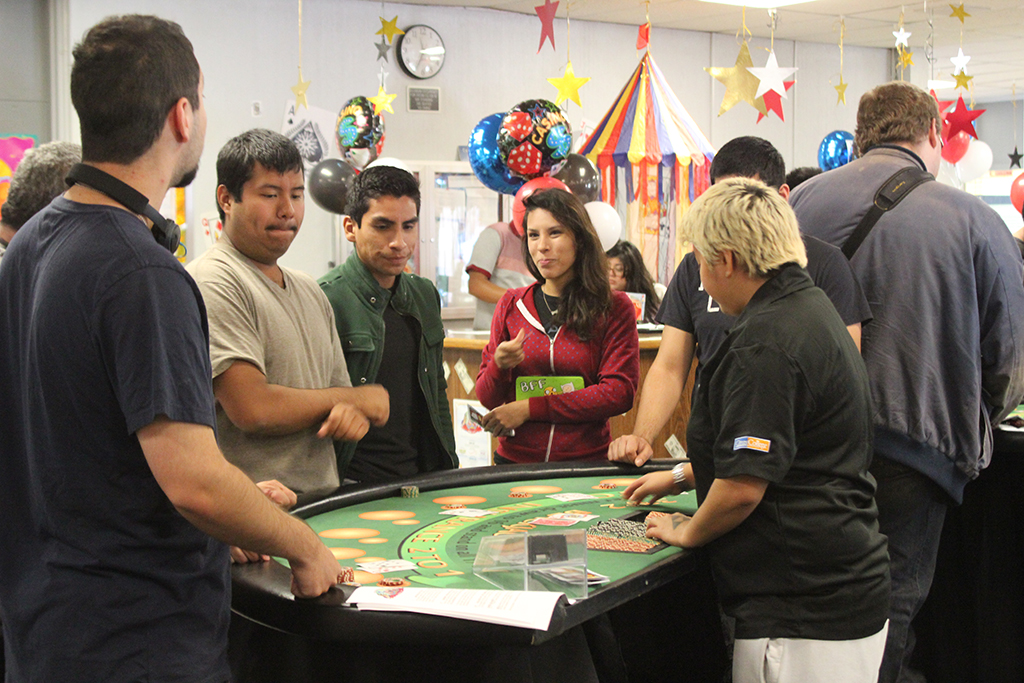 ---
If you do not already have your spring 2015 ASCC sticker on your ID card, you may want to grab it for the 25th Annual Springfest.
The Associated Students of Citrus College will be hosted the 25th annual Springfest Carnival May 4 through May 7 to give students a break from their daily routine and studies.
"Springfest gives students a chance to unwind," said Sara Acevedo, ASCC commissioner of activities. "We decided to keep the Carnival theme because students enjoyed it so much."
Casino Day kicked off Springfest 2015 on May 4 at the Campus Center from 11 a.m. to 3 p.m. where the grand prize winner [currently unknown] won a Samsung Galaxy Tablet.
With an ASCC sticker, students could participate in blackjack, roulette or craps and had chances to win countless other prizes that day.
Rick Smith, a business major at Citrus, was testing his luck at the craps table to prepare himself for his next trip to Vegas.
"Any student who does not take advantage of this opportunity is missing out," Smith said. "Especially with finals coming up it is a good way to relax."
Thomas Galapin, a math, physics and bio-studies student, was on his way to the Craps table after winning $400 in chips at the Roulette table.
"I am just looking to relax and make some money out of it," Galapin said. "I am having a great time at Casino Day."
May 5 brought in comedians from "Wise Guys Comedy," a touring comedy company who provided lot of laughs for all students as they performed their  "in-your-face" style of comedy.
One of the comedians is a current Citrus student while the other is a Citrus alumnus.
"They approached us with the idea to do a comedy show," said Acevedo. "They are hilarious and really nice guys."
The second day of Springfest is also dubbed "Costume Day" where club members in costume will played musical chairs, ran a three-legged-race and had a water balloon toss.
Springfest 2015 Club Day is set for May 6 at 10 a.m. where there will be more club competitions, food sales and music at the Campus Center Mall.
An obstacle course and scavenger hunt will take place May 6 as well and Inter-Club Council will be selling soda and water to help raise money for the clubs.
Carnival Day will bring festivities to a spectacular end on May 7 at the Campus Center Mall from 10 a.m. to 2 p.m.
At 1 p.m. students can participate in a lip sync competition and a booth-decorating contest will take place next to the Owl fountain from 10 a.m. to 2 p.m.
Food vouchers cost $3 and the ASCC have scheduled Longboards Ice Cream Truck, Pennsylvania Dutch Funnel Cakes and other vendors to feed students.
The high striker, the gyroscope and inflatable twister are only some of the attractions that students have access to at the Carnival.
Food will be provided for as long as supplies last. Students can purchase food with cash only.
To enter the carnival, participate in the majority of events or to access the food vouchers, all students must have their ASCC Spring 2015 stickers on their student IDs.
Students can receive IDs at the Hayden Memorial Library and Spring 2015 stickers can be picked up at the Student Services building at the cashier's window with proper identification.
"It's very important for students to feel a sense of belonging to their campus," said Adrienne Thompson, the student life supervisor. "It's a purely fun event to engage students to keep them going those last few weeks of school."
---
---