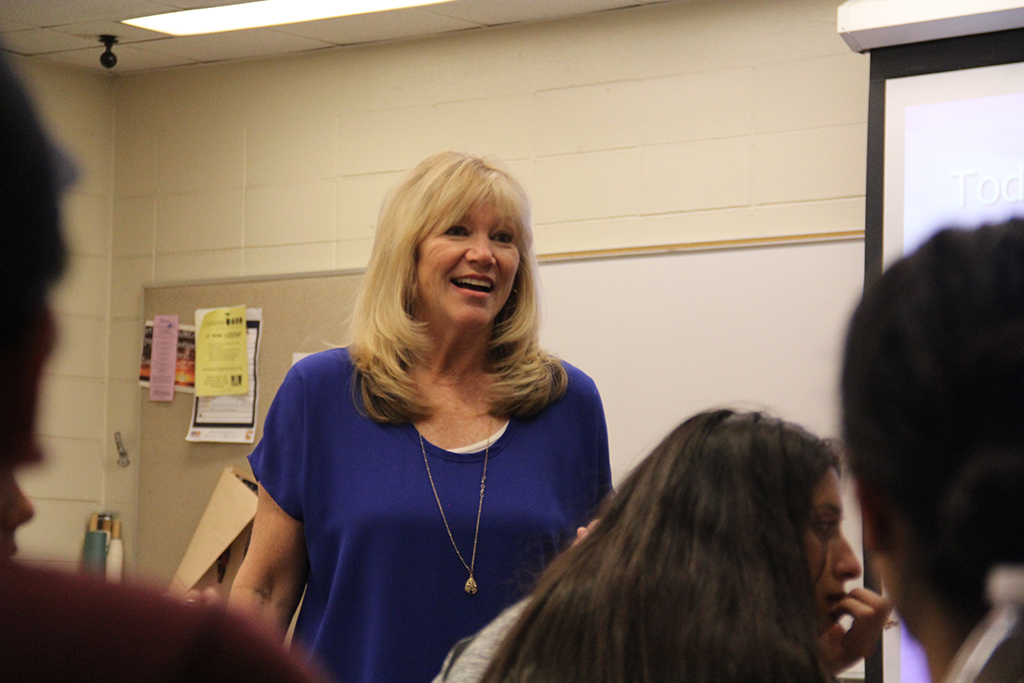 ---
Like most students, professor Carolyn Perry, 61, was once unsure of what she wanted to do in life, but in 1997, she discovered her pathway.
Returning to school in 1990 with the intent of renewing her teaching credentials for elementary school, Perry was guided by one of her professors to pursue a career in teaching at the college level.
Perry took interest in this idea and her curiosity grew exponentially. That curiosity brought her to Citrus College in 1997 as a professor of human development.
"I transitioned from teaching kids into teaching adults, and I realized adults are not that scary," Perry said. "It's hard to believe that I've been here for so long… I thought I'd be here for maybe 10 years."
On June 13, at the end of the 2015 spring semester, Carolyn Perry will retire from Citrus College after 18 years of educating young adult minds.
Upon her retirement, Perry plans to go on a mission for the Church of Jesus Christ of Latter-day Saints, and travel the world to such destinations as Tahiti, Europe, China, and Australia. Perry's new life goal is to learn Spanish, but above all else there is one thing she wants more than anything, she wants to spend time with all 11 of her grandchildren.
To the everyday eye, Perry is just another professor of human development. But little do they know that when Perry was first hired at Citrus, she quickly established new frontiers within the Citrus College curriculum.
Perry is not only a professor of human development, but also the founder of the honors transfer program at Citrus.
"When I first got here, we did not have an honors program, and…I just felt motivated," she said. "We had a lot of programs to help struggling students and students with disabilities, but we didn't have anything to recognize outstanding students," Perry said.
"It really took about three years to get [the honors program] up and going, and to get it established and accepted by our instructional program all the way through the board of trustees… and along with that came the Phi Theta Kappa honor society," Perry said.
Professor Brian Waddington, the current honors program coordinator, has worked with the honors program for 11 years and he expressed appreciation for the work Perry did to create such an exceptional program.
"I am truly in awe of Carolyn and what she has done for our college and our students," Waddington expressed. "I've been very lucky to see how many lives the honors transfer program has touched in positive ways and that all came from Carolyn Perry."
In addition to being the founder of the honors transfer program, Perry was also the head coordinator of the teacher prep program; a program designed for students who are interested in teaching K-12.
Perry recalls that when she first tackled this new challenge she met with the deans of Citrus and discussed the need for classes that would prepare students to enter teacher prep programs when they transferred to universities. That involved writing the curriculum for classes, recruiting faculty to teach the classes, and bringing together various campus support services for the good of the students.
What Citrus – and Perry – ultimately achieved was an outstanding teacher prep program geared toward the UC and Cal State system.
Shelley Hahn, a professor of human development at Citrus, describes Perry as, "someone who takes initiative to get things done… she's a big catalyst for change. She has always been involved in helping to create change and movement on our campus."
In 2009, after being nominated by her friend and colleague Gailynn White the full-time faculty members of Citrus College recognized Perry's contributions and voted her as the Distinguished Faculty member of 2009.
White is a professor of sociology, and she was the first to nominate Perry because she believes that Perry has worked her fingers to the bone doing extraordinary things for the college, and because of all of her contributions she needed to be recognized.
"She started the honors program here for Citrus and has been instrumental in curriculum design," White said.
"She has the ability to see the big picture of the college. She's one of the best if not the best teacher here, and I'm really going to miss her when she leaves," she conveyed.
"Citrus has had a lot of students transfer to prestigious universities and win significant scholarships and other awards. Much of that success can be traced back to Carolyn Perry and her work," Waddington said.
Back in 2011, Yamato Kaneko, an alumnus of Citrus College, was awarded with the Citrus College Key of Knowledge; the highest academic honor granted by Citrus for achieving the highest overall academic performance at the college.
Now with a dream job at GREE, a global mobile social company with businesses that include gaming, advertising, and social media, Kaneko still attributes much of his success to the guidance of a wonderful individual.
"Professor Perry was my mentor when I was president of PTK at Citrus. She always gave me great advice on how to lead the team and aim high in my life. Without professor  Perry, I would never have transferred to UCLA, interned at Google, or become product manager of social games at GREE."
For Perry, that's what being a teacher was all about. It was not about facts or figures, it was not about the awards or recognition; it was about doing the absolute best for the students and watching them succeed.
"I wanted [students] to have that self-discovery, just that awareness of who they are to make them more informed about themselves to make them better decision makers," Perry said.
---
---