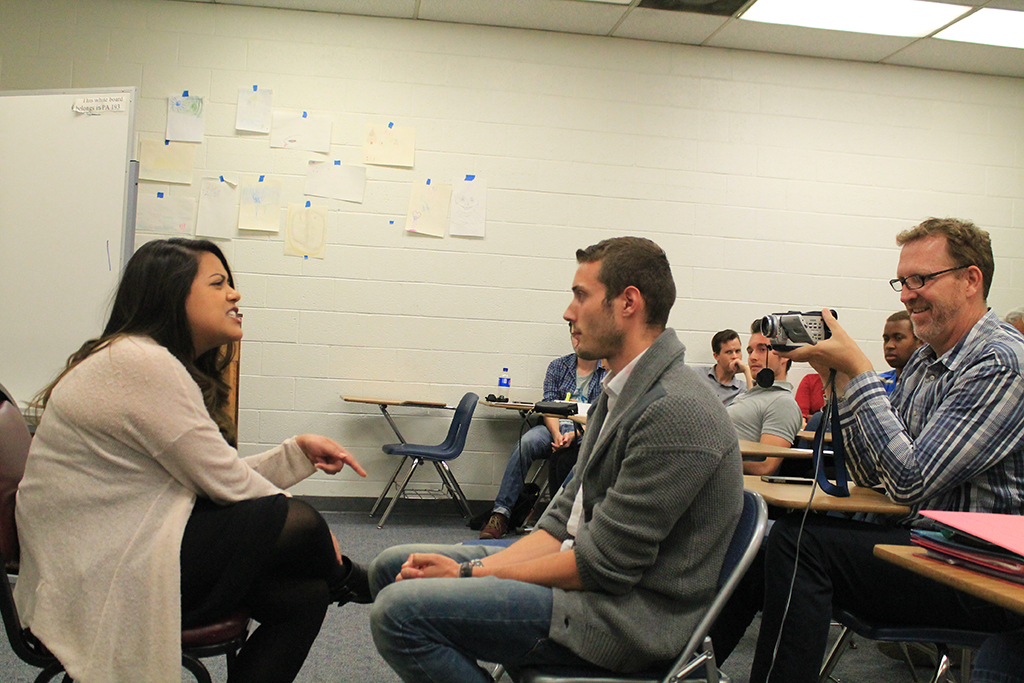 ---
Award-winning writer and director in film and theater, Neil Weiss, works a busy Hollywood lifestyle. But as an adjunct professor in the performing arts program, he has found fresh takes through his interactions with Citrus College students.
Weiss has earned credits as an independent film director and producer. He has worked in reality television, writing for crime series and freelancing scripts. Weiss has also worked on a feature film titled "The Hanged Man," various short films such as "Leah" and "Your Own Best Enemy," and produced documentaries, one of which, titled "A Small Act," which was nominated in 2011 for an Emmy and was sold to HBO.
He manages operations for Discovery Communications, an American global mass media and entertainment company that produces original television programming, in their Los Angeles offices.
Based in Silver Spring, Maryland, networks under Discovery Communications include The Discovery Channel, TLC, and the Oprah Winfrey Network.
Weiss is currently writing episodes for a television series titled "Discovery ID," a show in which various crimes are reenacted.
Weiss received his B.A. in Drama from the University of Houston and an MFA in Directing from UCLA School of Film and Television.
Weiss has no family ties to the entertainment industry, but he made connections while he was in Film School in L.A., where he got his foot in the door of the entertainment industry.
His breakthrough moment came when he was hired as an executive producer to write, direct and produce an indie feature "The Hanged Man", which gave him some legitimacy in the entertainment industry.
Weiss came to teach as an adjunct professor at Citrus College when program director Cherie L. Brown saw a play Weiss had directed and a few of his short films. Brown asked Weiss to direct a show at Citrus, which he accepted. After enjoying their collaboration, Brown asked Weiss to teach a class as an adjunct professor and he accepted, thus marking his beginning at Citrus College.
On Monday nights, Weiss teaches a stage and screenwriting course, where students write and edit screenwriting scripts and even act them out to practice their acting skills. On Wednesday nights, Weiss teaches camera acting courses, where students study scripts and act out scenes from plays and scripts in the classroom.
His brutally honest remarks are meant to help students learn and this straightforward approach establishes a strong connection between him and his students.
"Students these days have such a fear of being judged, of making a mistake, of doing something wrong, of getting a bad grade, and I try and remove all of those fears so that we can just connect honestly and start the work from that spot," he said.
"You have to be very honest with them, and very open to whatever, without judging, to whatever they're bringing to the table," he said.
Weiss looks for writing and acting that comes from the heart and is raw and real, and he finds it in the students he teaches.
Teaching is a huge help to his entertainment career. Interacting with students helps him keep everything in perspective and provides a refreshing take on reality, Weiss said. At Citrus, he can "play in the real world, as opposed to the constructed world of Hollywood," he said.
Executive producers, actors and other industry professionals have been guest speakers, eager to see what his classes are like.
Shawn Wagner, a 21-year old Chino Hills resident majoring in biology and enrolled in his camera acting class, said she enjoys his classes.
"I didn't know I was into screenwriting until I took his class," Wagner said.
"He's made me become a better person," she added. "He's helped me grow up a lot and has helped me through some tough times."
Dave Miranda, a 60-year old Covina resident with a master's degree in theology that is also enrolled in both his stage and screenwriting and camera acting classes, said Weiss is very direct and clear in his direction.
That is exactly why he likes him, Miranda said. Miranda is currently working on a crime drama screenplay that Weiss has helped him develop.
"For me, it's exactly what I want," Miranda says. "He doesn't let anybody get away with anything, not even me, and I like that."
Miranda said that Weiss has figured out where his strengths were and then encouraged him to work on something that makes him work on the weaknesses that he has and challenges them.
When he needs to clear his head, Weiss enjoys cycling. One of his rides was from San Francisco to Los Angeles, a 535-mile 7-day benefit to raise money for AIDs.
As he toggles back and forth between Hollywood and the classroom, Weiss says he finds Citrus to be full of real and grounded students, who keep his mind full of fresh perspectives and feed his creative life.
Weiss hopes his students will remember one special principle: "As long as you are passionate about your idea and connected to it, you can succeed, whether you're an actor or you're a writer."
---
---