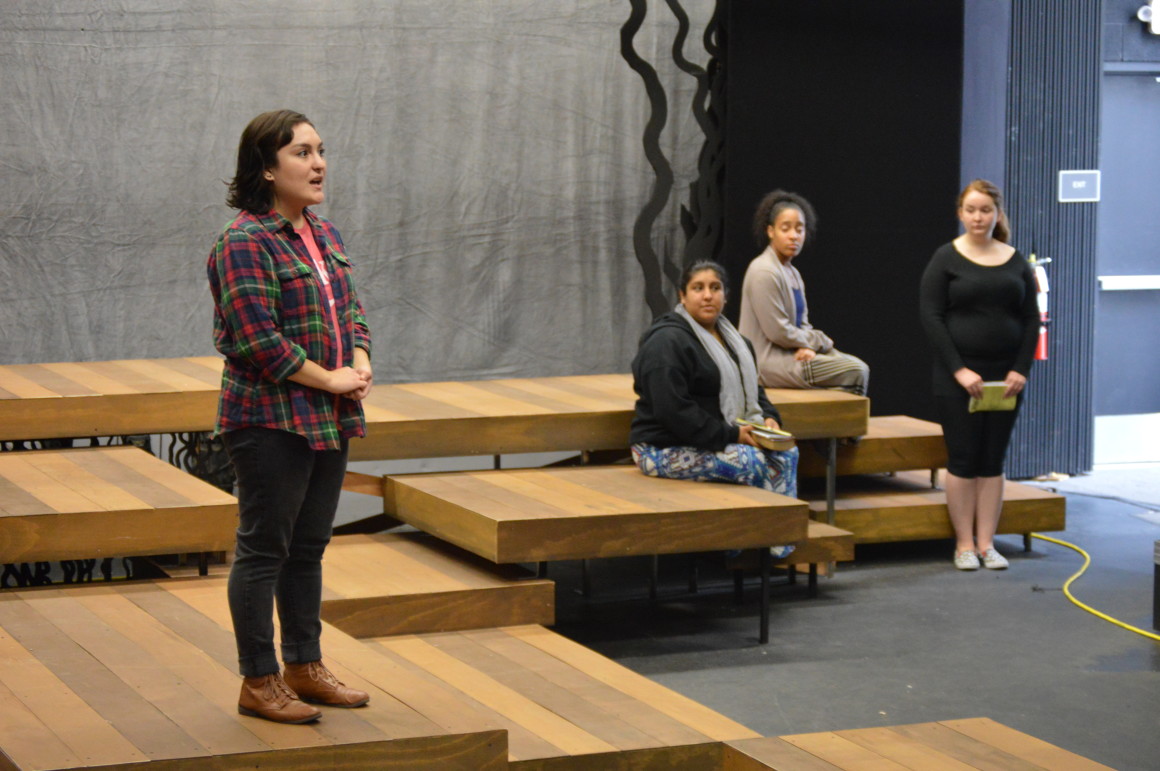 ---
When the owner of the cheese plant dies mysteriously in a hunting accident, Ruth, his bookkeeper, suspects murder and launches into a one-woman campaign to just see justice done.
Lanford Wilson, a Pulitzer Prize winning American playwright, is the author of "Book of Days," which opens in the Citrus College Little Theatre.
It is a comedic, yet tragic and emotional murder mystery that examines the dynamic characters that populate Dublin, Missouri. A small town in Chosen County, it features a cheese plant, a fundamentalist church and a community theater. These provide the backdrop for this modern production embodying aspects of Joan of Arc, who is seen through the character of Ruth Hoch played by Jade Yancoskey.
This murder mystery, in which propriety battles against the truth, opens May 29 at 8 p.m. in the Little Theatre. The play runs for two weekends.
Out of all the plays that director Cherie Brown could have chosen, she was especially drawn to this one. She thinks it's a piece of theater that challenges her actors and will make the audience think.
"I like to pick material that makes them rise to the occasion, and they are doing a great job," Brown said.
Directed by Brown, this uniquely crafted ensemble piece is performed in two acts, rather than different scenes. The play highlights the connectedness of the 12 characters' lives and how each relationship affects the way of life within their small town.
"This play is interesting because it takes place in such a small town and how one person's smallest action can really shake a lot of people up," Yancoskey said. "It's interesting to watch how people handle it and accept it and learn to move on and how other characters can't."
The old cheese manufacturer Walt Bates runs the town with his supportive and ultraconservative wife Sharon. They have a spoiled, unreliable, lawyer son, James. He is married to LouAnn to whom he is unfaithful. Bates employs the young couple Len and Ruth Hoch.
Ruth is the star of the production. Shaw's Saint Joan, which is being directed by Hollywood 'hot shot' Boyd Middleton, is staged at the local community theater. Boyd starts dating his assistant Ginger. Martha,Len Hoch's mother, has a concealed past and works as a professor at a Christian junior college. There is a sheriff, minister and another Bates employee Earl.
In the first act, all the characters appear normal, but in the second act when the Walt's traumatic death occurs, everyone's true personalities are revealed.
Deborah Daniels, Citrus alumni back as Dramaturge, a literary editor for the production, said that this play is bringing back what will closer resemble the idea of a guerilla theater, where the actors only have the stage to work with.
"There will be a great deal of tech but with a production like this, the work goes into character development and dynamic portrayal rather than simply relying on special effects," said Daniels.
"Book of Days" is an exciting Little Theatre production opening May 29 at 8p.m. with other shows on May 30 and 31 and June 5 and 6. Tickets may be purchased online and in the box office. Presale tickets are $12, student/senior $10. All tickets at the door are $15. The play includes mature subject matter.
---
---