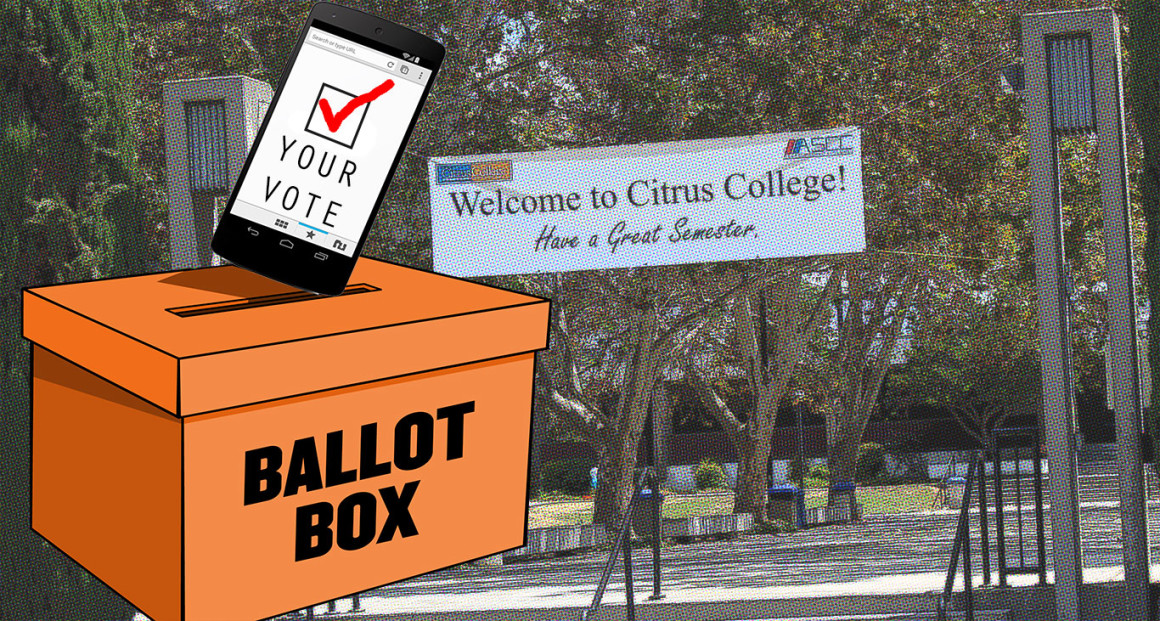 ---
With consistent low voter turnout at every  ASCC election, Citrus College needs to switch to electronic voting for their student body elections to increase voting accessibility for students.
Most students are only on campus for just as long as their classes require before leaving for home or work. Other students are specifically online study students who hardly step foot on campus unless its to meet with a professor. Finding a couple of minutes out of your day to stop by the Campus Center to submit a paper ballot is inconvenient when you can hardly find five minutes for yourself.
Allowing e-voting to be accessible from every computer on campus or by using your student ID on a website or program from off campus would provide more opportunities for students to vote.
Citrus is one of a few schools that does not participate in e-voting for their student body elections. Schools like Azusa Pacific University and Mt. San Antonio College use e-voting.  Mt.  SAC has used e-voting for approximately five years by encouraging students to check their 'portal,' the equivalent of our Wingspan.
According to ASCC, in the all 2014 election results only 113 ballots were cast out of 13,101 enrolled students. That means that approximately 12,988 students did not vote, did not know they could vote or simply did not care.
In their most recent student elections 627 Mt. SAC students voted in its last election. For the spring 2015's executive board at Citrus only 170 students voted for their student body government. 170 students out of 18,336 students voted for our current executive board.
Whether these numbers were due to an inability to be on campus to vote or a lack of interest, switching to e-voting can increase voter turn out and require more attention from students.
In the ASCC Election Code there is room for e-voting to make its way onto campus. Under Article IV, Polling Regulations. It is stated that "…when feasible, the physical on-campus election may be supplemented by electronic balloting, providing that the integrity of such balloting can be reasonably assured by the Director of Technology and computing Services and the Student Affairs Administrator."
'Reasonable assurance' is not much of a roadblock when it comes to taking action and finding an outside service or Citrus created program to provide e-voting for students.
Adrienne Thompson, the student sffairs sdministrator, has expressed her support of e-voting and has been making efforts to make it happen at Citrus.
Though she believes she can introduce e-voting by December of 2015, this is not a one-woman job.
What is standing in the way is student involvement. If students do not vote actively, there is no need to push for e-voting because it will not make any effect on the election results.  The lack of concern in students for who runs their student body government will only hinder Citrus College as well as hinder Thompson on her quest to provide accessible e-voting for students.
If you are a Citrus College student who has paid for their student service fee but has not voted for their student body government, you are throwing away your money each semester.
The fee only costs students $15 and it is lumped in as part of your fees when you enroll.
ASCC is responsible for using this money to plan social and educational events on your behalf as well as represent the student body in campus-wide committees to make important decisions on student education.
Let your money work for you by voting to ensure that your student leaders are accurately representing you. ASCC will be holding elections for their executive board on June 3 and 4 from 9:30 a.m. to 8 p.m.
Voting for your student body government is vital to your experiences at Citrus College and it is time Citrus made it easier to vote.
---
---