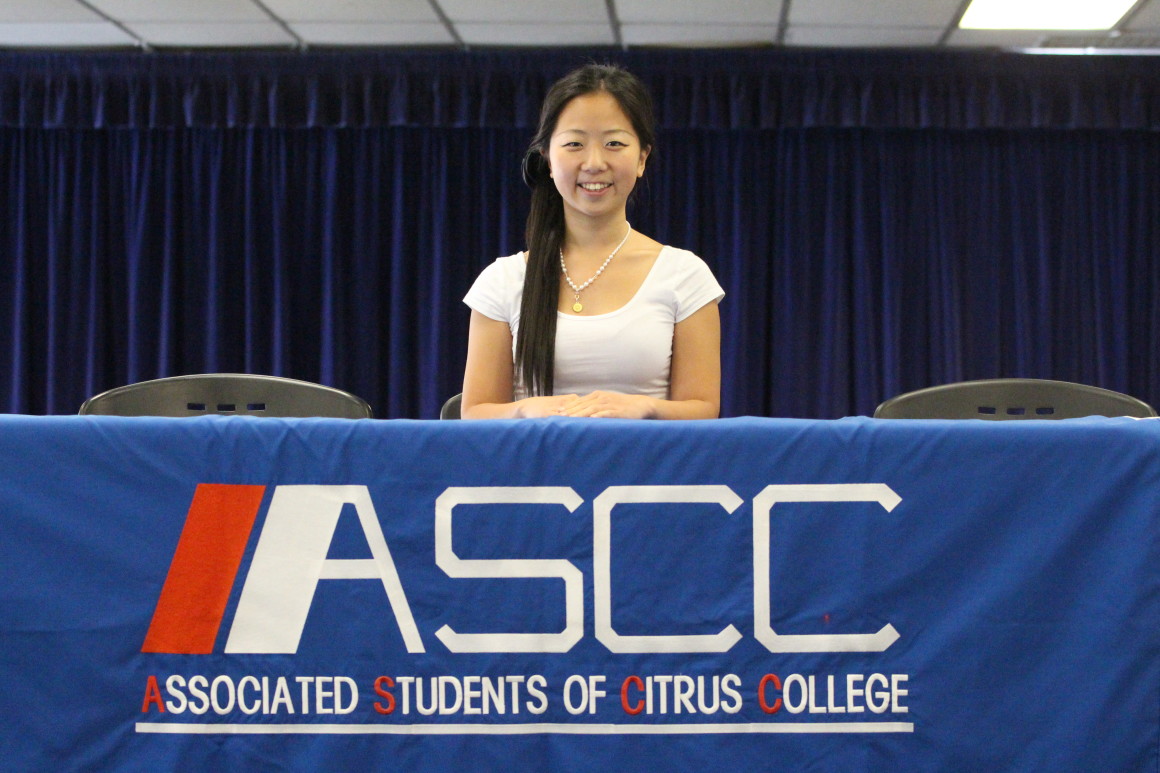 ---
When Yuki Okuzawa, was 20 years old, she enrolled in NIC International College in Tokyo, Japan. However, she felt restless and unfulfilled, until she signed up for a study abroad program.
Today, not only is she a communications major at Citrus College but also a senator serving in the Associated Students of Citrus College executive board.
"I love Japan, but I wanted new experiences," said Okuzawa, who is now 22.
At home, she rebelled against the strictness of the Japanese curriculums and stressful demands made on students.
"Schools in Japan are very competitive," Okuzawa said. "I hated the system. I felt that it was unfair to the students."
In Japan, students are academically refrained by numbers, making them believe that only the students with top grades should be considered of value or "smart."
Seeking an alternative experience, Okuzawa first enrolled in an acting school. But after one year, she realized that she did not want to inspire others through the mask of another person—she wanted to be an influence herself.
"Sometimes the actors have to be evil or scary to other people, and I could not do that," Okuzawa said.
In 2013, Yuki enrolled in NIC International College in Tokyo to learn English and increase her career opportunities.
At NIC, she learned about a study abroad program to the United States.
She was intrigued by the possibility of expanding her knowledge and her family agreed to let her go pursue her dreams.
"My family has always been so supportive of me, ever since I was little," Okuzawa said. "I am very grateful for that."
When she came to California, she began to experience independence. Now she had to take care of herself.
She had to learn how to deal with stress and anger by herself without the comfort of her parents.
In the summer of 2013, Yuki enrolled into Citrus College, which has a transfer agreement with NIC.
The per-unit fee for out-of-state students is approximately $250 per unit, but despite the expense, Okuzawa said enjoys each class because she sees the passion each professor gives and the kindness each student extends to her.
That is why she decided to take a step forward and give back.
At the spring 2014 Club Rush, Okuzawa learned about Alpha Gamma Sigma, a campus honor society that also does community service.
She was also excited to join Phi Theta Kappa, a group of like-minded students and a gateway to scholarship opportunities.
Nicole Wassef, president of PTK, at the honor society's first meeting, inspired Okuzawa.
"Every one of you has different, brilliant talents. We are here to cover your weaknesses and you are here to cover ours," Wassef said.
"We are family, it is a very good community," Okuzawa said.
Okuzawa plans fundraisers for PTK to reach their research and planning goals.
"She brings us positive energy that motivates our group, yet she is very task-oriented," said Brian Waddington, professor of history and director of the Citrus College honors program.
The language barrier she deals with on a day-to-day basis, has motivated her to drive forward with an "American spirit," Okuzawa said.
Okuzawa was fascinated by the leadership provided by the executive board of the Associated Students of Citrus College and would often ask student trustee Farihah Chowdhury about the organization.
Chowdhury encouraged Okuzawa to run for student senator after meeting through PTK.
"I thought she would be a perfect candidate for ASCC, because she is very personable and she could represent the international students," Chowdhury said.
Whenever she feels discouraged, she remembers her housefather Ralf Paspal's advice: "fake it to make it."
She said that she uses this phrase to boost her confidence and accomplish her tasks.
Okuzawa plans to transfer to CSU Long Beach in fall 2015 to pursue a major in communications.
Eventually, she hopes to become a priest for the Happy Science religion, founded in Japan in 1989. Some basics of this religion are "Exploration of the Right Mind" and the "Principles of Happiness."
Okuzawa plans to return to Japan to reunite with her family and motivate other students to study abroad. Okuzawa wants to return to Citrus College mentor other international students.
"It is worth it!" Okuzawa said.
---
---