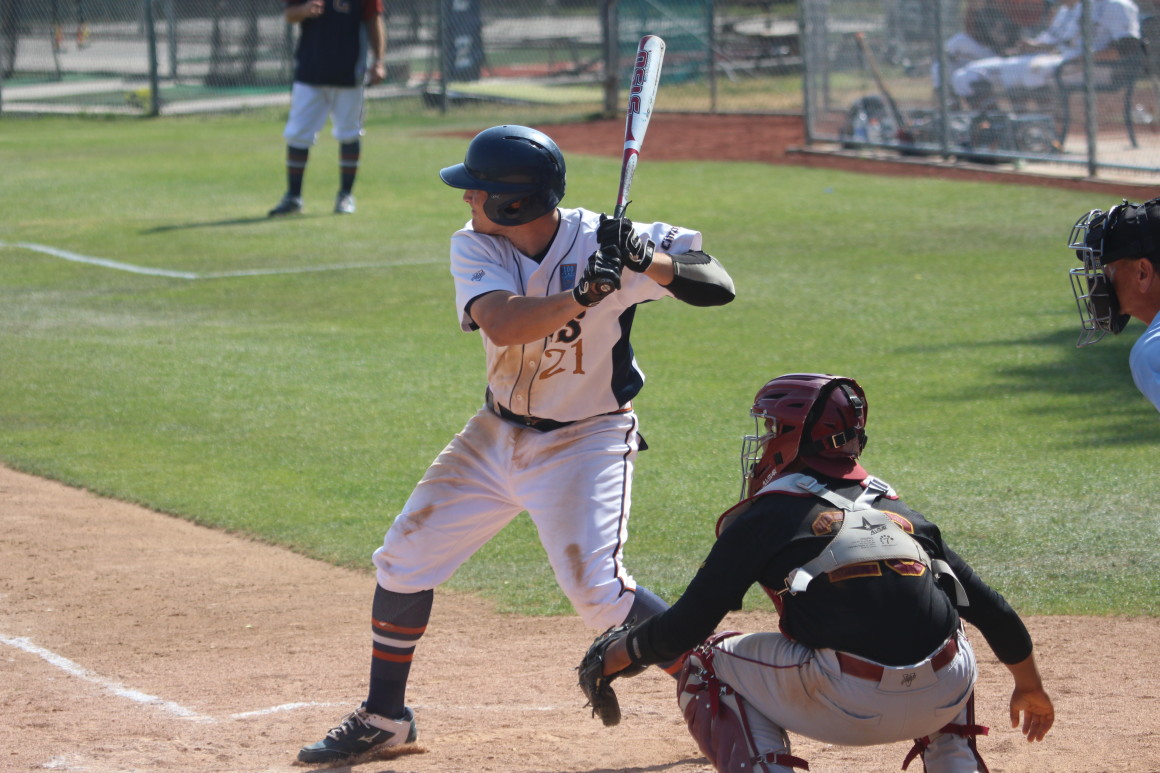 ---
Starting off the game, Troy Resch, sophomore first base, brought the Owls to an early lead. (Dillon Cooper/Clarion)
The Owls baseball team lost their defensive stride halfway through a 10-7 loss against GCC Vaqueros on April 14. The Vaqueros swung their way to a 9-1 lead in the top of the fifth inning.
Glendale is in first place in the Western State Conference South Division. Citrus is in second place.
Trying to defend their home turf, the Owls fought back with four runs in the bottom of the fifth inning, but it was a little too late.
Citrus started off well in the first inning when Troy Resch, sophomore first base, hit a two-out RBI single to bring home Taylor Grace, sophomore second base, to get the owls an early lead.
The Owls starting pitcher, sophomore Cameron Rodriguez, upheld the lead until the game changing fifth inning, which Glendale scored nine runs.
Rodriguez said in the beginning of the game, he felt secure but after the fifth inning, he was exhausted. He allowed seven runs in a 4.2 I.P. with three strikeouts.
"I felt like I made quality pitches and they just beat them. They beat me overall. They got hot and it was hit after hit after hit," Rodriguez said.
Glendale head coach Chris Cicuto made adjustments during fifth to build offensive momentum.
"We thought [Rodriguez] was a tough start, and he had us really confused early on," Cicuto said, "We made adjustments to our offensive approach, looking for pitches to hit and certain scenarios, we basically took what was given to us and didn't try to do too much."
Glendale sophomore shortstop Brent Sakurai pounded a hit, aiding Glendale at the top of the fifth, letting himself and Randy Medell to get a run.
"I have been struggling, so it was nice to kind of come out of it," Sakurai said. "It's a process. We just got to try and keep it going, do something special."
At the bottom half of the fifth inning, Citrus narrowed the gap to 9-4 with big hits from Grace and Resch. These hits helped Shawn Sweene and Anthony Virg score two runs.
"When you're down, you need a lot of quality bats in a row," Resch said, "I just worked the count got a decent pitch to hit and just drove it."
Glendale gained another run in the top of the sixth, but Citrus sophomore pitcher, Ryan Ponder did not allow a run the rest of the game.
"I wanted to get in the game. I wanted to make an impact. I thought I threw well and handled it," Ponder said.
Resch and Grace were able to hit two more runs in the bottom half of the ninth, but the game ended in a loss for the Owls
"That one inning was crucial," said Owls head coach Steve Gomez. "It is just the way the game is. It's a back and forth sometimes. It is all about momentum."
The Owls record is 17-14-1 overall and 9-7 in WSC. The Owls next home game will be on April 21 against LA Mission at 2:30 p.m. Admission is free.
---
---