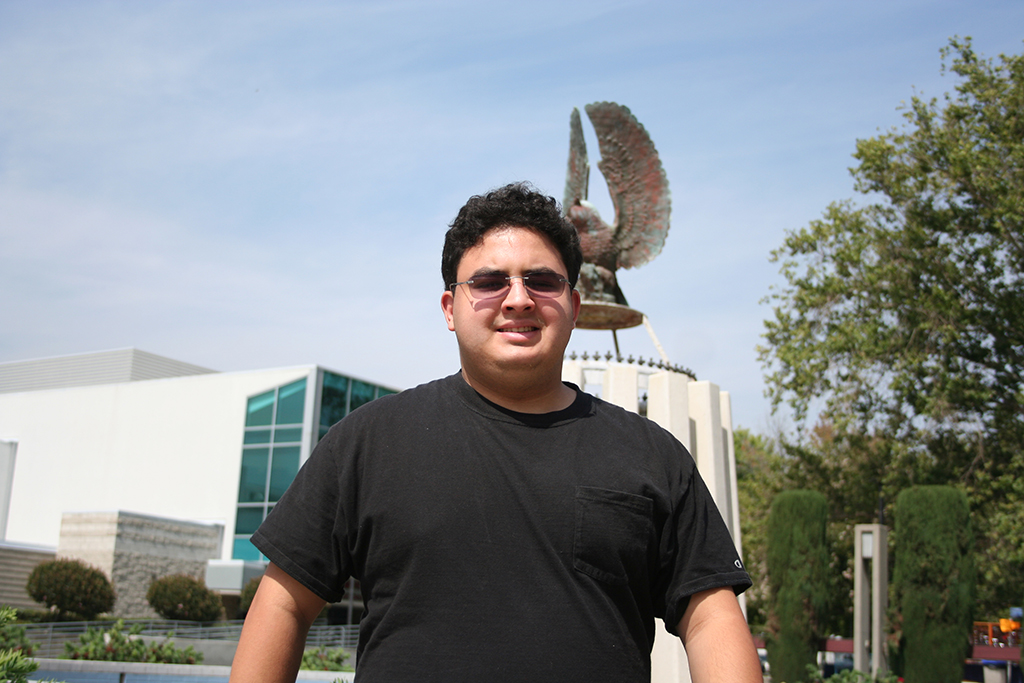 ---
Acquiring a degree in higher education can often be a challenge for students for several reasons; possible struggles students may face including having to move out of one's childhood home, finding a way to pay for classes or having to balance school life with employment.
For close to 650 students on the Citrus College campus, living with a disability can be an additional factor on that list. Sociology major and Upland resident, Ruben Rodriguez, 21, agrees.
"The disability that I am aware I have is social anxiety disorder," Rodriguez said, having been medically diagnosed towards the end of his high school years. Although, a person with social anxiety may be able to communicate with no issue in public settings, Rodriguez clarified that he sometimes feels much anxiety worrying about his words being "misconstrued" or taken for the wrong meaning.
Rodriguez is not alone with this disability however. According to the Anxiety and Depression Association of America (ADAA), society anxiety disorder is the "most common mental [condition] in the U.S., affecting 40 million adults in the United States age 18 and older, [which is] 18 percent of U.S. population."
Nevertheless, according to a 2007 ADAA survey, "36 percent of people with social anxiety disorder report experiencing symptoms for 10 or more years before seeking help."
This is where Citrus College's Disabled Students Programs and Services comes into play.
Detailed on the Citrus College website, DSP&S is "committed to providing students with disabilities an accessible educational environment that allows each student the opportunity to reach [the student's] academic goals and participate in a full range of campus programs and activities."
Once students have been enrolled in the program, they are provided with support services to compensate for their disability-related educational limitations.
"Such support services are essential components of the educational program because they help disabled students realize their educational potential in the mainstreamed academic programs," DSP&S mission statement reads.
"In high school, I was not as social as I compare myself to being in college," Rodriguez said. "But that's something DSP&S has helped me with, using their resources."
From Jennifer Mcleod, DSP&S coordinator, to Jennifer Jennings, DSP&S student aide, Rodriguez thanks the department for their willingness to help and remain approachable throughout the semester.
"I first met Ruben when he came into DSPS," said Jennings. "My first impression of him was very sweet and funny." Rodriguez's personality also demonstrated his dedication to academic success.
"I have actually shared a class with Ruben, and during class he was very involved in the lecture," Jennings said. "Even outside of class he is very hardworking. I will always find him in the DSP&S lab studying."
Through DSP&S services, Rodriguez feels he has surpassed the point in which his disability impedes his success, although his continuously works to improve his performance on campus.
Directly confronting his social anxiety, Rodriguez spent this past academic year heavily involved with campus life.  He served as an officer in both Alpha Gamma Sigma (AGS) and Latinos Unidos Student Association (LUSA), as well as a member in the AB 540 student resource club, Helping find Opportunities in the Pursuit of Education (HOPE).
"You gotta be proud of where you come from," explained Rodriguez, who identifies as a Mexican-American person. "Be proud of your roots." Knowing what makes a person who they are, however, brings up the necessary point of having privilege. Rodriguez explained that able-bodied individuals, or students without disabilities, often subconsciously differentiate with students who are part of DSP&S.
Although Rodriguez is grateful for kind peers, he often finds students doing "excessively nice things" as if he is incapable.
When asked where students could find the balance of being helpful and being intrusive, Rodriguez referenced the golden rule, "we must treat others how we want to be treated."
Rodriguez expressed that he appreciates being treated like others and having other students allowing him the chance to help himself first.
"I have so much respect for DSP&S students because I know how hard school can be," Jennings said. "When I see DSP&S students find empowerment through their disability and succeed in school, it's amazing." Jennings highlighted a course taught by Michelle Hernandez, DSPS90, which empowers students with disabilities to successfully transition into college.
"Even though my [peers in DSP&S] may have mental challenges or physical conditions, it does not mean they perform [at a lower level]," Rodriguez said.
This does not imply that students with disabilities cannot be successful, he clarified.
"We just have to work a little bit harder."
---
---