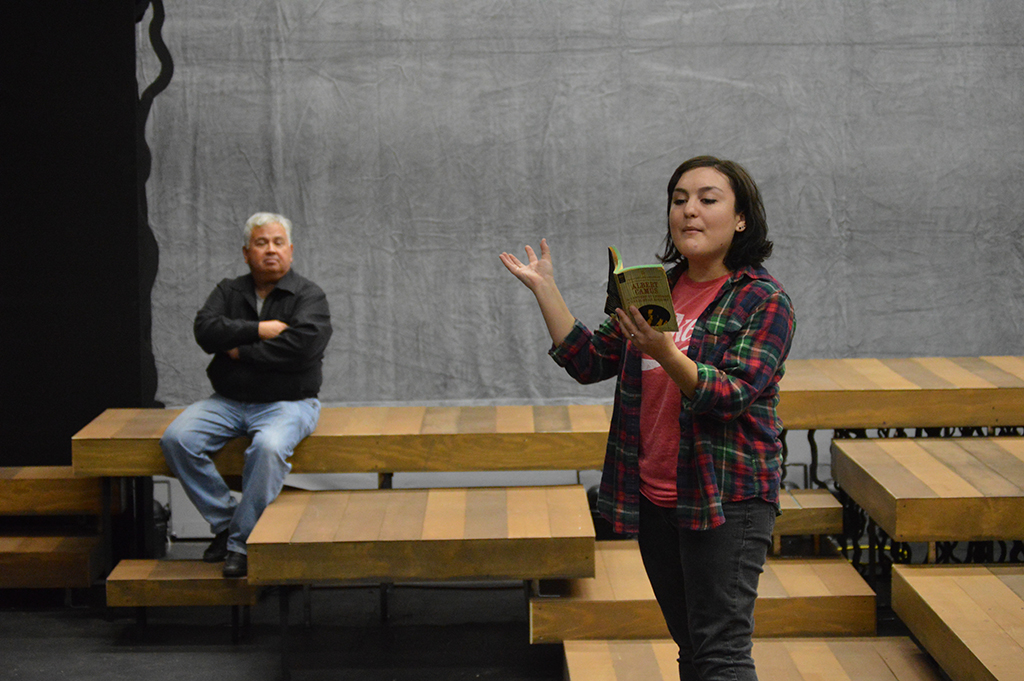 ---
Written by Lanford Wilson and directed in Citrus College's Little Theatre by Cherie Brown, the two act murder mystery "Book of Days" packs an engrossing and quirky punch to the spring theater lineup.
This play is a whirlwind–– literally. There is a really cool tornado scene in the first act.
Set in Dublin, Missouri during summertime, the death of a prominent local figure sends a small town plunging into chaos, leaving every character to sort out the mess left behind in their own ways. And of course, there are tons of small town drama and gossip.
Dramatic powerhouse Jade Yancosky is at it again as tough heroine Ruth Hoch, the protagonist that speeds the action along. Ruth is an actress, and as she takes on the detective role of the town, her situation becomes eerily tied with that of her character's, George Bernard Shaw's Joan of Arc.
The staging is interesting, making use of wooden platforms that appear to create a sort of cross, which matches the religious themes of the play. The real utility of the platforms is in the strange, chorus-like presence of many characters at once during any given scenes.
This sort of blocking and scene flow is the type that requires what could only be described as  exhausting focus from the actors, and they deliver.
With a good sense of comedic timing and emotional intensity clearly bestowed upon them through excellent direction by Cherie Brown, the cast is truly lovable, even with their character's terrible flaws.
Aaron Bess is entirely charming as loving husband and cheese fanatic Len Hoch, and lively, promiscuous Martha Hoch is played by the fun and hilarious Judah Lacy. Mike Tapia holds his own in several scenes as the clueless Earl Hill, bringing a sympathy to the character in unexpected, endearing ways. Antoine Renaut showcases his acting chops with just the looks he gives as city slick director Boyd Middleton.
One last shout out has to go out to the technical crew. The lighting and sound was absolutely spot on. The cues moved fast and all the mini monologues required background music and often times their own mood lighting.
The ambience and cast-crowd interaction of the open house seating is truly magical and world-building, and should inspire any future audience members to get there early on their way to see this triumph of a production.
---
---