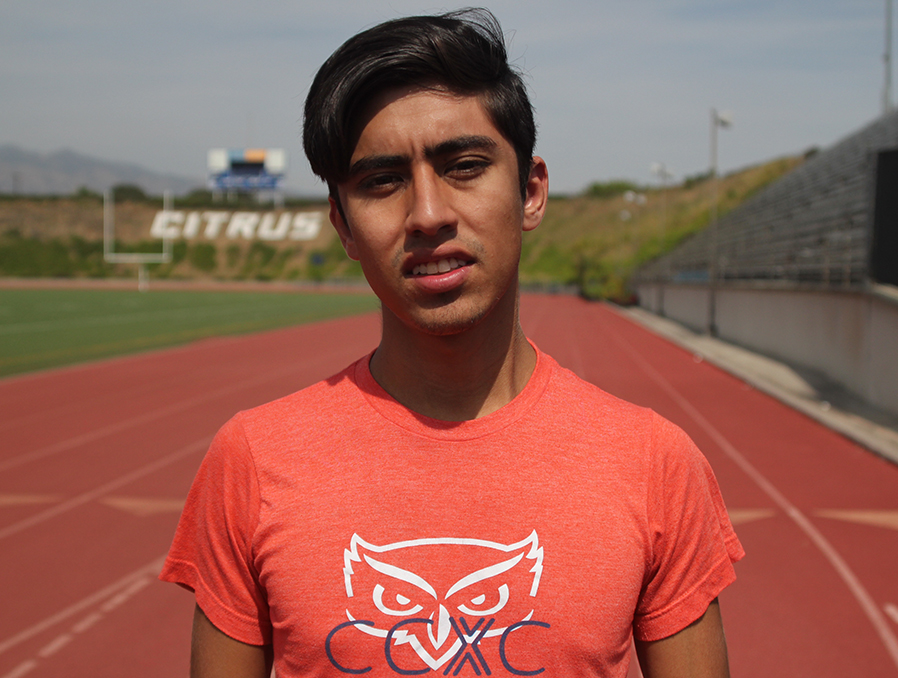 ---
Of exactly 193 male athletes at Citrus College during the 2014-15 academic year, one in particular stood out the most. A man of many achievements, sophomore, runner Diego Lopez, 20, has been recognized as the Male Athlete of the Year.
Lopez enrolled in Citrus fall 2013 and joined the Owls cross-country team. He has been running for seven years, five years competitively, and has no intention of stopping. "Running has always been my way to escape reality and just relax," Lopez said.
Lopez was Citrus College's top returning runner in 2014. He finished 11th out of 127 runners at the 2013 Western State Conference (WSC) Championships with a time of 21:25.88. When he ran at the 2013 SoCal championships he finished in 65th place out of 199 runners with a time of 22:37.
Lopez was selected to run in the California Community College Athletic Association State Championship Nov. 23, 2014 in Fresno. In the CCCAA state championships, Lopez finished the four-mile men's course placing 111th out of 203 racers with a time of 22:10:05.
Lopez grew up in West Covina and attended Arroyo High School in El Monte. In high school Lopez prepped four varsity seasons for the AHS Knights with coaches Bryon Hake and Ramon Lopez, his father.  He was the 2011 Mission Valley League Champion and was also a three-time First Team All-Mission Valley League honoree.
As he was learning to be a runner, he also learned that his father was also a long distance runner in his time. Lopez found out that in the summer of 1981 his father ran for a semester at Citrus.
"One day he took me to a race, and I thought it was actually kind of cool, so I decided to try it out." At that point Lopez formed a small team of runners to compete at a race to be held at Mt. San Antonio College.
His middle school, Frank Wright in El Monte, did not have a cross-country team. Lopez's father happened to be friends with Lopez's middle school principal, Jose Marquez, so they got to talking and Marquez ended up being the head coach for the newly created cross country team. From that point on, because of Diego Lopez, Frank Wright Middle School officially had a cross-country team.
His father's influence increased when Lopez started high school. Lopez's father, Ramon, taught Spanish at El Monte High. When Diego was a freshman, the cross country coach quit and so his father filled in the position. Lopez credits his athleticism to his father, who taught him, "If you give up [in life], your race is over."
When Lopez joined the Citrus College cross country team in 2013, things started to improve. In 2012, the Owls placed close to last. "We were like 10th out of 12 but we were still in the bottom," Lopez said.
"As the season progressed I found that Diego is deeply hardworking and exceptionally motivated – the perfect tools for an elite distance runner," said head coach Alicia Longyear
In Fall 2014, Lopez qualified for a state meet as an individual. After that he reached a turning point, "you know what, I don't want to be the only one anymore," he said. So with Longyear, Lopez decided to recruit as hard as they could.
"I was recruiting people faster than me," Lopez said. "I told her I don't care if I'm number one or not, I just want to make this team better and we did,"
This year the Citrus Cross Country team ended up making 4th in conference for the men's side and they ended up getting 15th in state for men.
"I was happy for that, even though I am not going to be on the team anymore I am still pushing trying to get people to come to Citrus." Lopez said. His goal is to try to push the athletic program even further.
"When I found out that I was Male Athlete of the Year, I was so surprised because on the team, I am not the fastest one. I'm probably like second or third to be honest but then coach Longyear told me why I was chosen," Lopez said.
His intention in doing what he does on and off the track is to create a better program.
Lopez said he strives to live according to a value implemented by Mother Teresa: "Let no one ever come to you without leaving better and happier. Be the living expression of God's kindness: kindness in your face, kindness in your eyes, kindness in your smile."
His inspiration is to live up to that challenge. "Whenever I meet someone, I try to make sure they leave happier than when they first met me just to spread happiness," Lopez said.
Lopez  will graduate with an associate's degree in political science and has received a scholarship to UC Santa Barbara, where he will attend in the fall.
---
---