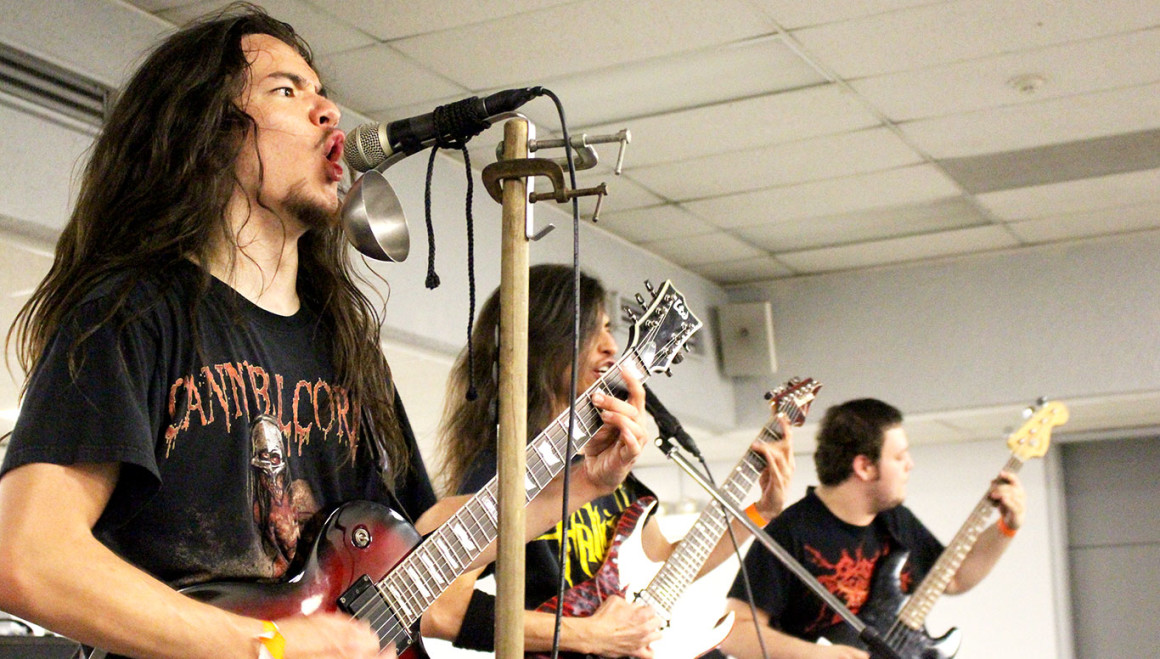 ---
Metal Alliance president Raiden Ikeda (left) performs with his band Exalted during the "Rise of the Tyrants" concert in the Campus Center on May 22. (Evan Solano/Clarion)
It may just be noise to you, but for music performance major Raiden Ikeda, metal means more than loud guitars and guttural vocals. As he puts it, discovering metal was a transformative moment.
"This music is something that I personally obsess over," Ikeda said. "It is my life and my love, and nothing on the planet can take that away from me."
Ikeda, who describes himself as high functioning autistic, recalls the feeling of being sequestered from other kids during his childhood and the frustration that came with not understanding typical social cues.
"Not understanding people, not understanding what kind of teasing was ok and what kind wasn't and why people were teasing me. I was outcast and I was picked on," Ikeda recalls.
Over the years Ikeda would visit therapists to help him deal with autism, but it wasn't until he discovered the British heavy metal group Iron Maiden that he began coming out of his shell.
"Through that music I learned that it was ok for me to express my frustrations," Ikeda said. "It gave me confidence in being who I am because I realized that–just like me–this music is not very well understood by society at large."
Iron Maiden, which has legions of diehard fans, provided Ikeda with a feeling of inclusiveness and understanding among his peers that he had always longed for.
"Their music did for me in three seconds what therapists had tried to do for me for years," he said.
The popularity of metal has been on a steady increase since the late '80s and when it comes to a stanch fan base, metal fans are as loyal as they come.
A recent blog by the streaming music service giant Spotify reported data sets of core bands from each genre of music and found that by a wide margin, metal was the most listened to genre globally. While this does not necessarily mean that Slayer is more popular than Taylor Swift, it does provide quantifiable data that metal fans set the genre loyalty bar pretty high.
That is why Ikeda decided to launch the Metal Alliance club earlier this semester at Citrus College.
"You run into people wearing a Kreator shirt or an Immortal shirt, and you want to hang out and maybe jam with them, but you can't," Ikeda said, noting how community colleges students usually focus on taking classes rather than getting to know each other.
"We all have an agenda being here, we have a job to complete. Sometimes that doesn't allow for developing friendships or meeting people with mutual interests," he said.
Metal Alliance treasurer Ben Hsu, 21, remembers how the club began through word of mouth.
"It started out small, and we were learning everything we could about setting up the club," Hsu said.
Like Ikeda, Hsu also enjoys being able to connect with fellow metalheads once a week and network with metal musicians and fans.
"I'm so hyped about the club," Hsu said. "Before, I only cared about finishing my classes and going home. But now that I am part of something, I want to offer more ideas and talk to people about what I like."
The club recently celebrated their inaugural semester with a first ever metal show titled "Ryse of the Tyrants" in the Campus Center. The event showcased five bands that featured some Citrus students.
"The idea was to give these bands an outlet and a place where they could be heard, maybe gain some fans, and play the music they love," Ikeda said.
Ikeda approached Inter-Club Council with the proposal for the show.
"[ICC] thought it would be really interesting to have something like that on campus," said Lisett Leon, ICC vice president. "[Metal Alliance] have a lot of really good ideas, which is cool when a new club gets started."
The Metal Alliance, which raised more than $300 from the event, hopes to build on the success of "Ryse of the Tyrants."
"This is the first metal concert that happened here on campus and it happened in the campus center," said Leon. "It is pretty awesome, it's a step forward."
Ikeda plays guitar in two of the bands featured at Ryse of the Tyrants and aspires to become a show promoter. For him the concert was a way to give back to a community that gave him a voice.
"I wanted to do something to give the guys who play loud, heavy music a chance to be heard," Ikeda said. "No one seems to think there is value in this, and I'm here to show them different."
Ikeda and the Metal Alliance look to set a legacy for long after he leaves, for fans of metal that are looking to network and collaborate.
"Whatever happens with my music, I'll know that I started this," he said.
---
---