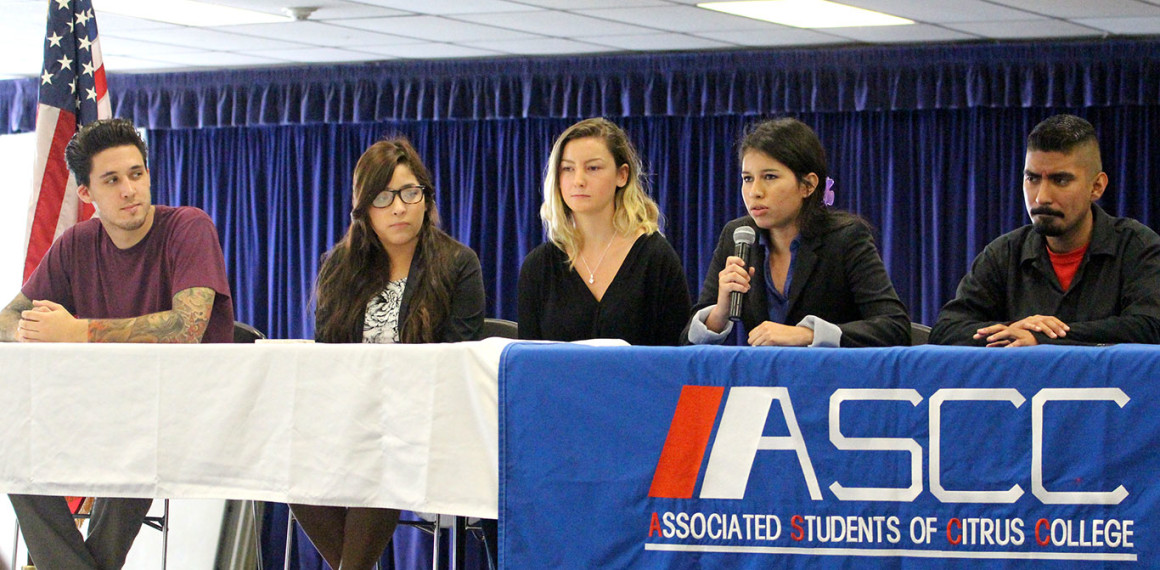 ---
Candidates for the ASCC Executive Board answer questions during the Candidates Forum in the Campus Center on May 26. (Christine Vu Le/Clarion)
It is up to you to vote for your new student government and new revisions of the Associated Students of Citrus College constitution. Here is what you need to know…
For the spring 2015 elections, the constitution revision will focus on grammatical changes and a removal of a section on appointed legislative liaisons that were approved in fall 2014.
The fall 2014 elections included a revision of the constitution. The revisions included ASCC eligibility requirements and vice president candidacy limitations. Only 113 students voted on the revision.
Pat Cordova-Goff, student trustee, and Cameron Wisdom, candidate for ASCC president,  worked on the liaison revisions.
"We did not want the president or vice president to have the ability to appoint student liaisons," Cordova-Goff said. "It is an elected official position and it should be elected by the students."
The legislative liaison is a representative for Citrus College at Region 8, Student Senate meetings.
Despite the change approvals from ASCC, the student body needs to vote on the constitution revisions for them to take effect.
This election will come down to student involvement, however in the past the student voter turnout has been very low.
There are about 18,000 students on campusand only about 170 students voted in the fall 2014 elections.
At the Candidates Forum on May 26, five of the ten candidates were interviewed before an assembly of approximately seven students who attended the event.
Phoenix McCoy, candidate for ASCC vice president, as well as Dong-Hyun Kim, Paige Peterson, Vanessa Salinas and Jernell Troung, for senator, were unable to attend due to schedule conflicts with their classes.
According to Larissa Cabrera, candidate for senator, timing was an issue. "We are coming close to finals week, everyone is studying," she said.
Although candidates have acknowledged that the forum's time was an issue, they also stress student interest in the election.
"It is a matter of students wanting to be more involved with their government on campus," said Katie Johnson, candidate for senator.
Stephanie Ayala, candidate for senator, mentioned that students may not have known about the forum or did not see the importance of a forum.
The purpose of the forum is to help students interact with their student government candidates.
"Putting a face to the name helps," Ayala said.
"Students will be more involved if they knew who was doing what."
Overall, the five candidates at the forum proposed the ideas of a smoke-free school, faster Wi-Fi throughout campus and more communication between students and professors.
Ruben Romero, candidate for ASCC vice president, strives for more student involvement.
"It helps to see students actually interested in the election process," he said.
---
---