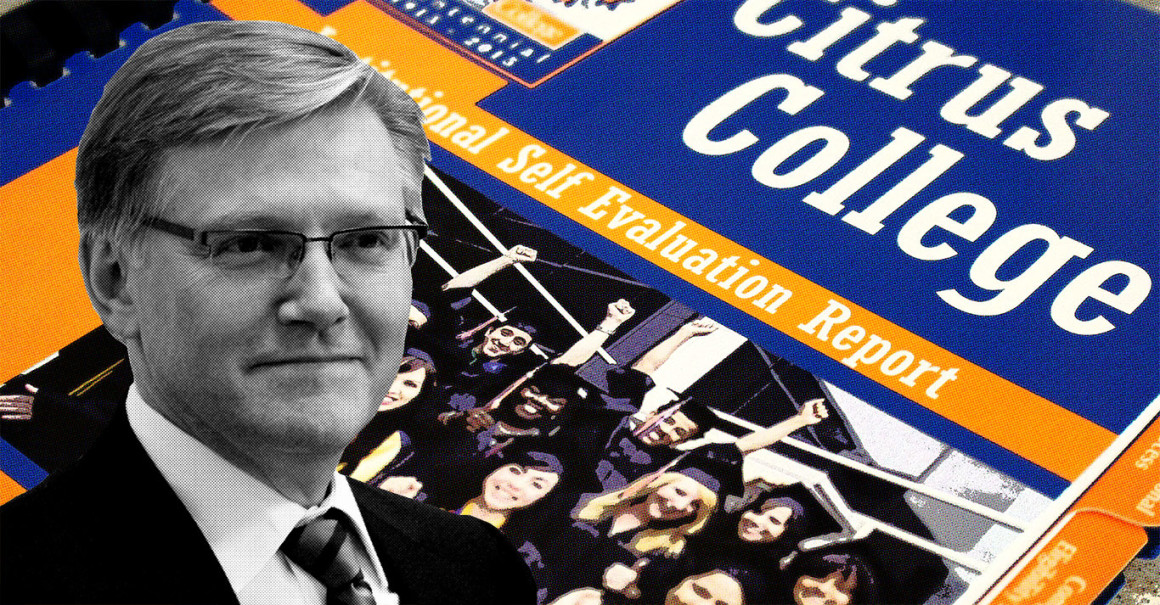 ---
Arvid Spor,Ed.d, vice president of academic affairs, serves as the Accreditation Liaison Officer for Citrus College. The self-evaluation report was released on June 23. (Evan Solano/Clarion)
The time of reckoning is fast approaching.
A team of education leaders representing the Accrediting Commission for Community and Junior Colleges is scheduled to visit Citrus College from Sept. 28 to Oct. 1.
Their mission: to evaluate the quality of education and institutional effectiveness of Citrus College.
The accreditation process currently runs on a six-year cycle that in future evaluations be expanded to a seven-year process.
"Accreditation is the federal government's way of assuring quality in education," said Arvid Spor, Ed.D., vice president of academic affairs and the Accreditation Liaison Officer. "Loss of accreditation means your degree will not mean anything to companies or if students wanted to transfer." More than 300 members of the Citrus College community contributed over three years to a 339 page self study report evaluating performance outcomes according to four standards set by ACCJC.
"[Students] are at Citrus to receive an education and use it to transfer to a university or enter the workforce," said Student Trustee Pat Cordova-Goff. "With that, we are depending on our education to be valued by others, and we depend on the Citrus community to work together and remain accredited."
During its site visit, the accreditation team, which is comprised of administrators and faculty from other colleges within ACCJC's region, will conduct interviews and investigate the campus to ensure that the self-evaluation report meets or exceeds the four accreditation standards.
When the accreditation team does interview individuals or committees, it is usually to fact check something specific or clarify any misunderstandings between the submitted report and visiting evaluation. Douglas Houston, Ed.D., chancellor of Yuba Community College District, will be the chair of the visiting accreditation team accompanied by approximately 12 other members.
Houston and his assistant visited Citrus Aug. 18 to meet with Geraldine M. Perri, Ph.D., superintendent president; Spor, Roberta Eisel, professor of English and accreditation co-chair to Spor and other representatives from the committees responsible for producing the self evaluation.
This preliminary meeting afforded Houston the opportunity to set the tone for what the team visit.
"Each time he met with someone, he explained what the purpose of accreditation is, how much he believes in it and how it really is a peer review process," Eisel said. "It was a way for him to get to know us and for us to get to know him." Houston made it clear that the 'report out,' which is an open meeting on the last day of the site visit, will feel scripted and generic, as the team has to report back to the commission before any results are decided and announced.
The self evaluation report was submitted to ACCJC on July 27 and contains signatures from faculty, administration and student constituent leaders affirming that the self evaluation is an accurate reflection of the "balance and nature" of Citrus College.
Noticeably absent from the signature page is the name Robert Coutts, president of the 101 Citrus College Chapter of the California School Employees Association, the union that represents the classified staff at Citrus.
Eisel said she does not believe there will be a problem concerning the missing CSEA signature. "The accreditation self evaluation is a very thorough and exhaustive examination and self reflection on how we address the standards, and I believe we made every effort to be inclusive throughout the entire process," Eisel said.
Spor and Eisel said they reached out to all signing leaders to ensure full engagement and representation from all constituents, including classified staff.
"The district did ask us to appoint staff to committees as well," Coutts said. "But they did not give us nearly enough time to do so."
Most of the appointed staff felt they were not included, and others were not aware they were appointed, Coutts said. Spor and Eisel said they experienced draft delays from CSEA and only recently discovered that CSEA believes the self evaluation includes inaccuracies.
As president of the classified staff at Citrus, Coutts said the self evaluation report was not something he could sign because it does not accurately meet the standards.
"The district claims to meet standards just by having certain policies stated in their contracts," Coutts said. "However, they do not always follow those policies."
"We certainly hope [the visiting team] will investigate the matter further," Coutts said. Despite the perceived lack of inclusion and policy inaccuracies, Coutts said the self evaluation report is very well written and that he is looking forward to the site-visit.
"In a way it gives the college a black eye, especially if it was something that could have been avoided by coming to us so we could address it," Spor said.
Eisel reiterated that the report was posted publicly for an extended period of time for everyone to come forth and address any issues with the content.
"If there are any concerns during the visit," Eisel said. "Citrus will address them accordingly."
After its site visit, the accreditation team will report back to the commission in January 2016. After 30 days the commission is expected to release its report to the Citrus Community.
---
---