---
One could argue that Citrus College has its fair share of characters already, but campus life is about to become even more animated than usual when the third annual Gumby Fest comes to campus Sept. 18, 19 and 20 for the first time to celebrate the iconic character's 60th birthday.
The success of last year's festival hosted by Glendora Public Library, which attracted over 4,000 attendees, prompted the move to a larger facility. The numbers are expected to be even higher this year.
Last spring the Glendora Chamber of Commerce approached the Citrus College Fine and Performing Arts department when the event became too large to host downtown.
"We thought it was a wonderful opportunity for our art folks to initiate a new program here and bring people all over the country to Citrus College," said Robert Slack, dean of fine and performing arts.
Gumby's history is deeply rooted in the foothills of Glendora. In 1955, Art and Ruth Clokey founded Clokey Films in Hollywood. Five years later they renamed Clokey Productions and moved to a larger facility in Glendora, where they created 85 Gumby episodes and 65 episodes of "Davey and Goliath."
"A production like Gumby encompasses everything we do in fine and performing arts," Slack said. "The making of the animation, the clay, the sets, the backdrop, the music, the dialogue and the acting, everything in our division makes up that kind of production."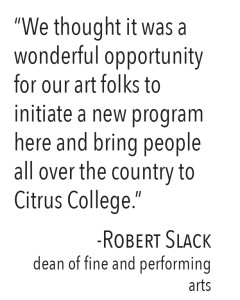 Since Gumby's debut on NBC's "Howdy Doody Show" in 1955, the character went on to star in more than 230 television episodes and a full-length movie.
"I loved Gumby as a kid," said Michael Hillman, art instructor. "I used to watch the TV show all the time."
Many of the animators, puppet makers and set designers who have worked with the Clokeys went on to work for "Star Wars," "The Nightmare Before Christmas," "James and the Giant Peach" and Tim Burton's "Coraline" and "Corpse Bride."
"Every single aspect of what we teach in the visual and performing arts is a direct career path to stop motion animation," said Hillman.
A prelude to the three-day festival will feature a Gumby Memorabilia Museum display in the Hayden Memorial Library Art Gallery beginning Sept. 1 to Oct. 16. Artifacts from Gumby's early days will give guests a unique behind-the-scenes look at how stop motion animation brought Gumby to life.
In addition to several panels and discussions, Citrus will also host a competition in which animators will compete in a stop-motion animation contest.
According to Dyane Duffy, art instructor, 12 entries have already been received from contestants across the United States and Canada.
The contest will be judged by industry professionals within the Los Angeles region, with $500 grand prize and presentation of the Clokey Trophy.
Proceeds from the Citrus College Gumby Fest Stop Motion Festival 2015 will go to the Citrus Foundation to benefit the Visual and Performing Arts Department.
"I think anyone interested in any type of filmmaking or art industry will enjoy it", said Duffy.
---
---