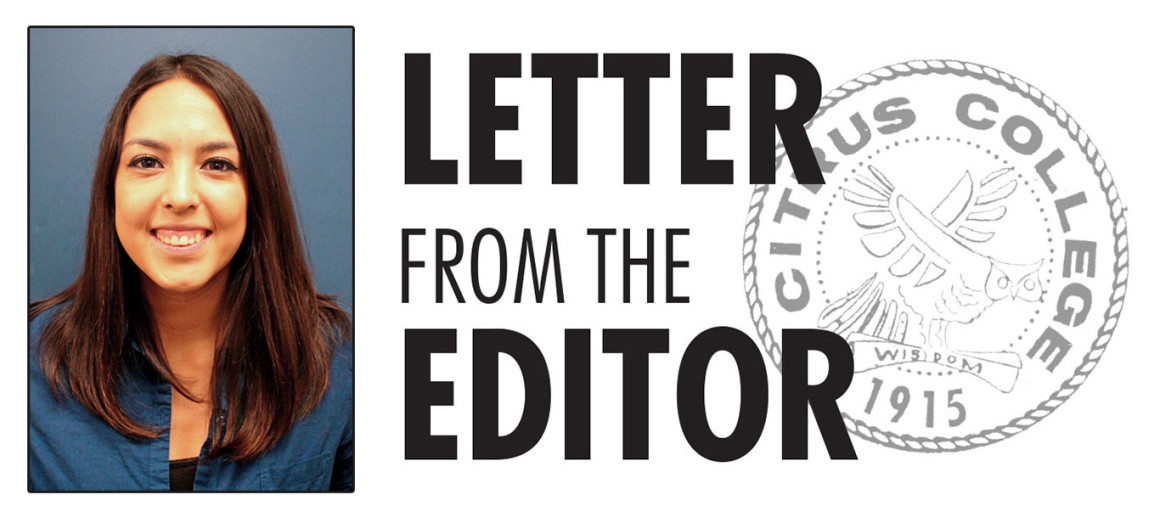 ---
Hello Clarion Readers,
My name is Megan Bender and I am excited to serve as the fall 2015 semester Editor-in-Chief of the Citrus College Clarion.
This semester, we here at the Clarion are working hard to bring you news across all platforms. As a bi-weekly publication we are making efforts to post online first and print second. This means that we are looking to increase posting and traffic on our website so that readers are updated on a day-to-day basis. In combination with this we are also increasing posts on our social media outlets, which include Facebook, Instagram and Twitter. We hope that by being an online first, print second newspaper that we will efficiently keep this campus up to date.
In turn this should increase our presence on campus. There is always a call on our readers to help us, the media, by letting us know what events are going on that we could cover. We will be featuring hashtags for specific events, games and other activities around campus on Twitter as we step up our live tweeting and increase our posting frequency on Instagram.
At the Clarion we absolutely encourage feedback. We want to hear back from all of you to ensure that we are fulfilling our roll as a student newspaper. If you have any questions, comments or concerns utilize our website or even our social media outlets to communicate with us. Our purpose is to properly inform and serve as a voice for the student body.
It is my intention as the editor to see these transitions through this semester. As journalism faces changes from print to digital, we at the Clarion must do our best to keep up and serve the students as a reliable news outlet. Transition into the digital platform has been discussed before but this semester we want to start taking action. With pro-activity in mind I wish you all a successful fall semester.
Do not hesitate to visit our website, follow us on Twitter, like us on Facebook and Instagram or pick up the paper.
Sincerely,
Megan Bender
mbender@ccclarion.com
Editor-in-Chief
Note: The Clarion staff recognizes its role as a conduit for the expression of opinion. We will accept all letters addressed to the editor, but reserve the right to determine and edit the content of the publication for space and grammar. The decision to publish a letter shall not be based on the letter's agreement with the editorial positions of the Clarion staff. Letters should be limited to 350 words or less. Letters that are obscene, libelous, incomprehensible, or racially/sexually/religiously offensive will not be published under any circumstance.
---
---