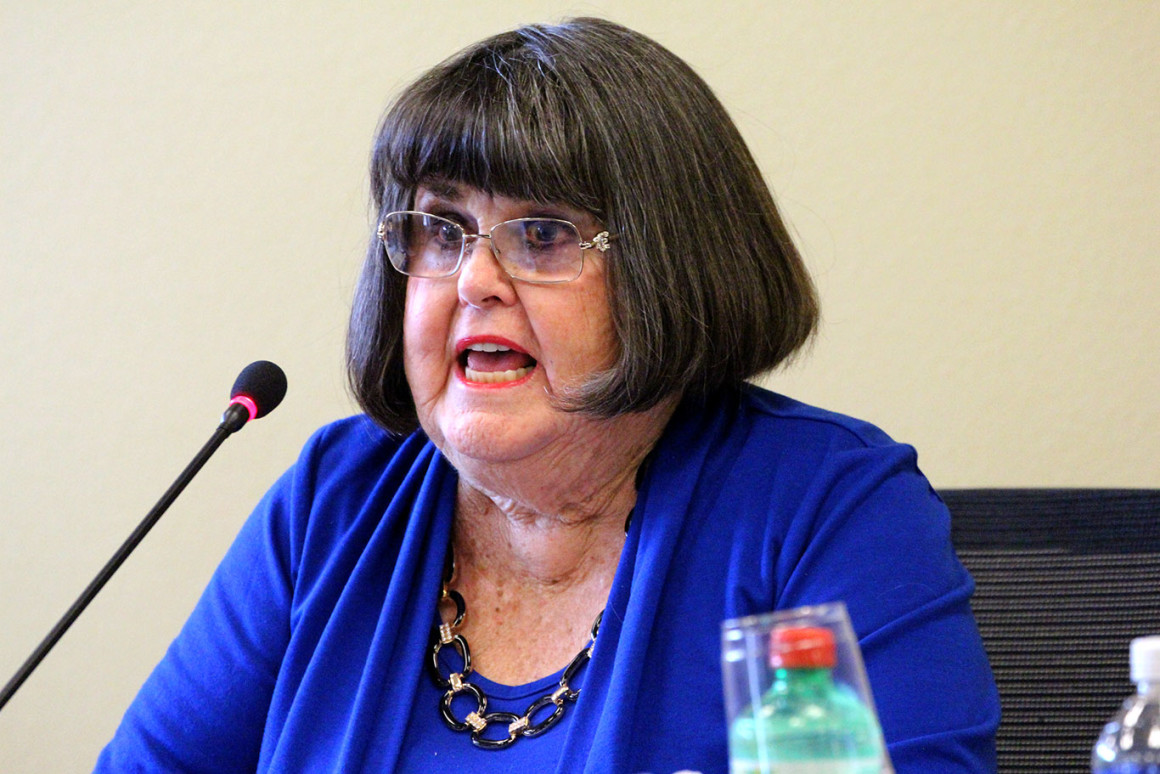 ---
Current Area 5 Trustee and board president Joanne Montgomery during a meeting of the Board of Trustees on July 21. Montgomery's seat on the board is being challeneged by former Area 1 Trustee Gary L. Woods. (Evan Solano/Clarion)
What was expected to be a quiet board of trustees election has become controversial as longtime Area 5 Trustee Joanne Montgomery's seat is being challenged by a former board member who lost his Area 1 seat in 2013.
Gary L. Woods, J.D., who served as the Area 1 trustee on the Citrus Community College board of trustees from 1983 to 2013 said he has moved from Azusa to Monrovia. He has filed paperwork with the Los Angeles Country Registrar's office in an election bid for the Area 5 seat to represent Monrovia and portions of Duarte.
Each of the five members of the board of trustees represents residents and students from the communities of Azusa, Claremont, Glendora and Monrovia and portions of San Dimas, La Verne, Pomona, Duarte, Irwindale, Covina and Bradbury.
The governing board establishes policies and approves education plans and programs for Citrus College.
Woods, who held the Area 1 seat representing Azusa and portions of Duarte for 32 years, said he moved to Monrovia about eight months ago to care for his ailing mother, who is 97.
"I stayed in Azusa up until last January, but it became increasingly more difficult to care [for her]," Woods said. "I moved closer, but I still wanted to participate in what's going on at Citrus. Community colleges have been part of my life."
Both Montgomery and Woods have extensive careers in education but contrast in what they say they can bring to the office.
Montgomery highlights her longtime commitment to building partnerships between the schools and communities of Monrovia and Duarte.
"I taught elementary school for 33 years in Monrovia, and I loved every minute of it," Montgomery said. She has also been a master teacher at several universities and served on numerous civic and school committees such as serving on the Chamber of Commerce and education committee for Duarte. Her many honors include Teacher of the Year award for the Monrovia School District.
Montgomery, who has been resident of Monrovia for more than 50 years, has served Area 5 since 1998, when she was appointed to fill a vacancy on the board. Since then has been re-elected four times.
She said she decided to run again for a fifth term in response to the overwhelming support of her constituents.
"I absolutely love Citrus," Montgomery said. "My community and people at Citrus encouraged me to run and I'm glad I did."
Woods has more than 40 years of classroom experience, first as a high school teacher then as a professor at the community college level. He is a community college graduate who also served as the dean of the business and computer technology division at Pasadena City College where he is currently teaching business law as an adjunct professor.
Woods said that he has the background and experience to make decisions and contributions to the college and community.
"Joanne's a very nice person, but all the time she taught school, it was elementary school. Never was she involved with community colleges," Woods said. "I've had longer time on the board than she did," Woods said.
Both candidates were serving on the board during the passage and issuance of the Measure G facilities bonds in 2004 and 2012 respectively and have both served as board president.
In 2013, after more than 30 years serving as the Area 1 representative, Woods came under fire when the California Teachers Association, Community College Association and the Citrus College Faculty Association union launched an investigation into his residency. The unions contended that Woods did not live in the low-income Azusa apartment as he claimed, but rather in a $1.7 million home in Sierra Madre home Woods co-owns.
"I've got four or five properties," Woods said. "I only own a third of the property in Sierra Madre]. I don't [solely] own the property, it's an investment."
Questions about  Woods' official domicile prompted an ad hoc BOT committee to file an application with the state Attorney General's Office to sue "in quo warranto," an action filed that could result in removal from office.
"They spent a lot of tax payer's money to actually find out I lived in Azusa," Woods said. "The amount that the trustees get per month is around $400, so who is going to spend around $900 a month on housing to not live there? That would be kind of ridiculous."
Although the state attorney filed no charges, Woods lost the Area 1 seat that was won by current Area 1 Trustee Barbara Dickerson.
Woods said he is confident he can still make an impact on the board and work with the current board members if he is elected.
"My primary responsibility is to the taxpayers," Woods said.
"If there is an issue that I feel that is going to hurt the area I represent, or the college, then obviously I'm not going to sit there and worry about getting along with the rest of the trustees," he said.
Despite having been a resident of Monrovia for about eight months, Woods said he is familiar socially with the cities of Monrovia and Duarte.
"I've been keeping up with the issues. I'm interested in the political process of each district, and I've done that with Monrovia," Woods said.
According to Montgomery, her longtime commitment to the college and community are what set her apart from her opponent.
"I feel I have contributed to the board, serving three terms as board president and I have been the liaison for the Citrus College Foundation for several terms," Montgomery said. "I feel I can do a good job, or I wouldn't be running."
In other election bids, Trustee Susan M. Keith from Claremont is running unopposed for the Area 2 seat, as is Patricia Rasmussen, E.d.D, who represents Glendora in the Area 4 seat.
Elections for the board will be held on November 3.
---
---