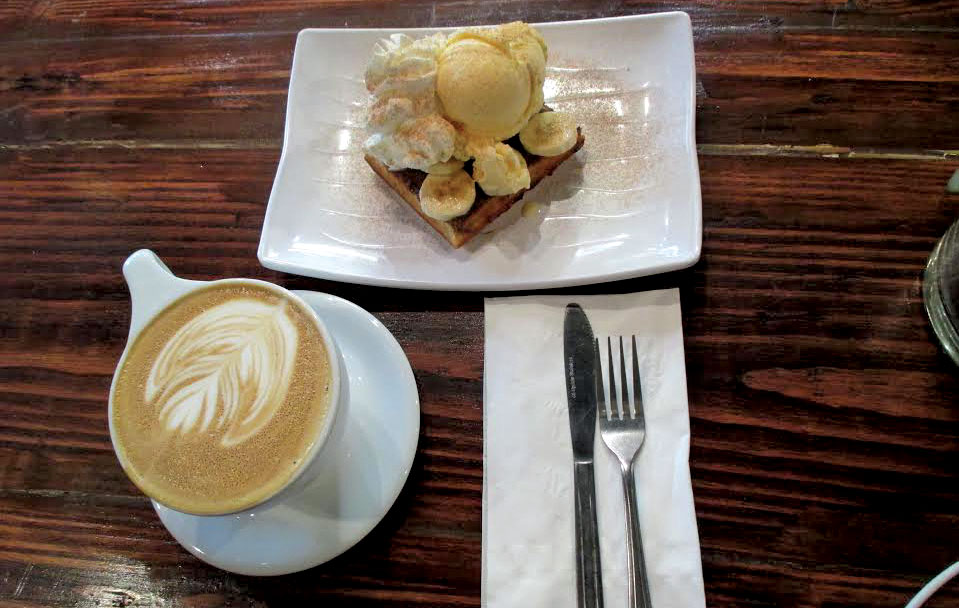 ---
Welcome to the fall 2015 semester. Since now is the time to hit the books, here are some suggestions for the best places around town to study.
1) Thirsteas Fresh Juice and Boba Teas located at 1137 E. Alosta Ave., Azusa next to Little Caesar's Pizza in the College Center Shopping Center. When the line at Starbucks is out the door, this is the first place I go to. They offer a wide variety of drinks: milk teas, fusion teas,  juices, smoothies and Açaí bowls. If you would like, you can add boba, chewy tapioca balls, to the "Java Chip" Milky Frappe. I also suggest trying their fusion teas, especially the refreshing iced strawberry green tea with rainbow jelly. You could also try an Açaí or Pitaya bowl, a blended smoothie topped with granola, honey, fruit of your choice and shredded coconut. Açaí and Pitaya are super fruits with high antioxidants and believed to increase energy and boost immunity. Despite being a small cafe, you are almost guaranteed a table to do your homework because most students go to Starbucks first. Thirsteas is open Mondays to Saturdays from 8 a.m. to 9 p.m. and Sundays from 10 a.m. to 9 p.m. Visit their website for more information on the menu and hours.
2) Corner Bakery Cafe located at 1385 E. Gladstone St. #300, Glendora. Not only can you satisfy your caffeine cravings, but you can also enjoy food for your tummy and desserts for your sweet tooth. Except for the oatmeal, breakfast is served all day. Try the Bacon Cheddar Panini for breakfast. Another popular lunch selection is the Pomodori panini made on sourdough bread, grilled with chicken, roasted tomatoes, spinach, basil and pesto mayo. Corner Bakery also serves pancakes, soups, salads and pasta. Customer service is excellent at the Corner Bakery where the friendly staff immediately greets you as you walk in to order at the register. Managers and employees always make sure you are well taken care of. The restaurant does get loud and busy, and electrical outlets are limited. Regardless, it is a great place to meet classmates for group assignments. Located on Gladstone Ave. and Shellman Ave. in Glendora, it is open from 7 a.m. to 9 p.m. on Sundays to Thursdays, and 7 a.m. to 10 p.m. Fridays to Saturdays. You can find more information on the Corner Bakery on their website.
3) Wähfles  Do you love coffee? Do you crave waffles? What about coffee and waffles? Wähfles is a cute place to study in La Verne at 1502 Foothill Blvd. Ste. 101. Immediately noticeable is the cozy vibe with their wooden walls and comfy lounge seating.
Sandwiches and desserts are made on waffles. A delicious drink selection includes classics like caramel lattes, teas and espresso. Try the famous "Break Up Shake" which is made of vanilla ice cream with espresso, espresso pieces, Speculoos Cookie Butter and whipped cream. Wähfles is quite a drive from Citrus College, about 11 to 15 minutes depending on traffic, but the distance is the only downside. On Monday to Thursday, Wähfles is open from 6 a.m. to 10 p.m., on Friday from 6 a.m. to 11 p.m., Saturday 7 a.m. to 11 p.m. and Sunday 7 a.m. to 9 p.m. You can find more information on their website.
4) CK Cafe CK's is another  hot spot for tea and boba. This cafe is perfect for night owls who like doing their homework after dark.  CK's is located in Claremont on 109 Yale Ave.
Monday to Thursday it is open from 2 p.m. to midnight, then Friday to Saturday from 12 p.m. to midnight and Sunday from 12 p.m. to 10 p.m. At CK's you can enjoy a wide variety of blossoming flower teas and loose-leaf teas. The most popular of these is the blossoming tea.
You choose a flower bud and can order your tea hot or cold. If you order it hot, it will be served in a glass mug with the flower bud at the bottom. The flower will slowly bloom petal by petal. It takes about three to five minutes for the flower bud to fully open but it is worth the wait. If you choose cold, the flower bud is set first in hot water, and when it is done steeping, ice is added to your tea until it is chilled.
The next time you find yourself in Starbucks and it's just a bit too noisy or too crowded, step outside of your comfort zone and give these juice bar and café alternatives a chance.
---
---