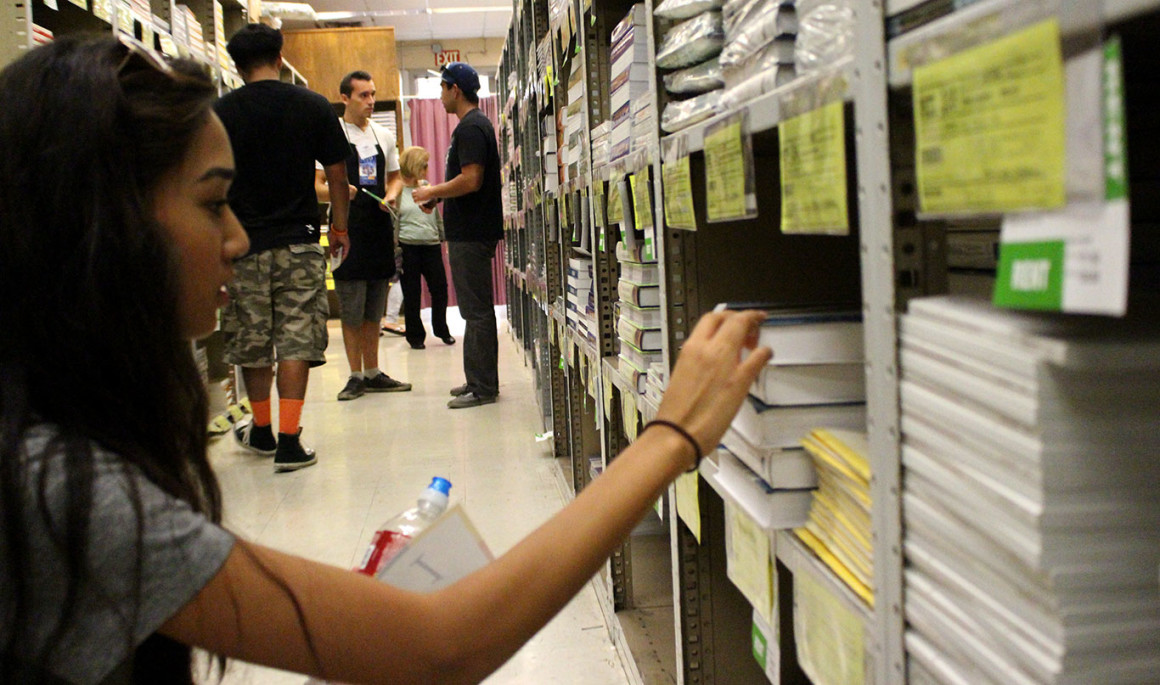 ---
If you are like many Citrus College students, this semester's book buying has been put off.
According to the National Association of College Stores, the average student will spend approximately $655 on textbooks per year so if you want to save money here are a couple of suggestions.
One of the common alternatives to buying textbooks at the full retail price is to buy used books.
In addition to tons of brand new editions, the Owl Bookshop offers many used books at discounted prices.
Most of the books are in mint condition for being used.
For example, a used copy of "The Norton Introduction to Literature, Shorter, 11th Edition," currently used for English 103, can be found for $67.75, before taxes. A new copy of the text sells for $90.30 before taxes, according to the Owl Bookshop website.
Used books can also be found on the Internet from websites like Amazon, Cheap Textbooks, eBay and eCampus.
"You have to know exactly what book to get," warned Karen Mosher, a library media technician at the Hayden Memorial Library. "A lot of people accidentally order the wrong edition of the book."
Many online retailers will have different editions of the same textbook. Double check the edition or the ISBN numbers to purchase the  correct edition as they sometimes vary in content.
Another affordable alternative to buying books is to rent books for the duration of a semester.
The Owl Bookshop offers book rentals in most subject areas ranging from chemistry to history.
"We rent them out at a discounted price," said Vanessa Rodriguez a textbook tech and cashier at the Owl Bookshop. "We rent new and used books and you rent it for the whole semester."
Rental prices can still reach a high price range, but students can find books available for rent for prices as low as $29.61 before tax.
Mosher suggests students go online to the "Top 10 Reviews" website and look up the textbook rental page to find the best online book rental services.
This web page rates companies on service, rental options and shipping fees for student convenience. Listed as the top three rental services are Campus Book Rentals, Book Renter and Amazon.
Many college students are surprised to learn that Amazon offers a book rental service. If you are in a hurry to receive your book in time for your first test, Amazon offers students who join
"Amazon Student" free two-day shipping.
"Amazon Student" along with the two-day shipping is free for six months.
If you wish to continue your membership after the six months it will cost you $49 annually.
While you are online, check out Valore Books, a service that scours the Internet to find the best rental prices.
Valore Books says it will help students find the best deal possible by comparing thousands of sellers, dealers and rental providers so students do not have to.
According to their website, students can save up to 90 percent off the retail price of a textbook.
Citrus College students have also taken matters into their own hands to find the best possible price for textbooks.
The Citrus College Textbook Exchange is a public group on Facebook where students can find, sell, trade and exchange textbooks with other Citrus students.
"I offered to sell my chemistry lab book and got a quick response from someone who wanted to buy it," said Edith Navarro, 20, a nursing major.
Students who use the Citrus College Textbook Exchange set their own prices and as college students who understand just how expensive textbooks can be, they may offer them at reasonable prices. "I always try to sell my books or supplies as cheap as possible because money is tight sometimes," Navarro said. "[It] doesn't matter how much I bought my books for I always try to sell it for the cheapest possible price."
If renting, buying new or used, buying from other students is still not providing reasonable prices, the Hayden Memorial Library offers textbooks on reserve.
Students are allowed to access textbooks at the library. The downside to relying on reserve textbooks means students are limited to using these textbooks inside the library for two hours and not all textbooks are on reserve.
Mosher estimates the library has at least 80 percent of the textbooks used by Citrus College students.
There are various ways to find textbooks at a reasonable price without breaking the bank.
Visit the Owl Bookshop to speak with staff to see what options are available and visit the Hayden Memorial Library to find out what textbooks are available at the reserve desk.
---
---