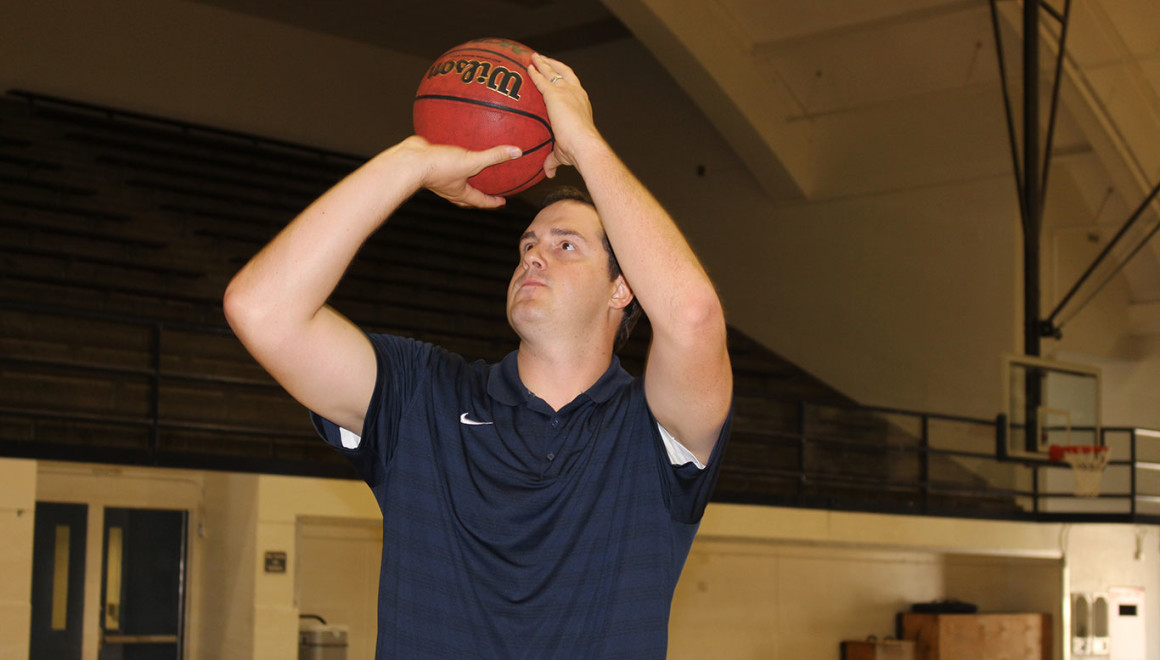 ---
A former assistant coach at Citrus College has returned to take over as the head coach of the men's basketball team.
Patrick Johnson served as an assistant coach for the Owls from 2010-2012, working closely with his predecessor, Chris Victor.
Johnson is now the 11th head basketball coach in 64 years in the history of Citrus basketball.
"I couldn't be more excited about [Johnson] getting this position," Victor said with no doubt that the team is in good hands.
"The biggest selling point for me on taking the job was the ability to come back to Citrus," Johnson said recalling fond memories of getting to know the athletic department and feeling a strong sense of community at Citrus. "My two years here were my favorite years of coaching and of basketball."
Johnson was born and raised in Atlanta where he grew up playing baseball throughout high school.
"At the time I saw more of a professional future in baseball," Johnson said. "The high school basketball coaches used to come into my classes and beg me to play."
Approximately a dozen professional baseball teams, such as the Pittsburgh Pirates, Atlanta Braves and San Diego Padres, scouted him during his high school career but he chose to play collegiate baseball for Duke.
Upon arriving at Duke, Johnson was given a chance to walk on to the Blue Devil's basketball team.
For the majority of college level sports, it is difficult if not impossible to walk on to any team.
Almost all athletes are recruited straight out of high school as early as their junior year.
At a university like Duke, walking on to a sports team is unheard of and it is not a common occurrence, especially in basketball.
"I was lucky enough to get to know a few of the coaches and a few of the former players," Johnson said. " I was able to earn my way in, get offered a spot and go from there."
After finishing his first full season, Johnson was offered a scholarship to play for his remaining years at Duke.
Although Johnson graduated from Duke in 2005, he remained an additional year for graduate school and to continue playing for the Blue Devils.
His team appeared in four NCAA tournaments, three Sweet 16's and one final four which Johnson describes as some of his greatest accomplishments.
After graduating from Duke, Johnson was engaged to Duke track and cross country runner, Meaghan Leon, in the summer of 2006, and they were married in the summer of 2007.
Afterwards, the couple agreed on moving back to California to be closer to family where Johnson started to focus on coaching.
"My original plan was law school," Johnson said regarding his career path. "A couple years into playing basketball, I knew I wanted to be a coach."
Johnson realized his passion for being a part of a team and something bigger than himself.
He began his coaching career at Claremont High School as an assistant varsity coach and the head junior varsity coach.
After a couple years of believing high school was the appropriate level, he realized he would rather work at the college level.
From 2008-2009, Johnson was an assistant coach at a NCAA DIII college, Claremont McKenna, where his team won the Southern California Intercollegiate Athletic Conference tournament.
Johnson moved to Missouri for a year to coach a brief season at NCAA DII Missouri Southern State University.
Johnson then moved back home to California to begin assistant coaching at Citrus from 2010-2012 where the Owls missed state championship by just two points the first year and then made the final four his second year.
"I was lucky to have him as a coach on my staff," Victor said. "[Johnson] is a really impressive guy."
Before returning to Citrus Johnson left for Concordia University Irvine, where he helped lead the to a 69-31 record over three seasons.
"I have been fortunate to be at a lot of good places and learn from a lot of good coaches," Johnson said. "The last three years at Concordia have been a huge learning and growing experience for me."
Johnson said the head coach of men's basketball at Concordia Irvine, Ken Ammann, allowed his assistant coaches to play major roles in the basketball program, experience that prepared him to become head coach at Citrus.
Dominique Walker, a previous Citrus basketball player who was recruited by Johnson, describes him as a 'players coach.'
"He's a real laid back guy and easy to talk to," Walker said. "We didn't do too well last year and I think they'll be a lot better this year going forward with him."
Johnson said he plans to instill Duke standards that he absorbed from working under famous head basketball coach, Mike Krzyzewski, in the Citrus Owls this season.
"At its core, Duke is about team building and a successful culture," Johnson said. "We were required to treat everyday like it was as important as the day before the biggest game of the year."
Jeriko Santos, a criminal justice major and returning player, said that the coaching transition will be very easy for the team because Victor and Johnson have similar coaching styles.
"Their styles are the same but [Johnson] has shown more attention to detail," Santos said.
Both Walker and Santos believe the upcoming season will improve compared to last year.
"We have a lot of returners who are doing a great job of leading and even the new players fit really well together," Johnson said. "It has been a good mesh so far."
The first official home game for the men's basketball team takes place on Nov. 21 at 6:00 p.m. against L.A. Southwest.
---
---