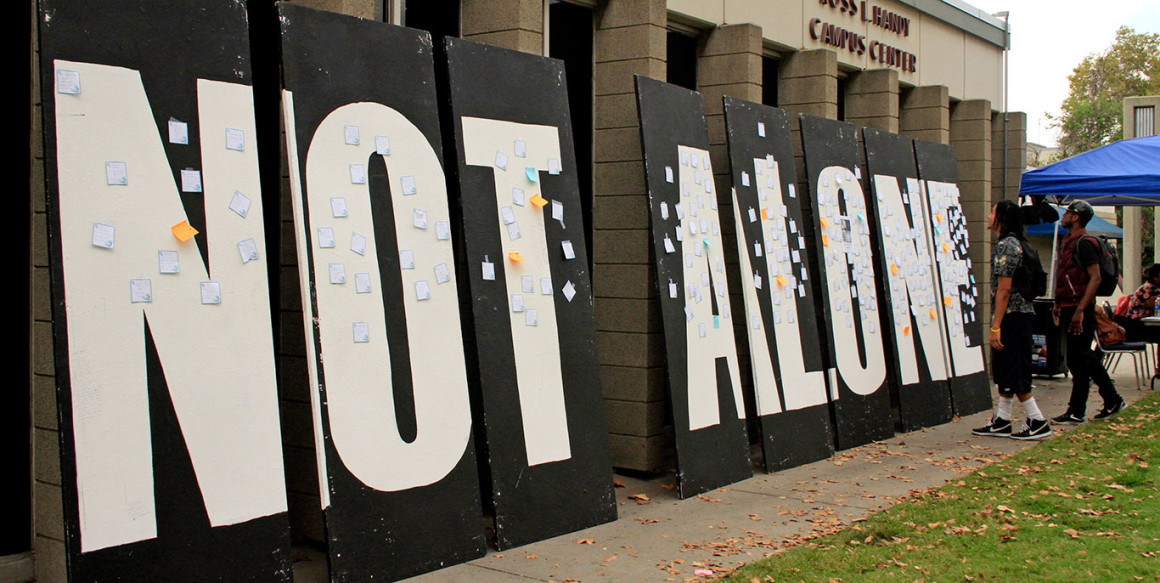 ---
Citrus College recognized World Suicide Prevention day at the Campus Center Mall on Sept. 10.
Present were several programs like the health center, the Trevor Project and the National Alliance on Mental Illness who set up booths to offer help and outreach to students that might be struggling with or are being affected by suicide.
The Associated Student of Citrus College set up their "NOT ALONE" letter boards against the Campus Center to allow students to fill out a post-it note with supportive words to tape and stick onto the board letters.
According to the Suicide Awareness Voices of Education, suicide is the second leading cause of death for 15 – 24 year olds.
Vanessa Salinas, 20, ASCC executive board senator, and Jennifer Chavez, 23, a campus center employee involved with student life, worked the booth next to the letter boards to provide post-it notes, pens, support ribbons and support clothes pins to students who wished to show their support.
"It is important for people to know that there's help and that they do matter." Salinas said. "They should not feel alone."
Despite the humid weather both girls were happy to be apart of World Suicide Prevention day.
"It is worth it to be out here in the hot sun spreading awareness," Chavez said. "Younger generations should be the ones to inform the younger generation."
Students spent the day posting notes providing advice, love or support for any student that may walk by in need of help.
Cameron Sparks, 19, elementary education major, said everyone deserves love and friends.
To find help or reach out if you are struggling with or are affected by suicide you can visit the websites of The Trevor Project, N.A.M.I. or the Citrus College Health Center webpage. See links below. You can also call their hotlines listed below.
---
---