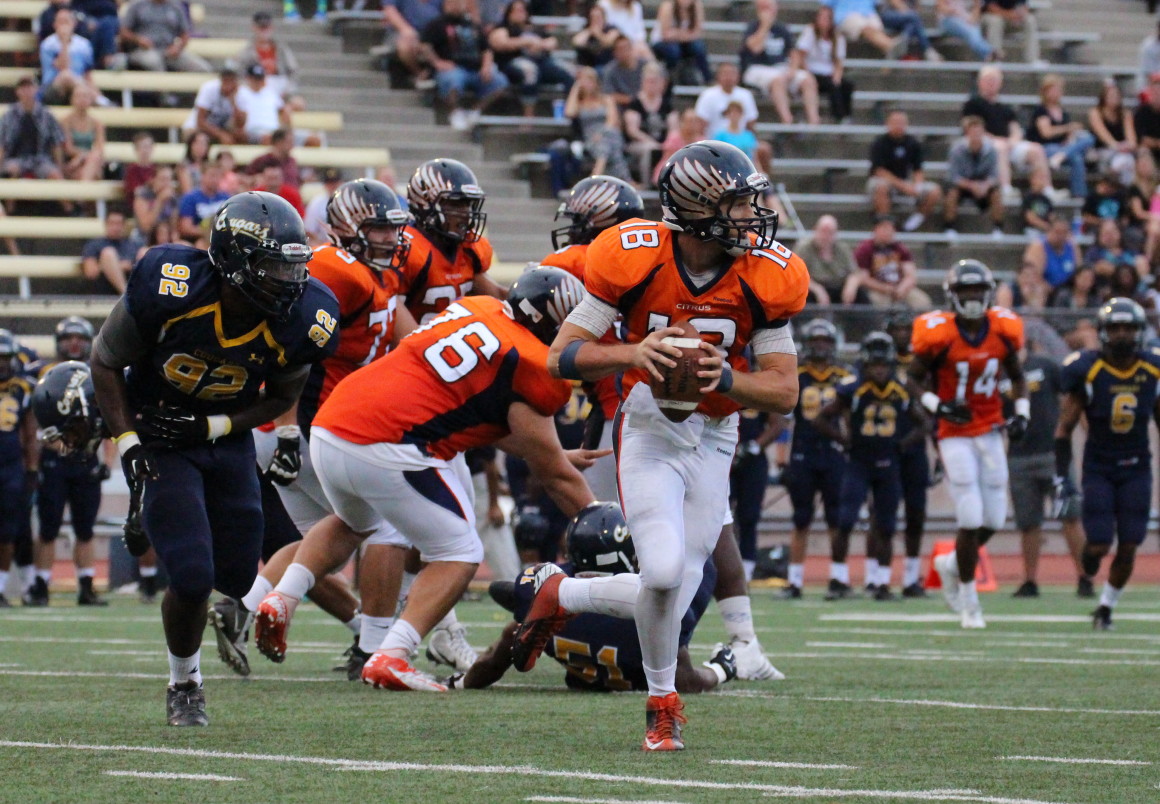 ---
Similiar script. Same result. Different opponent.
The Citrus football team minimized their penalties but committed six turnovers in a 33-20 loss on the road against College of the Canyons (2-0). Citrus was coming off a loss against Palomar College in which penalties and turnovers cost the Owls the game.
This time, it was turnovers and special teams' miscues.
Citrus (0-2) had the Cougars within reach after a one yard run by sophomore running back Steven Garcia. Trailing 27-20, Citrus was unable to bring down Canyons' return man, Triston Brown, on the ensuing kickoff.
"He [Brown] just caught a seam and he popped it through," said Ted Iancenda, Canyons' head coach. "He's very fast, so he was gone."
Brown slightly mismanaged the ball on the kickoff but saw an opening to his left side. With a wall of blockers holding the Owls back, Brown ran it 98 yards down the Canyons' sideline for the touchdown and the 33-20 lead.
With less than four minutes to play, the Owls' defense gave their quarterback two more opportunities but both drives were stopped by interceptions.
"You cannot have that many turnovers and expect to win a football game against a championship-caliber team," Citrus head coach Ron Ponciano said.
Citrus quarterback Brian Meyette threw four interceptions and lost a fumble but he was not to blame for the loss according to tight end Christian Beltran.
"It's a team effort. Meyette did what he could do," Beltran said. "He was getting hit a lot of times but it's an all-around team effort. We win together and we lose together."
Beltran had four catches for 44 yards.
Citrus lead early on as the Owls came out strong. Meyette found wide receiver Brayton Newton for the touchdown to give Citrus the 7-0 lead. Newton finished with 67 yards on seven catches.
The Owls would add onto their lead on a field goal by Axl Mendoza. Citrus finished with 425 yards of total offense with 353 yards coming through the air. Meyette had one touchdown on 34-of-66.
But it was all Canyons from that point on as Citrus never lead again.
"We didn't really come alive until the second half," Iancenda said. "We had a few plays that were kind of fluke things like the trick play, and the turnover. Other than that, in the first half, Citrus dominated us."
Down by 10-0, Cougars' wide receiver Vincent Strange threw the ball to Nicholas Jones for a 74-yard touchdown on a flea flicker play to put the Cougars on the board. Brown would then recover a fumble on the next possession, deep in their own territory, and return it back for a touchdown to give Canyons a 14-10 lead before halftime.
Citrus was plagued by three interceptions, a fumble, and a missed field goal in the second half that prevented them from finding any kind of rhythm.
Despite the loss, defensive coordinator Eduardo Pacheco was optimistic about what he saw during the game.
"Our offense is young, freshmen quarterback and a young line. I really have faith that, in the next couple of weeks, our offense will be scoring 30-40 points a game," Pacheco said. "I was really proud of the defense as well."
After the game, Ponciano was ready to move forward and begin work on improving.
"We go to work. Tomorrow, we go to work and get better," Ponciano said. "We're going to beat some people, there's no question about it. I'm really proud of them tonight."
---
---