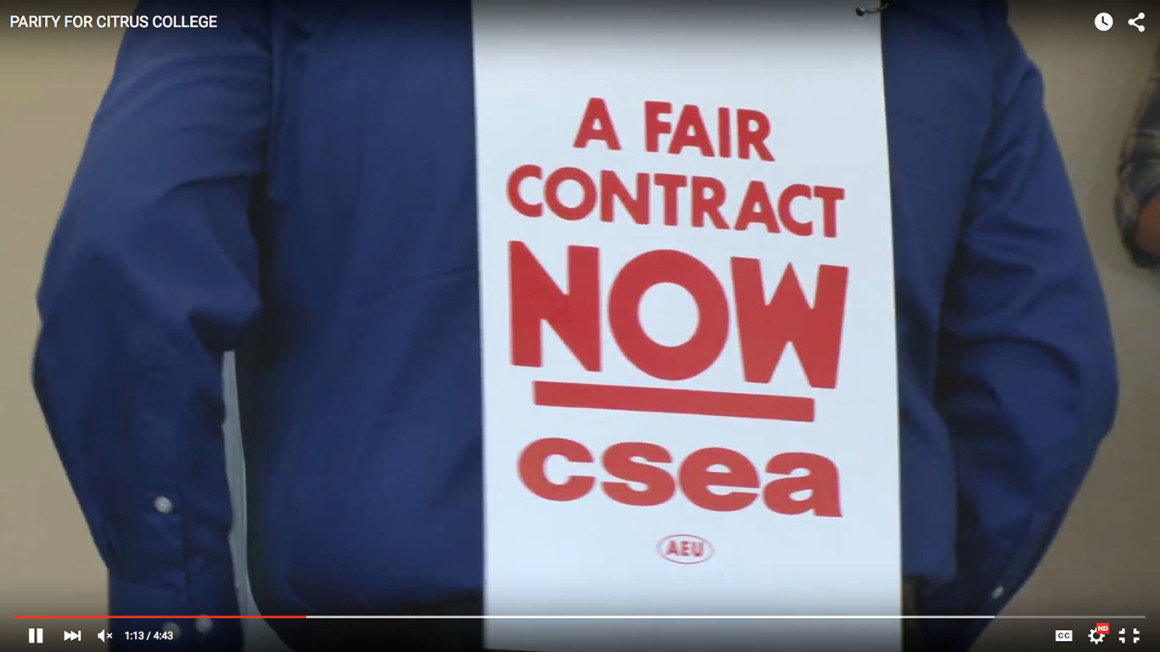 ---
The Citrus College chapter of the California School Employees Association has posted a video on YouTube in regards to their drawn out negotiations with the Citrus Community College District over their new contracts.
The district and CSEA Citrus Chapter 101, which represents approximately 245 classified employees including maintenance, clerical, finance and trade workers, have been negotiating unsuccessfully for nine months without a reaching a successful agreement.
The video, which is available to view below, was filmed during a meeting of the Citrus College Board of Trustees on July 21 features CSEA union president Robert Coutts and several member of the classified union denouncing the unfairness they feel the district has showed them in negotiations.
The video begins with a definition of the word "Parity: The state or condition of being equal, especially, regarding status or pay."
Classified employees say the district is not being equitable because they do not receive several benefits afforded to other campus groups.
The full-time and part-time faculty unions recently signed contracts which include raises over three years of 3-2-2 percent.
According to a statement from CSEA, the college's confidential employees and supervisors get five percent longevity raises while the classified staff's longevity rate is half that.
"We're not asking for anything extraordinary, we just ask to be treated in an equitable manner, like the other groups on campus are treated," Coutts said in the video referencing the other bargaining groups on campus such as the full-time faculty, managers and supervisors.
According to Coutts, the district is also proposing to remove a parity clause, commonly known as a "me too" clause, from the classified union contract unless the union agrees that it cannot be applied to administrative raises.
A "me, too" clause is included in some labor contracts to ensure that one union does not negotiate better benefits than another in the same region or job class.
"The district says that they treat everyone fairly and we're looking for them to step up and show us that is the case," said Karen Giles, who works in the Human Resources department as a Technician I.
The CSEA and Citrus Community College district negotiating teams are set to meet again on Sept. 18.
---
---