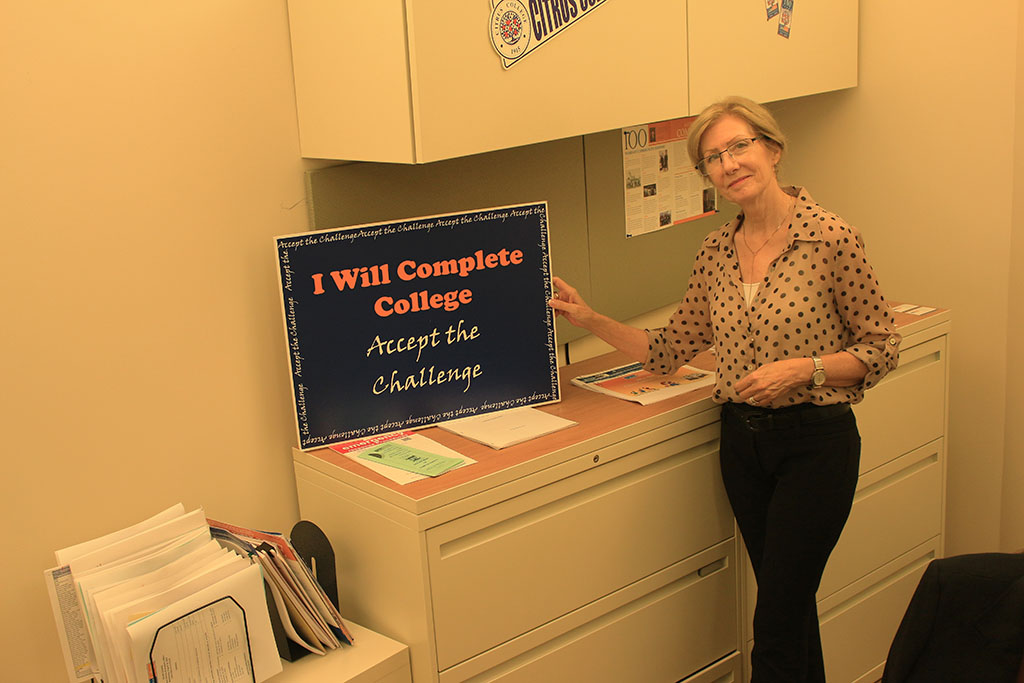 ---
The recently launched Institution for Completion at Citrus College has its first leader.
Kathryn Jameson-Meledy, Ed.D., will serve as the director of the IFC, located in the Student Services Building.
Jameson-Meledy brings to Citrus experience in promoting student success, intervention strategies, program review and student learning outcomes.
She grew up in Simi Valley in a low-income family and was a first generation college student.
Her mother spent most of her life in a wheelchair but provided for her two children as best as she could, Jameson-Meledy said.
"My mother only had a tenth grade education, but I think she was one of the smartest people I have known, " Jameson-Meledy said. "Recognizing the challenges my mother had made college education very important to me."
Because of financial limitations Jameson-Meledy joined the U.S. Navy after high school where she served as a paralegal for the Judge Advocate General.
After she was honorably discharged, Jameson-Meledy attended Moorpark College with her veteran's benefits.
Jameson-Meledy originally thought she would like to be a police officer.
After graduating Moorpark College with an associate of science degree in criminal law Jameson-Meledy attended California Lutheran University.
There she obtained her bachelor's degree in business management and her master's degree in in public policy and administration, after she went on to receive her doctorate in organizational leadership from Grand Canyon University.
Jameson-Meledy said that developing fundable programs that can help students is a strong interest of hers.
"She stands out with her global sense of view, and that is what this position is," Arvid Spor, Ed.D., vice president of academic affairs said.
He referred to Jameson-Meledy's ability to focus on seeing "the bigger picture."
During her 12-year tenure at Ventura Community College District, Jameson-Meledy was responsible for institutional planning and development and grant management, including the administration of $33 million in resource development programs.
Jameson-Meledy considers herself to be an advocate for students and a life long learner.
"I've always been interested in research that promotes success," Jameson-Meledy said. "I have developed programs over the last 15 years and have been bringing in money to help students succeed for a long period of time."
One of her most memorable achievements was writing a grant to the state to bring funding in for technology that allowed students hands-on and real-world experience.
"Even though Jameson-Meledy just started she has already hit the ground running," said Martha McDonald, Ed.D., vice president of student services.
McDonald describes the IFC as a think tank for developing ideas.
The goal of the IFC initiative is to capture students as early on as possible to influence their educational success.
IFC grew out of an idea presented to the campus community by the Phi Theta Kappa Honor Society, then led by Alejandra Morales, at Convocation 2012.
The goal behind the IFC is to use funding to research and support innovation that will directly serve students on their journey to completion.
The IFC model consists of four interdependent components: innovative strategies, professional development, resource development, and research to promote student completion.
"All of these components are interchangeably important," Jameson-Meledy said. "Data shows us that the earlier you engage a student, the stronger the probability of success."
The innovation component focuses on identifying and navigating strategies inside and outside the classroom.
These research-based strategies may include pre-freshman programs, completion coaches, supplemental instruction, book scholarships and summer immersion programs.
Professional development provides faculty and staff with training for implementing these new tactics.
The ability to provide professional development relies on ongoing funding, or resource development.
Research, the fourth component of the IFC, aims to identify problems or deficiencies in the process of student completion and find solutions.
The researcher identifies gaps in student achievement, conducts research on potential innovative strategies and offers professional development solutions.
"It won't just be one big program," Jameson-Meledy said. "It will be a lot of programs on different tracks. The more students involved the better."
Jameson-Meledy said she is very excited about the great team of professionals and student advocates at Citrus and the opportunity it provides.
"Everything about her was professional," Spor said. "We don't know each other well, but I look forward to working with her."
---
---