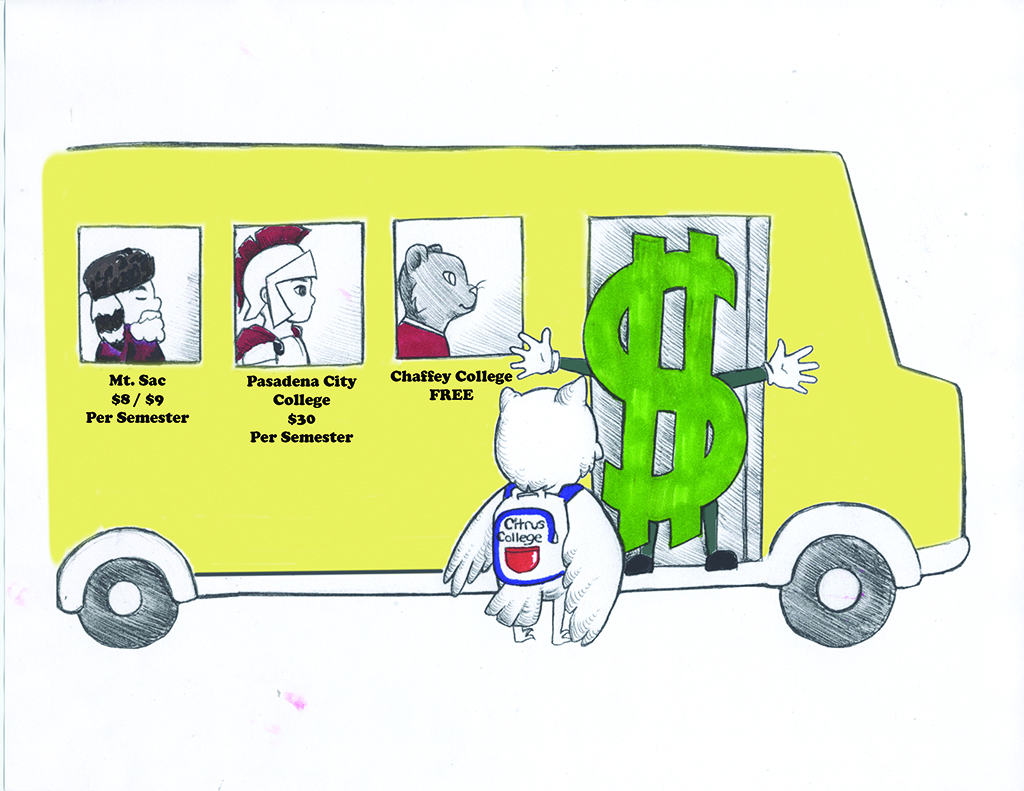 ---
Associated Students of Citrus College Executive Board needs to reopen the discussion to offer their students a discounted bus pass.
Other colleges like Mt. San Antonio College already offer a bus pass that is included in every student's activities fee.
Mt. SAC students recently voted to pay $8 if they are part-time and $9 if they are full-time.
Pasadena City College offers their students a $30 bus pass for the entire semester.
Chaffey College students, who use Omnitrans, an Inland Empire transit company, just need to show their ID for a free ride.
Not only do these colleges give their students bus passes, they also make the passes affordable.
A regular Foothill Transit "student pass" costs $33 per month.
Over the course of a regular 17- week semester, Citrus students would pay $132 for the monthly pass.
If students cannot afford a pass, they have to pay $1.25 to and from school, five days a week, which will add to about $213.
However for students who take more than one bus, two times a day, five days a week, they would need to spend about $298.
Since Foothill Transit lines 488 and 281 end their routes at Citrus College, it only makes sense that Citrus students receive some sort of bus pass discount.
Citrus College has offered these types of bus passes in the Owl Bookstore in the past but the outreach was not successful.
Citrus College, a campus known for "pioneering new ideas", seems to be the only institution in the San Gabriel Valley that does not offer a bus pass for its students.
There are also students who commute from cities in the Inland Empire, such as Ontario and Rancho Cucamonga, who have to use two transit companies, Foothill Transit and Omnitrans to get to school.
These students will end up paying double the fees.
Education is expensive enough; Citrus needs to provide a bus pass at a discounted price so more students can save money.
Many students think a parking structure is the answer to fixing the parking issue here at school.
However, a parking structure would take months and maybe years to build and it is, ultimately, unlikely to even happen.
A bus pass here at Citrus College would entice students to take the bus to get to school.
If students had access to an inexpensive bus pass they would be more inclined to take the bus rather than use their cars.
With the new Gold Line stop soon to be available, students will be utilizing the TAP card that could potentially be used as bus fare for Foothill Transit.
Even by using the Metro Gold Line, students will still need the bus to travel from the Metro station to campus, as well as from the Metro station to their home.
By having a Citrus-provided bus pass, students won't have to worry about their commute.
The TAP card would be available 24/7, making it useful for weekend plans.
ASCC Executive Board could make this happen by holding an online poll to determine if students would be willing to increase the student activities fee to include the discounted bus pass.
Even though the student fee will go up, those students who take the bus to and from school will save more and could perhaps encourage other students to start using public transportation.
ASCC Executive Board needs to get on board and start discussing the possibility of instituting a low-cost bus pass.
---
---