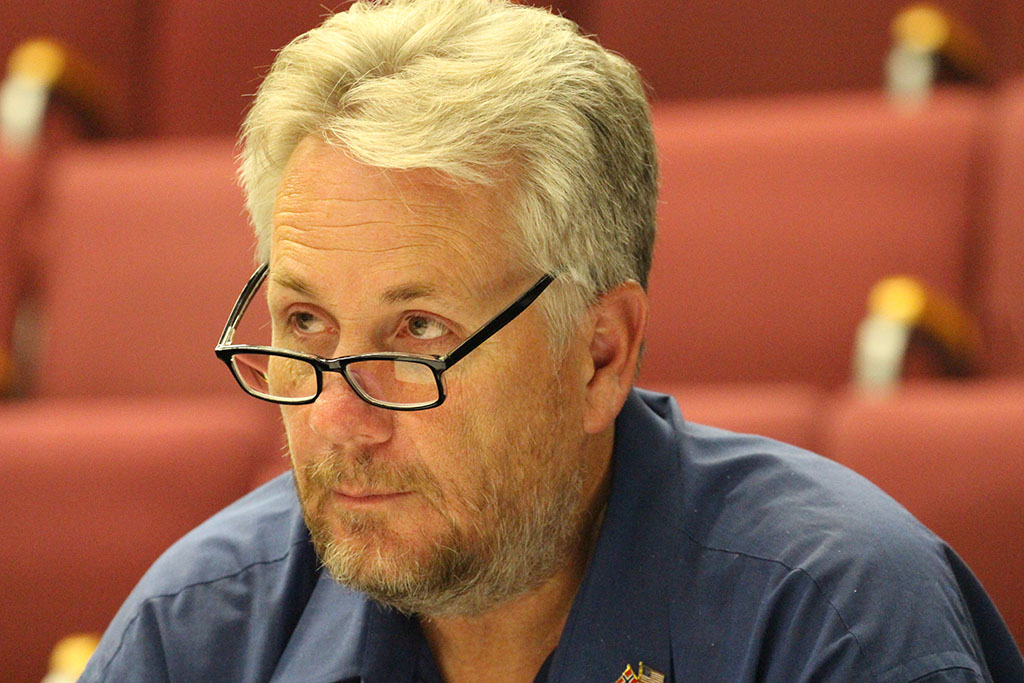 ---
What would you do?
That is the question posed by Citrus College professor and playwright Bruce Olaf Solheim, Ph.D., in this new drama, "The Epiphany."
The play, based on his own family history, is set in Nazi-occupied Norway in the 1940s.
During the invasion in World War II, a Nazi officer took over Solheim's family home.
"They had no choice," Solheim explains. "It's like they arrive with guns and say 'Hey we're taking over the living room and you can have the rest of the house."
He remembers the pain of hearing what his parents and grandparents had to go through, which provided the background to "The Epiphany."
The main character, a young schoolteacher named Marie, is forced to make a decision: either to cooperate with the oppressors or to fight back for freedom.
As the plot unfolds, she grows in knowledge of her true self as well as her Norwegian heritage.
"The Epiphany" presents the struggles ordinary citizens had to endure during World War II.
While Solheim has previously written five plays, this is the first with a female lead.
In addition to the main character, the cast includes several other strong, indigenous female characters.
Solheim, who teaches History of World War II at Citrus College, stresses that female involvement in the Norwegian resistance was strong during the Nazi occupation.
He wants people to realize what Norwegians, and women in particular, had to go through during World War II.
"It is important to show that men are not the only ones involved in war, that women were not helpless," he said, adding that this is something you do not hear a lot about.
"The Epiphany" has been in development for three years.
Others involved in the making of this play include Professor Cherie Brown, Citrus College's program director.
Brown also worked with Solheim on "The Bronze Star," his play about a Vietnam War veteran, which was also produced at Citrus College.
"It was a wonderful experience for my students to work on a piece of theatre that was historically sound as well as being an original, so I wanted to do it again," Brown said. "Many colleges don't take the kinds of chances we do here at Citrus College and I'm proud to say that we do it wholeheartedly."
Citrus College student, Chelsea Barron, who is currently an English major and considering a minor in Performing Arts, will be playing Helga Helsing in "The Epiphany."
"It's amazing and enlightening to learn about something not many people know about," Barron said. "The fact that this story come directly from the experiences of Dr. Solheim's family makes it much more personal."
Alongside Citrus College student actors, starring in the play will also be Åge Johnny Nabben Olsen, a Norwegian war veteran and Jon Carter, an American war veteran.
Olsen says, "The story in the play means a lot to me. First of all, because I've heard the background story from Bruce and also since my grandfather helped to get refugees over from Kongsvinger, which had a Nazi HQ and camps for soldiers, to Sweden. He was never honored in any way after the war and this is kind of my way to honor him."
Solheim, who is himself a United States Army veteran, encourages student veterans to become involved in similar activities
"It allows them to open up and let their stories be told," he said. "Non-veteran students get to learn from other people's experiences."
"The Epiphany" prompts audience members to understand where they come from and to learn from about struggles their families had to face.
"I want them to experience the play from the point of view of the people in the play so they can consider what decision would they make, to think about that in their lives, to encourage people to be brave…" Solheim said. "Taking the initiative to do the right thing and stand up to people."
The play opens Nov. 6 at 8 p.m. with additional performances on Nov. 7 and Nov. 14 at 8 p.m. and Nov. 8 and Nov. 15 at 2 p.m.
For the final showing on Nov. 15, a reception is scheduled at noon in front of the Haugh Performing Arts Center to honor resistance fighters who fought against the Nazis and American soldiers who helped liberate Norway.
The Norwegian Consul from Los Angeles and other officials from the Norwegian government are expected be in attendance to honor these soldiers for their heroism.
Helge Heimdahl, who will be receiving the Memorial Medal and a Defence Medal, was forced into a Nazi concentration camp in Norway because of his involvement in the resistance.
Howard Dobbs, who will be receiving the Memorial Medal, was a part of the 99th Battalion, who helped free Norway from the Nazis.
Tickets bought before the show are $12 and for students and seniors, $10.
All tickets are $15 at the door.
They can be bought at the little theater box office or online at the Haugh Performing Arts Center website.
---
---