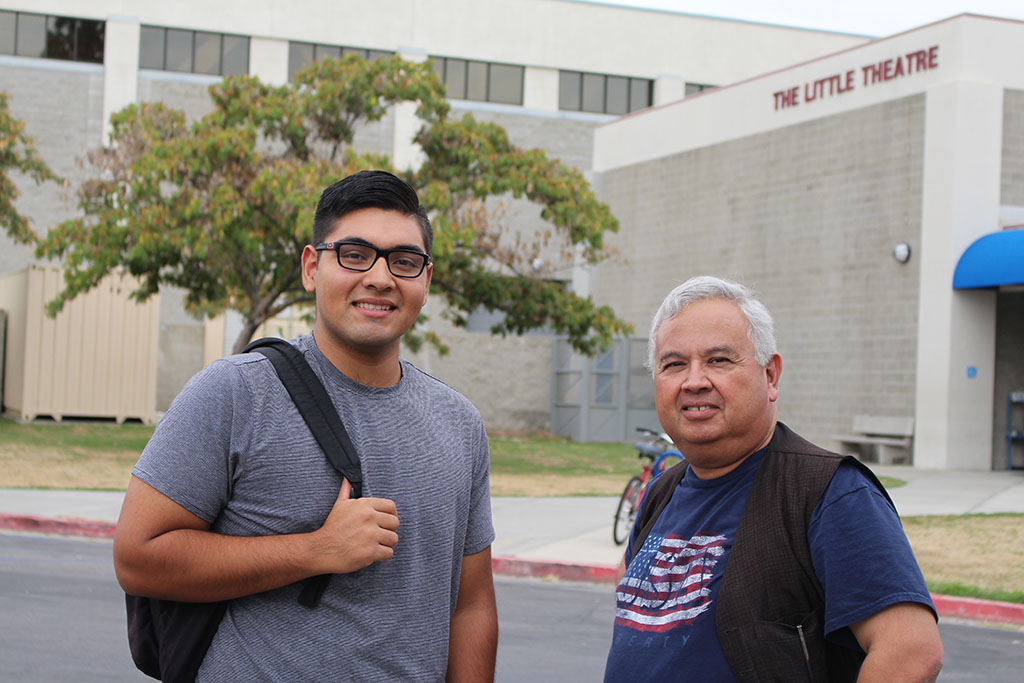 ---
Works written by four talented students will be performed at the Citrus College Little Theatre on Oct. 10 and 11.
Neil Weiss, adjunct theater arts professor at Citrus College, and Professor Cherie Brown, Little Theatre program director, initiated the Emerging American Voices program about three or four years ago as a way to develop and feature quality writing from the screenwriting class, which is offered in the spring.
Chosen this year are James Molina, David Miranda, and Scott Fields who will be presenting the first acts of their screenplays, and Alex Durrazo who will be showcasing his full-length work.
Molina, a theater major, said that he loves every aspect of film production, while he was in high school, he only wrote minor screenplays during his free time.
"I really did a lot of video production back in high school and then it kind of stopped," Molina said. "I took [the screenwriting class] because I thought would be beneficial for me."
Molina's story, "Auburn" is set in the city of Auburn, Washington. The main character is a Latino man, who left a life of crime to take care of his family but is forced to regress into his old ways to provide for his sick daughter.
"I've never really written a screenplay like this before," said Molina. "But it was fun. I enjoy creating a story."
Molina said he appreciates the guidance and insight that Weiss had to offer in his class. Weiss' critique has helped him shape the screenplay into what it is now, Molina said.
One of Molina's main inspirations came from a friend he met last semester in his freelance journalism class.
It was her words that inspired him to shape a significant part of the story, he said.
David Miranda, another writer in the Emerging American Voices, has lived long enough to be a pastor, crime scene Investigator, and Glendale Community College teacher. He uses these experiences to make his story.
Last year he decided to pursue screenwriting to fulfill a part of his "[things]-I-need-to-do-list."
Miranda's story, "On Days Like These," follows a Latino senior crime scene investigator as he is tempted to act according to his own rules and help three sisters investigate their brother's death in Mexico.
"[The screenplay] is based upon a series of true events that I put together." "Most of which occurred with me or to me," Molina said.
He specifically chose a Latino lead because he feels that Latinos are underrepresented in film and media.
Miranda hopes to take his interest and skill in screenwriting to create a television series, for which he has already mapped out the first season.
Scott Fields, the third writer showcased, was completely new to the process of screenwriting.
"I've never really written a screenplay before," Fields said. "It was a lot of writing and then rewriting and then rewriting again, but I enjoyed it."
Fields was introduced to Weiss' screenwriting class by his grandmother, who had taken the class a few years back.
His screenplay, "Princess," is about a social-media-obsessed young woman who is lost in Los Angeles, wearing a dress fit for royalty, and trying to get home.
Alex Durazzo's screenplay, "Fortune Cookie," is the only full-length play to be presented this year.
His story is about Charlie, an immature creative who decides to live following the advice revealed in fortune cookies.
"Our screenplay ideas were due that night, and I decided to have Chinese [food] and was captivated by my fortune," Durazzo said. "So I just rolled with it."
Durazzo says that Neil Weiss is like a mentor to him.
"Neil has been writing for years and has a sharp eye for story details," Durazzo said. "He has been a huge help these past three years, making this story come to life."
Durazzo aspires to win an Oscar for best original screenplay.
"I think all four of the [students' stories] have the potential to live on outside of Citrus," Weiss said. "It just depends on how they develop the story and who sees it."
The performances are 8 p.m. Oct 10 and 2 p.m. Oct 11.
Student tickets are $10, full price tickets are $12.
Tickets are available on the Haugh Performing Arts website or the box office.
---
---