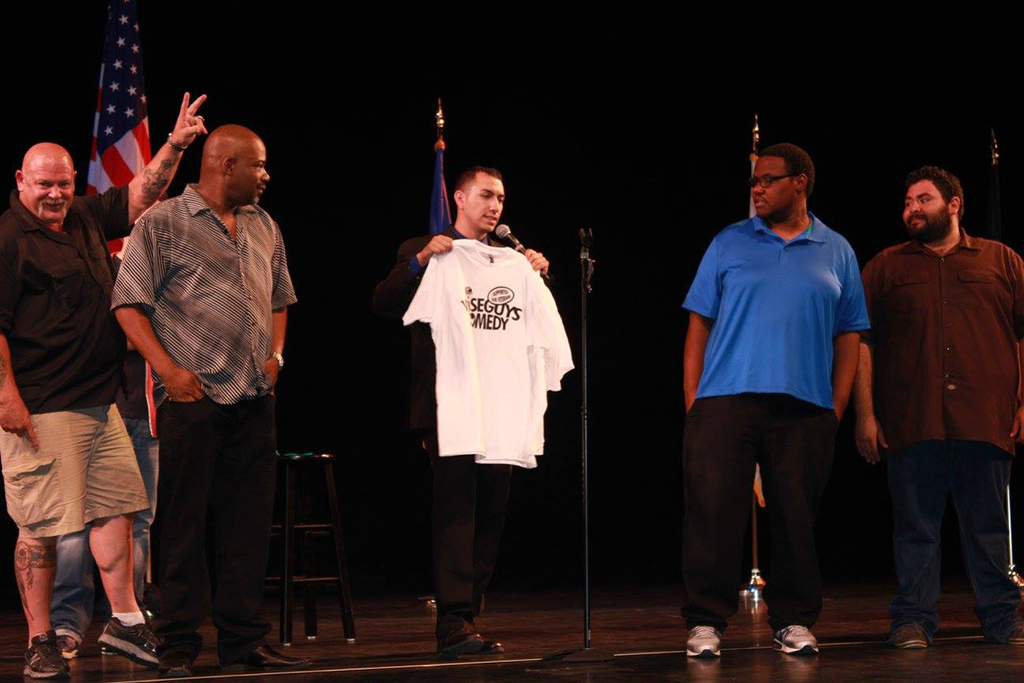 ---
September 11 is typically a day of somber remembrance, but as a counterbalance, the WiseGuys comedy troupe too on the challenge by going in a new direction.
The underlying philosophy of this performance is a good way to alleviate the sadness and pain of that terrible day fourteen years ago.
The WiseGuys, a mix of vets and civilians, donate most of their profits from their Ha-Ha's for Heroes tour to Veterans of Foreign Wars and other veteran support throughout around the country.
They are also raising funds via Kickstarter and other donations to produce a documentary about the treatment of veterans when they return home from deployments in war zones
The overall performance was hard to gauge, comedy-wise.
The September 11 comedy night in the Haugh Performing Arts Center opened with a personal story by Adrian Valenzuela, Marine veteran and former Citrus College student, followed by the flag salute.
The host, comedian Big Mike, did his very best to entertain the audience, while the comics came in and out from backstage to perform their sets.
He did an excellent job razzing the crowd, cracking observational jokes at everyone in the front row, including this reporter.
Big Mike engaged and captivated the audience, even if he did break into some R-rated language.
Although the show was supposed to be PG-13, the audience did not care, as they were all adults and were too busy laughing to be offended by a few colorful words.
The topics of performers' sets ranged from jingoistic tirades, the struggles of body image, difficult sex positions and the challenges of raising children.
However, along with cracks at the one's self or blue humor, the comedians were also quick to jump into stereotypical jokes about race and gay men, and a mild air of xenophobia towards undocumented Mexicans, with many jokes set up at the expense of day laborers.
A smattering of Islamophobia was interjected into some jokes as well, and the audience however, found these hilarious.
At one point in the show, there was an extended bit of stale stereotypes of gay men, with mocking Snagglepuss voices, flailing arms and in interest in sadomasochism, all of which would have felt more appropriate at a mic from the 80s.
They did not bring new light to gay jokes that we have heard before
Yet again, these jokes landed well with the audience.
And far too often there were jokes at the expense of black women, making them out to be unruly when compared to the behavior of white women.
Sex workers were in many of the jokes, which downplayed the real dangers they often face from their pimps.
And of course, these too landed well with the audience.
The next time the WiseGuys are in town, I will skip their performance; there were just too many jokes that fell on minority stereotypes which left me feeling uneasy.
This is not a belittlement of their ability as performers; they had what seemed like all the audience by me laughing the entire time.
Comedy is meant to take us to the brink of uncomfortable; it toes that line of what is okay and not-okay to say.
And when writing jokes to be performed for a large audience, it's hard to keep in mind every minority you may or may not offend in your set, and hope they are good sports about it.
I identify as a Queer Chicano feminist, but I am also a comic who does not mind being the butt of a joke.
I do not accept the argument shows at campuses are hard to pull off off because students are "too PC," a common sentiment in the comedy community.
These jokes just performed just lost their edge, and are clearly making us laugh at someone who is a minority and not with them.
If you think you can look past that, the WiseGuys might be for you, as they definitely have mass appeal as judged by the crowd reaction.
For more information about their tour, documentary and Kickstarter, go to their website WGCtour.com.
---
---