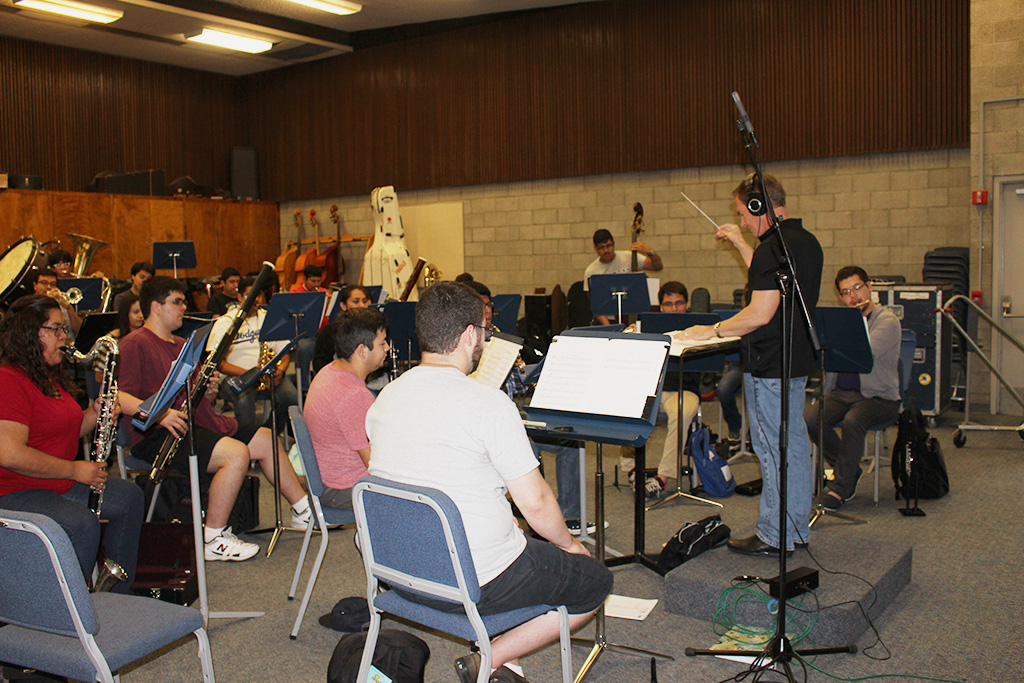 ---
The 16th annual Night of Music from Film features the music of iconic composer James Horner.  Student performers will present music from classic films and screen video footage for the audience on Oct. 16 and Oct. 17 at the Haugh Performing Arts Center.
Horner's scores from classic movies like Titanic, Avatar, Apollo 13, Braveheart, Deep Impact and more are included in the program.
Student actors, dancers, singers and the Sierra Wind Symphony will complement video projections during 75 minutes of Horner's timeless film compositions.
Professor Bill Hoehne said, "It is a concert and a movie, but there is no sound from the movie. We make all the sound. The audience will watch the video and listen to us play the music."
Robert Slack, now the dean of Fine and Performing Arts, directed the first Night of Music from Film in 1999.  Hoehne has continued to direct the showcase ever since.
Recording engineer Tim Jaquette is a director and co-producer. Professor Martin Green is the conductor and director of the concert choir.
"It really gives the students an opportunity to perform film scores at a professional level with the actual edited film," Jaquette said.
"It is not just about music. It is a full show with extra musicians and actors, and a film and choir concert with a wind symphony.  I try to do it in such a way that I am still telling a story rather than just taking the pieces of the music," Jaquette said.
Each year the concert has a different theme.
"One year it fell right on Halloween, so we did all scary movies," Jaquette said.
Green said that originally, when the program started, the choir was not as involved as it is now.
"There is so much beautiful music of James Horner which is enjoyable for the singers to be singing those melodies." Green said.
The vocal soloists and choir are preparing a number of tunes from Titanic such as "My Heart Will Go On", vocal duet from An American Tail, and the soundtrack for solo piano from Legends of the Fall.
The stage will be extremely full with about 100 performers and instruments.  The movies will be displayed on an enormous screen above the HPAC stage.
"When James Horner died in June, we were already talking about other shows, we put our other plans on the back shelf," Hoehne said. "We should do this now."
Some students find that performing in a college level event like this is very challenging since many just graduated high school.
Carlos Jimenez is the principle trumpet player, so he is preparing a solo from Apollo 13.
"It is a bit frightening trying to match up with the greatest trumpet players," Jimenez said.
Jimenez said that the orchestra had to achieve synchronized tempo in just 6 weeks.
"We have a headphone that gives us a tempo as a click. It keeps you on your toes…a lot of young musicians need it as a wakeup call." Jimenez said. "It taught me how to be meticulous being on the spot every time."
Mastering the music takes hard work and a lot of practice. "We want to perform it on a professional level," Heohne said.
Students have only about seven weeks to get ready.
"Basically, October 15 is the midterm," Hoehne said.
The ensemble is working extremely hard due to a short time period. They rehearse in class three times a week and outside class each section gets together for additional practice.
"It sounds fantastic like in the movie," Hoehne said.
The Sierra Wind Symphony includes more than 17 types of instruments such as flutes, oboes, bassoons, clarinets, bass clarinets, alto saxophones, tenor saxophones, baritone saxophones, pianos, trumpets, trombones, bass trombones, euphoniums, tubas,  piccolos, string bases and percussion instruments.
In addition to the show, four professional players have been hired to play violin and viola.
Some of the theme music is pop, so the ensemble instruments include an electric bass, drum set and electric guitar.
"It is a huge symphonic orchestra performance with no intermission," Hoehne said.
Syncing of the screen projection and orchestra music is done ahead of time. Hoehne prepared the film score to give Jaquette the pacing of the music.
"We have to have our act together, and there is no time to stop," Hoehne said.
"It takes a lot of planning, communication, preparation, coordination," Hoehne said. "It is a true professional situation, and students are getting professional experience."
Another of the theme songs that singers are preparing for the pop section is "Somewhere Out There" from An American Tail.
Each movie theme sounds different.  Zorro has a Spanish theme, Braveheart, directed by Mel Gibson, has a Scottish theme, and Avatar has a futuristic science fiction theme.
"Because the music from film is various types, the audience gets a nice concert of the variety of iconic music" Hoehne said.
"People are going to remember and re-experience how much they enjoyed the movie," Hoehne said. "Maybe [they will] come to recognize that all this music was written by James Horner."
---
---