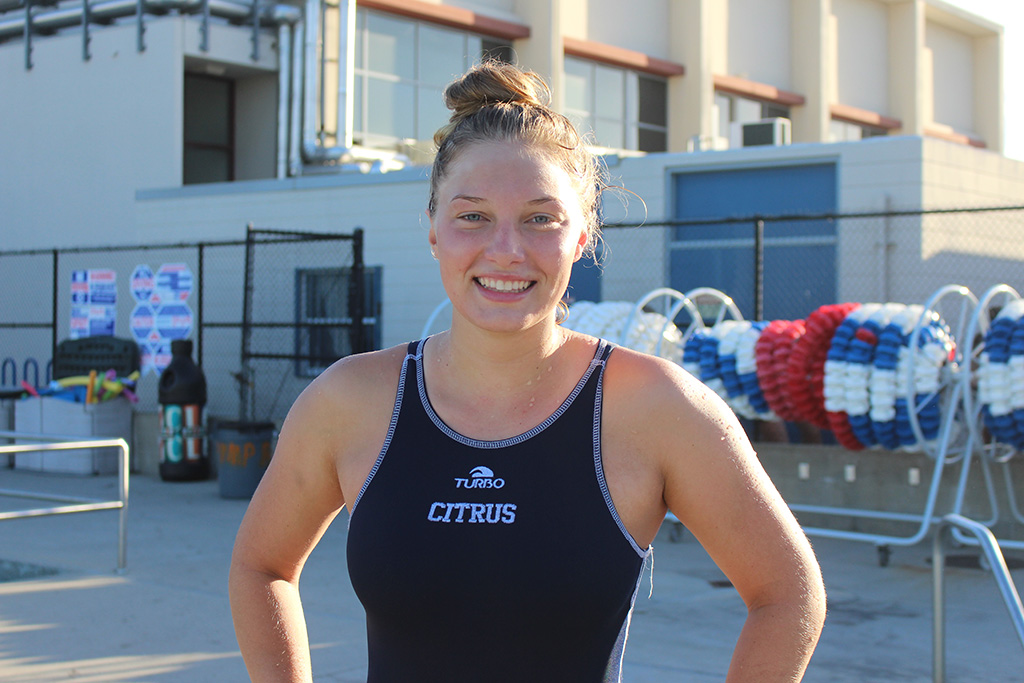 ---
Nothing above or below the water line gets past the women's water polo center defender.
For Citrus College, this is Danielle DeHerrera.
DeHerrera, 19, began playing water polo during her freshman year at Bonita High School in La Verne.
She said she loved to swim, and water polo was one of the few sports that did not require tryouts.
Her father, Ivan DeHerrera Jr., who was a football and basketball player at Bonita High School as well, also encouraged her to join.
"My dad made me join because he thought I was too shy," DeHerrera said. "Water polo is a really aggressive sport, so it made me a more assertive person. I've made so many more friends because of this sport. I ended up loving it."
As a junior at Bonita High, she was a second-team All-Hacienda League choice, and as a senior, she received first-team All-Hacienda League and second-team All-CIF honors.
In 2014, as a freshmen, DeHerrera joined Citrus College's women's water polo team.
Now in her second season, she is one of two Fighting Owls who have competed in all 27 games.
She has already accomplished several major achievements.
In fall 2014, she was a second-team All-Western State Conference selection.
So far this season, she has had 31 goals, 12 assists, 23 steals and only two turnovers.
Klarissa Zavala, 19, the team's current attacker, said she appreciates Herrera's contributions to the team.
"She is awesome," Zavala said. "She beats everyone in a good way: hard defense, really good offense. She's our best shot blocker. She gets along with everyone. I think she is the best athlete on our team."
The team's new head coach this season is Meaghan Paschall and the assistant coach is Adam Roth.
"Danielle is a vital asset to our team and a main defensive force," Paschall said in a statement. "As my center defender, she orchestrates and helps direct her teammates to prevent the opponent scoring goals against us. She is a major offensive threat and has a great shot. Danielle is a win-win on both ends of the pool and I couldn't be more excited to have had these two years to coach her."
DeHerrera, who is majoring in psychology, made the dean's list at Citrus while juggling her team commitments and working at Baskin Robbins.
"Having this busy schedule wears me out physically and mentally," DeHerrera said. "It's a constant struggle to motivate myself every morning to get up at 4 a.m."
Practices run from 5 a.m. to 8 a.m. Monday to Thursday and again from 1 p.m. to 3 p.m. Mondays and Wednesdays.
She said she plans to transfer to Cal State Monterey Bay, where she will continue to play water polo, and earn a degree in psychology, and then pursue a master's in counseling psychology.
"I'm still learning that every game I play doesn't need to be perfect," she said. "I'm learning my teammate's roles and have my own role on the team."
The team is currently at 11-4.
To catch DeHerrera play at Citrus, the next game will be at 3:30 p.m. on Oct. 7 against Allan Hancock. The last home game will be at 3:30 p.m. Oct. 21 against LA Valley.
---
---