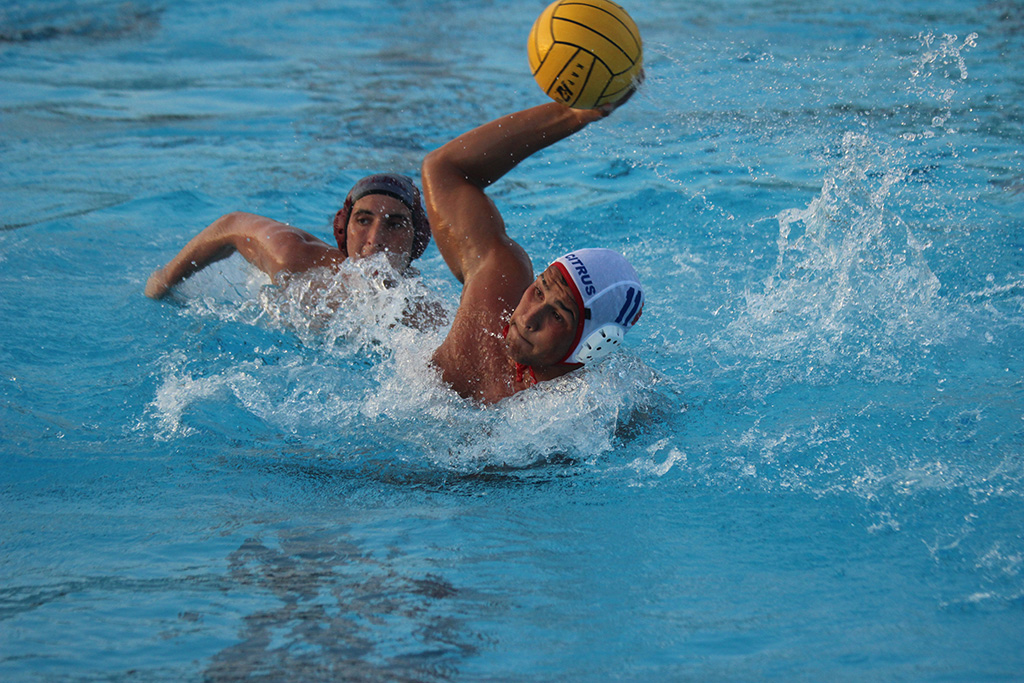 ---
Courtesy of Citrus College Sports Information Office
First-year water polo player Daniel Velazquez is already planning to move to Europe to play the sport professionally.
Velazquez, 18, is a nursing major at Citrus College and went to Hungary last summer with the City of Commerce Aquatics Swimming and Water Polo club team, a well-known, competitive and rigorous sports organization.
Velazquez said his recent trip to Hungary consisted of more than just the game.
"We did a lot of sight-seeing and even got to see Budapest," Velazquez said.
The trip was proof.
Velazquez had escaped the mundanity of Commerce, his hometown, and was enriched with new experiences, becoming the envy of every wanderlust student his age.
When he was 15 years old, Velazquez found out he could play water polo professionally and set a goal to make it happen.
Being on the Commerce club team, Velazquez explained, provided him with other international water polo opportunities.
"The summer before my senior year [in high school] I was picked to play for the Mexico Youth National [water] polo team," Velazquez said. "I was able to go to Baja California and play in tournaments over there."
As a result of these tournaments, Velazquez was one of the few selected to play for the Mexican national youth team.
Aside from family trips to Mexico, Velazquez said he had never traveled in this manner.
"He has gotten to travel and it's opened up his eyes to all the possibilities he has," said Isela Velazquez, his mother.
Velazquez, a long time resident of Commerce, joined the club team when he was just 7 years old.
His mother said that Velazquez was fascinated with the game balls and talked to the coach about them.
After swimming four laps, the coach told Velazquez that he had made the team and that he was going to be good.
"I was inspired by my older cousins when I would watch them play," Velazquez said.
Velazquez said although water polo is like a family tradition, he was the first relative to travel around the world because of the sport.
During his junior year at Cerritos High School, Velazquez said his team won second place overall in the California Interscholastic Federation (CIF), an organization that presides over interscholastic athletics in the state of California.
He also mentioned he won the "Newcomer of the Year" award, the same year for the Long Beach Press Telegram, a news publication for Long Beach.
Having that much skill, Velazquez transferred from Bell Gardens High School to Cerritos High School and then to Montebello High School, trying to find the best high school program to enhance his abilities.
Velazquez said that due to the third transfer to Montebello High, the CIF rule 207 came into play.
He was not eligible to play for the varsity water polo team his senior year because he had used his one transfer and sit out period for Cerritos High.
Although Velazquez did not play his senior year of high school, he continued to practice.
He is the Fighting Owls' utility player, which means that he can start in any position at any given time.
Velazquez said he came to Citrus specifically because he wanted to play for Kenny Clements, men's water polo coach.
He met Clements when he was his student aide at Montebello High School.
"He is a respectful and kind-hearted young man," Clements said. "With the amount of skill he has, you would think he would be arrogant but he's really down to earth."
Velazquez said he plans to transfer to San Jose State University or Loyola Marymount University and to continue playing water polo.
"He's by far our best all-around player on both ends of the pool, offensively or defensively," Clements said. "He is also a prolific scorer and total team player."
Even with the copious amount of skills that Velazquez obtained and how long he has been involved in water polo, he said that he did not regard himself as a talented player until he was a sophomore in high school.
He strengthened his skills in Southern California and now, Velazquez plans to use them overseas.
---
---