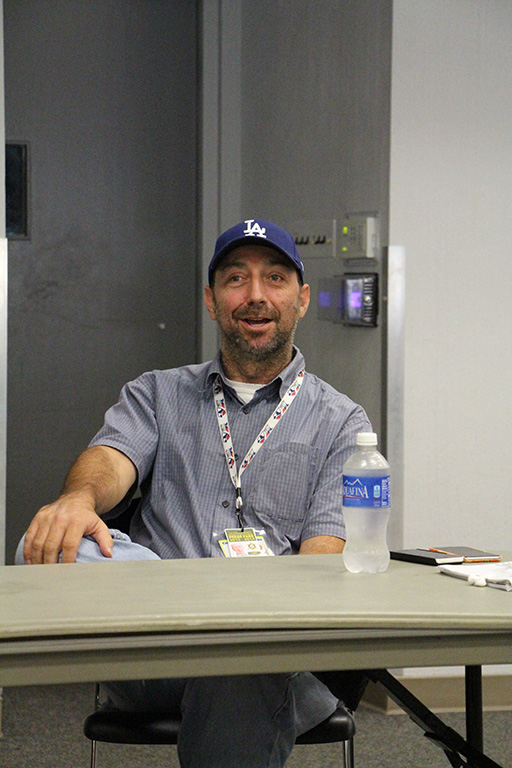 ---
A reporter for the L.A. Daily News gave Citrus College students a sporty twist on political perspective.
""We have entered the era of fan-based politics," David Montero said during an invited talk at the Citrus Campus Center on Oct. 7.
Montero, a "film junkie" at heart, started as a general assignment reporter who thought he might be an excellent film critic.
Montero, who has been a reporter for about 20 years, had never planned on getting into politics.
After deciding he enjoyed film too much to make it his job, he found himself on the campaign trail.
Political science professor Dave Milbrandt, who invited Montero to Citrus, asked him what it is like covering the political beat.
For Montero, covering politics is about being "on" all the time.
"In the age of social media, nothing ever stops," he said. "The time zones have created a constant vortex that's being filled with content and you have to keep track of it."
He said this makes covering politics hyper-competitive.
"You're competing not just with other journalists," he said "But with groups that have an agenda, campaigns, strategists, consultants, TV and anybody that has access to a phone a blog and a Twitter account that has the time to attend every event that they want to and tweet from it. God knows they may say something—given the current crop of candidates, they likely will say something—and you have to be there when they say it."
Through several sports references, Montero defined the way the game of politics is played.
When Milbrandt asked him how to fix the political system, Montero said that it has to start on an individual level.
"You've got to swallow your pride, that's No. 1," he said. "We don't listen to each other anymore, there's no conversation at all."
Montero compared competition between Democrats and Republicans to a fan-based rivalry, similar to the San Francisco Giants and the Los Angeles Dodgers.
"We dehumanize the players on the opposing teams first, we can never do anything wrong, they can never do anything right," Montero said. "We have taken politics the same way."
One of the biggest messages he gave students was his perspective on what is happening with today's politics.
"I feel like America right now is in the middle of a bitter custody dispute between divorced parents that are fighting over everything and we're the kids," David Montero said.
Montero said he believes that to decide what information can be trusted and for politics to change, both sides must be considered.
He advised students to lock down five or so reputable and trustworthy sources when considering what information to believe and to balance those sources.
"Policy will follow the electorate," he said. "If they sense that people are doing that, they'll start doing it too."
Montero left students with advice on how to consume information when dealing with politics.
"Embrace learning, don't seek out the information that supports your point of view," he said. "Have a conversation with someone you don't agree with and cede a little ground."
You can follow David Montero on Twitter at @davemorento or find his work at www.dailynews.com .
---
---