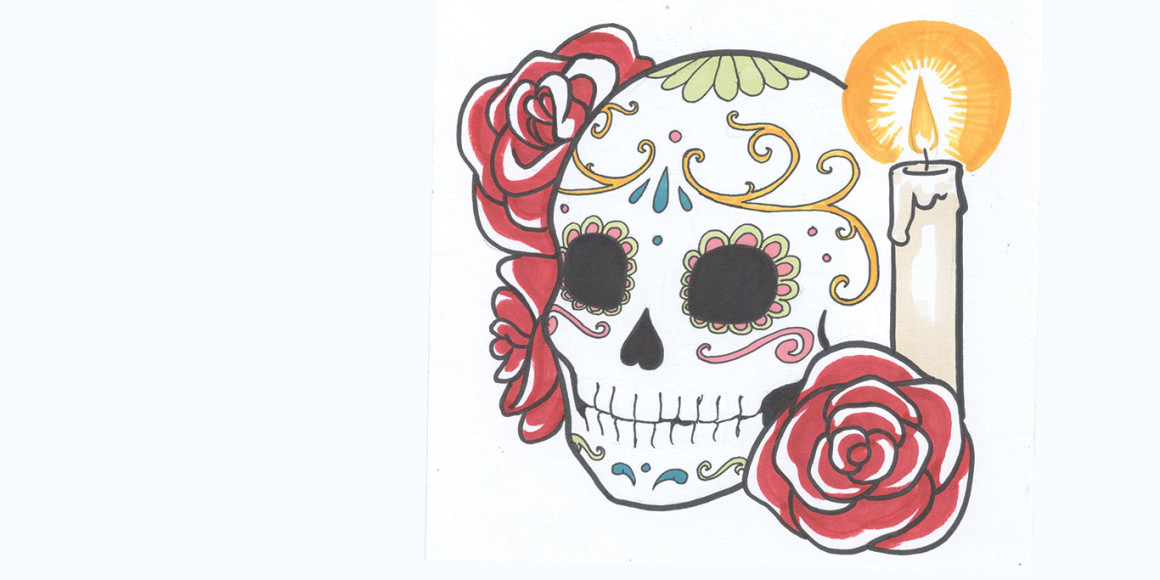 ---
As Halloween approaches, people seem to forget that Dia de los Muertos, "Day of the Dead," is actually a sacred holiday that dates back thousands of years to the Aztecs.
This is just a reminder that the celebration of Dia de los Muertos is not an excuse for a Halloween costume but actually part of an ancient culture.
Celebrated over the span of two days, All Souls Day and All Saints Day are meant to celebrate the lives of loved ones who have passed with gifts and parties.
This celebration is still highly practiced in Latino culture today.
Around this time, in every Halloween store, you can always come across something related to a sugar skull.
Sugar skulls are used to decorate the households or tombs of loved ones during the celebration.
Instead of looking creepy like regular skulls, these are colorful and joyful, meant to represent the spirit and personality of the dead.
This year, stores have seemed to up their cultural disrespect and now have whole sections just dedicated to Dia de los Muertos costumes.
Big companies have picked up on this popular 'trend' and now want to capitalize on it.
You can walk into a Target or Walmart right now and see sugar skulls plastered alongsideHalloween decorations.
This past year, even Disney tried to trademark "Dia de los Muertos" for a movie.
It would have been better for them to take note of how Guillermo Del Toro did his movie "The Book of Life" and see how he did nothing more than educate his audience about the culture.
They are trying to take this holiday and twist its meaning into something it is not.
What makes this worse is the marketing of these costumes feature models that are usually non-Latino.
This does not mean that people of non-Latino descent cannot celebrate the Day of the Dead.
If you are truly celebrating it because you are celebrating the life of a loved one, that is completely fine and is in fact encouraged.
However, there is still no need to paint your face or dress up at all.
There is a huge difference between painting your face as a sugar skull for Halloween and doing it on the actual days of Dia de los Muertos and this goes for Latinos as well.
When you are doing it on Halloween because you think it is "cute," you are disrespecting an entire culture and people that still celebrate this holiday and what it means to them.
You're not only insulting them, but their passed loved ones as well.
As for dressing up on the actual days of Dia de los Muertos, only do it if you are part of the culture.
To go out of your way to do it on these days when you are not a part of it would be just as bad as dressing up on Halloween.
Even in Mexico where it is hugely celebrated, only the performers take part in dressing up.
If you were actually celebrating it for the right reasons, you would not feel the need to dress up.
The Calaveras, caricatures of skulls or skeletons, are also used during these days and are often dressed in European clothing to seem like something they are not.
When people dress up in Dia de los Muertos "costumes," that is exactly what they are doing dressing up like something they are not.
Dia Delos Muertos is much bigger than Halloween.
Halloween has become a shallow holiday meant for getting candy and partying, while Dia de los Muertos is still about giving back to your loved ones and celebrating the lives they had.
As a Chicana who celebrates this day in honor of her grandma and other passed relatives, I ask to please not take the meaning of this day and turn it into something trendy that will just be forgotten when you get tired of it.
Keep the holiday of my people and my passed loved ones sacred.
---
---