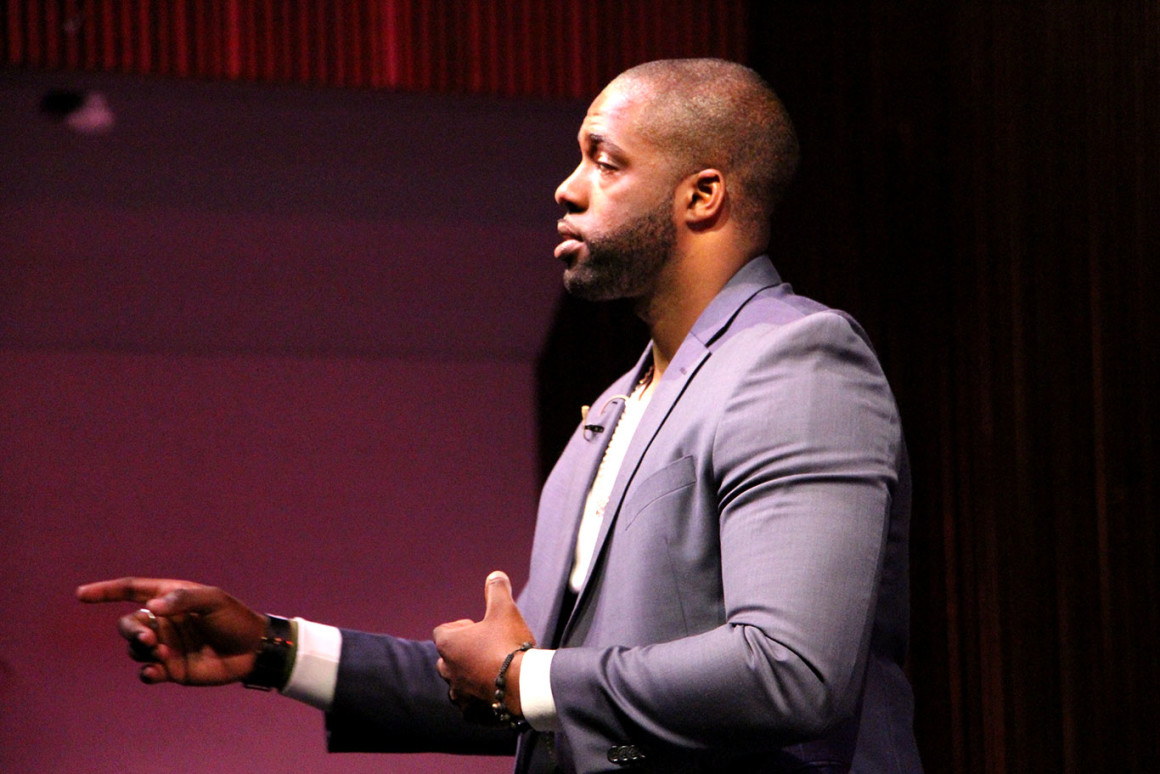 ---
On the opening day of the speaker series being hosted at Citrus College, Brian Banks, a 30-year-old former NFL player falsely accused of a crime, shared his story at the Haugh Performing Arts Center on Nov. 16.
In the summer of 2002, 16-year-old Banks was a highly recruited linebacker out of Long Beach Polytechnic High School, who verbally committed to a full-ride scholarship to play at his dream school, the University of Southern California.
On July 2, 2002, Banks was at school for a documentary about the rivalry between his school and De La Salle High School, another powerhouse football program, when he ran into a former classmate from middle school.
The two went to an area of the school where people would go to "make out," Banks said. Banks was arrested later that night and sent to juvenile hall, accused of kidnapping and raping his ex-classmate.
"Two (days) turned into three, three turned into eight, eight turned into 14," Banks said.
Banks was in juvenile hall for a year and had developed a sense of hope that things would get better so he stopped dwelling on the negative. Little did Banks know what was to come.
He turned down three plea deals before his lawyer advised him to take a plea deal that would send him to Chino State Prison for 90 days, with the possible outcome of probation, and three to six years in prison. He accepted the pleas deal.
"I went from fear, to confusion, to hope," said Banks. "But it turned back to fear."
Banks said his time in prison gave him time to reassess his life. He thought about the years he was losing and how he was going to respond to that.
"I had to make my future the truth," Banks said.
When Banks was released in 2007, after serving at least 85 percent of his time, he was required to wear a GPS ankle device for five years. Banks also had to register as a sex offender.
"Parole was even worse," said Banks. "It's like you're in prison, but you're in a glass cage."
In 2011, Banks was on Facebook when he noticed a friend request from the woman who accused him of rape. Banks was shocked and afraid, because interaction with her would violate his parole.
After talking to each other on the phone, Banks agreed to take his risk to meet her at an office at his work as a setup.  She admitted to lying about everything and Banks was able to get the testimony on tape.
Banks sent the tape to California Innocence Project, dedicated to freeing innocent people of accused crimes. In May 2012, after a 10 year nightmare, Banks was deemed free.
He had worked himself into shape and was ready to take advantage of his last shot at his passion.
"I'm given a small window of opportunity," said Banks. "What am I going to do with it?"
Banks got his shot in the NFL with a tryout for the Seattle Seahawks in 2012 and again in 2013, when he signed a contract with the Atlanta Falcons.
Although Banks is not playing in the NFL now, he works for the NFL sharing his inspirational story of perseverance.
"I chose success as my revenge," Banks said.
Banks took questions from the audience afterwards.
"His outlook on life is so inspiring," said Kylie Molnar, 21, music major. "I can't relate to him, but what I can take out is his way of handling it."
Students were also inspired by his willingness to not give up when everything seemed stacked against him.
"His story taught me that no matter how low you are in life, if you have a dream, keep going," said Karly O'Neill, 21, psychology major.
Banks also has a book coming out and a movie is in the works about his life.
"Don't judge me by what I've been through," said Banks. "Judge me by how I dealt with it."
---
---