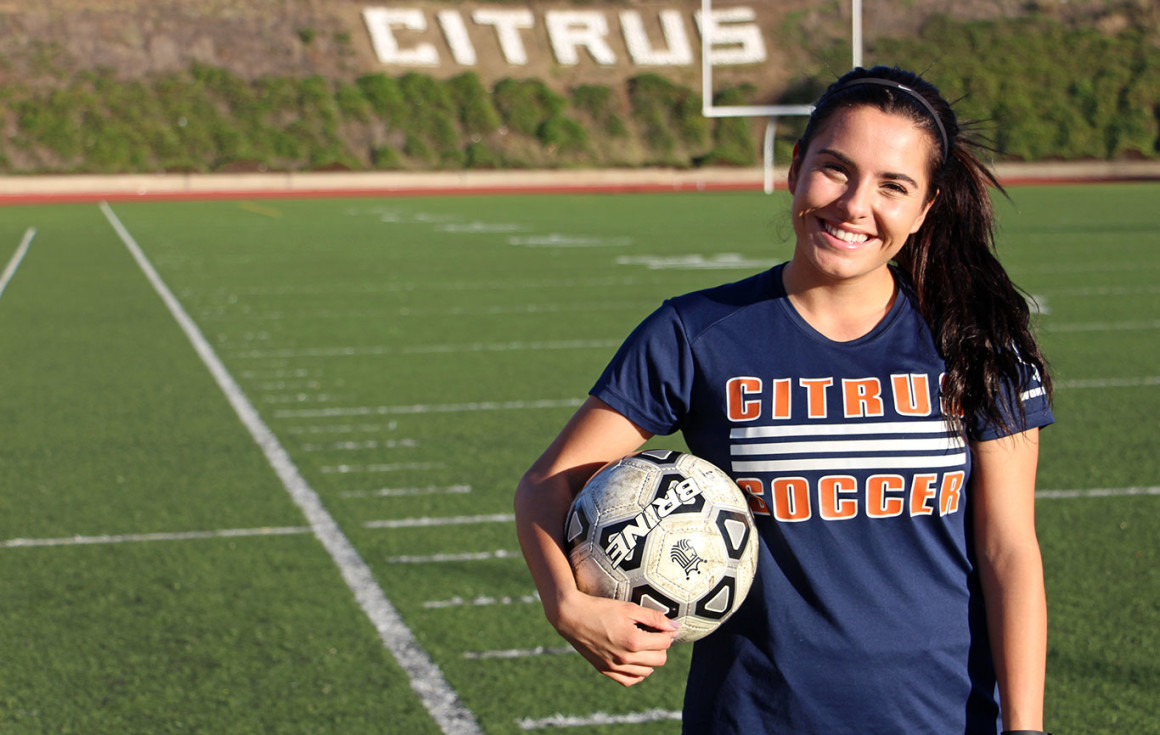 ---
Citrus athlete Savanna Lujan felt as though her soccer days were over after suffering from a severe season-ending injury only 30 seconds into the match against San Diego.
Lujan, 20, tore her anterior cruciate ligament (ACL) her inaugural freshmen season in 2013, took a medical red-shirt and played sparingly last season.
Lujan, who wears number 13, has been recognized as the leading scorer of the Citrus Owls women's soccer team, showing consistent performance on the field scoring four goals in 19 games.
Lujan's life consists of mainly school and soccer.
Growing up in Claremont, Lujan started playing soccer at the age of four.
"My parents were always heavily involved and that's one of the reason's why I always wanted to continue," Lujan said.
Later on, she started playing Club Soccer, moved up to playing AYSO and played for the Claremont Stars and La Verne Lazers in high school.
Her senior year she attended Claremont High School where she met the head coach of Citrus College, Tim Tracey, who also coached her high school soccer team.
Tracey convinced her to come play at Citrus after playing for him her senior year.
"She's a strong competitor," Tracey said. "She's one of those consistent players that gives you everything everyday."
It was tough for Tracey to see one of his best players suffer a severe injury, but her drive to get back on the field showed strong character.
"It's tough for any athlete to suffer this kind of injury," Tracey said. "She showed determination, strength, and the will to get back to it very well.
Practically playing soccer her entire life, Lujan's injury was an obstacle to overcome leaving her in denial after tearing her ACL.
"Every time I tried to get up, I fell to the floor," Lujan said. "I didn't want to believe it."
Six months after her injury, Lujan started exercising daily and making her way back into shape, but the injury had affected her mentally and had her fearful to play as hard as she wanted to.
"I was afraid I was going to tear it again," Lujan said. " When in reality my surgery knee is actually stronger than the other one."
With the emotional support from her teammates and the help of the physical therapy of the athletic trainers, Lujan was able to rebuild her confidence.
"They wanted to watch me succeed so they encouraged me to play better," Lujan said.
Lujan's teammate, Madison Hunt, 20, kinesiology major, was by her side while undergoing physical therapy. She saw her motivation to get back into shape and regain her strength.
"You were able to see the passion and drive in her eyes," Hunt said.
Lujan needed to take into consideration that she had just suffered a serious injury and that it will take time to get to where she used to be.
"I though that that it wouldn't take too much time to progress," Lujan said. "But taking a long time off, obviously it did."
By her side is her sister Sydney Lujan who is also on the Citrus Owl's women's soccer team.
"I guess it sounds crazy to want to live with your sister, play soccer with your sister and spend every minute together but I absolutely love it," Savanna said.
"She's such a great leader on and off the field and I really love playing on the same team as her," Sydney said.
Lujan has learned to appreciate the sport that she loves and has given her all every moment she plays on the field knowing that it can suddenly end at any moment.
"My injury has motivated me to constantly work hard and do better," Lujan said. "I feel like I'm trying to make up for a lost time."
Lujan is unsure where she plans to transfer but intends on attending a four-year university and would love to continue soccer.
"That injury has helped me realize that I can't take it for granted," Lujan said.
---
---