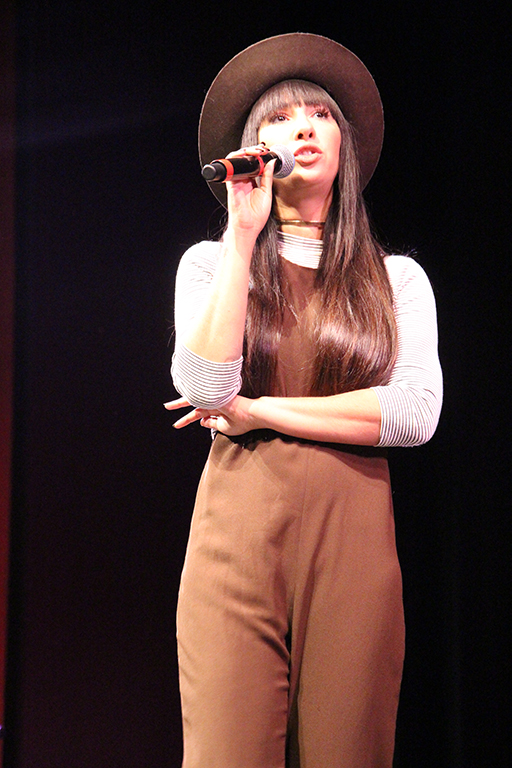 ---
Photo:Nubia Valdez
Actress Jackie Cruz from "Orange is the New Black" told students about the accident she went through that changed her life at 17-years-old on Nov. 19 at the Haugh Performing Arts Center. Cruz is the second speaker to be a part of the new Citrus College speaker series.
Actress Jackie Cruz from "Orange Is The New Black," visited the Haugh Performing Arts Center on Nov. 19  in an attempt to inspire students with her determination.
Although born in New York, Cruz grew up in the Dominican Republic where her mother was studying to become a doctor. Her journey to stardom began there.
"I remember walking to go watch a movie with my mom. We went to go see 'The Bodyguard.' After the movie, on the walk home, I told my mother, 'Mom, I want to be an actress and singer just like that lady,'" she said. "After that, I was just in love with it."
Her mom believed in her so much that she moved them to Hollywood when Cruz was just 15, leaving behind her career and family in order to help Cruz follow her dreams.
Cruz struggled  at Hamilton Music Academy, a performing arts high school in Hollywood, because people just saw her as "just another Latina."
She and her mother lived in a tiny studio apartment in Los Angeles without family support and struggling to bring in income.
Just like any young adult craving independence, Cruz got a job as a cashier at Baja Fresh and at a club called Seven, where child stars like Hilary Duff went to hang out.
It was at Seven where Cruz met the girl who would change her life forever.
"I just started hanging out with her. I started missing class and started pretending I was sick. I was not the same girl who was pursuing her dreams when she first moved there," she said.
After eventually moving in with this girl and living together for a few months, Cruz and her friend were involved in a crash that ejected Cruz 20 feet away from their car.
The crash left Cruz in need of emergency brain surgery because of a blood clot, a collapsed lung, two kidney contusions, two broken vertebrae, her head shaved with 30 staples holding her head together and screws in her head.
Cruz fell was in a coma for 72 hours before waking up.
"I look across the room [to mirror across hospital room] and I look like this because my eyes are crooked and I try to smile but I can't because my face is half paralyzed," Cruz said. "I feel like my life changed right then and there. I was 17 years old."
After struggling to accept her changed appearance, a quadriplegic 8-year-old girl managed to changed Cruz's mindset.
"This little girl saw something in me that I couldn't see myself. She saw this strength in me that I couldn't see," Cruz said.
After rehabilitation and recovering with a lot of help from her family, she began the tough journey of auditioning and singing again.
Even though she sent out many head shots, no one called her back and if they did they told her she "was not Mexican looking enough" or "too old."
Regardless of this, after pushing hard enough, Cruz got her first role in 2006 in "The Shield."
After this, Cruz's mother took out a loan and she moved to Miami with a producer who claimed to work with the late Mexican singer, Selena Quintanilla.
In a scam, he took Cruz's money and left, forcing her to stay in Miami to work to pay back her mom.
Cruz was eventually noticed by another stranger who wanted to move her to New York.
He turned out to be more reliable and with an investor helped Cruz make three music videos.
While in New York, Cruz waitressed at a bar where she met a girl whose personality was ingrained in her mind.
"I told her that I was going to play her on TV one day," said Cruz.
While working at the bar Cruz asked another coworker if he could help her get an audition.
After four years of not auditioning for a single thing, Cruz auditioned for a new show on Netflix called "Orange Is The New Black."
Within two weeks of the audition, Cruz had gotten the part of "Flaca," a character that was perfect match for her coworker's personality.
"Everything that happened in my life was supposed to happen," Cruz said. "It got me where I am today."
Cruz spent 15 years of her life waitressing before landing her most significant role.
After taking Citrus students through her emotional, inspirational journey, Cruz left them with these simple words: never give up.
---
---