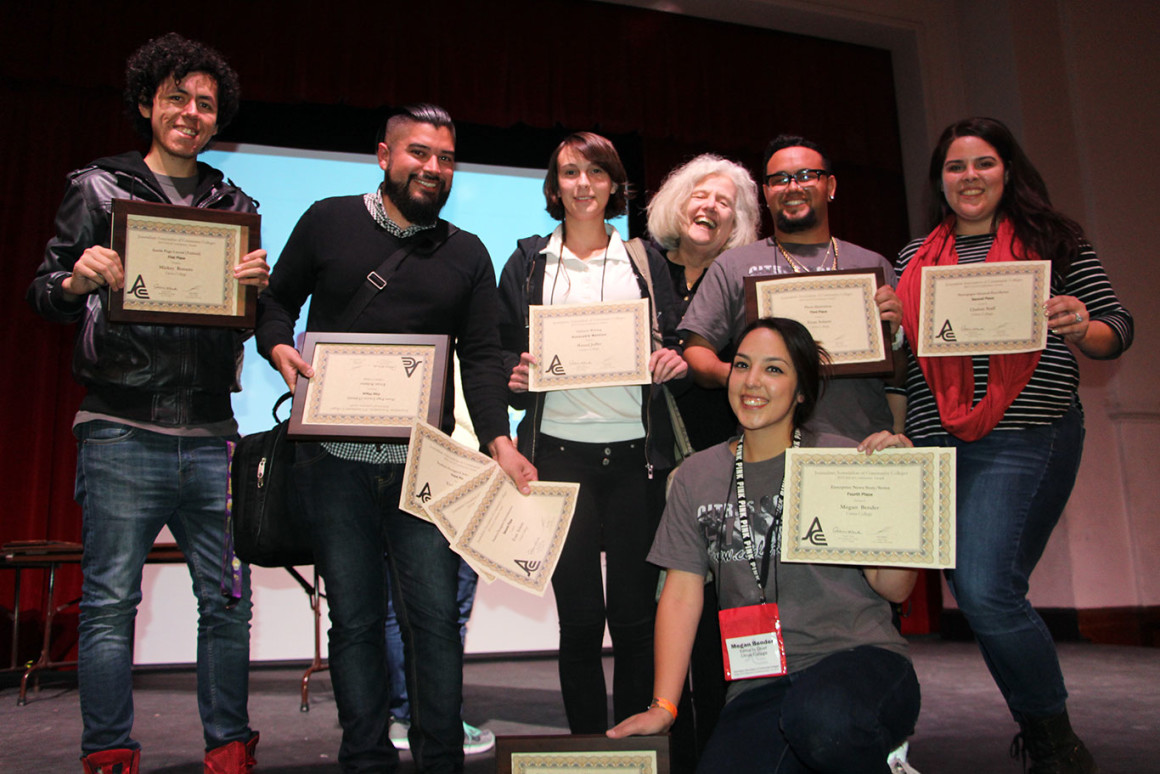 ---
The Clarion staff took home 14 awards from the annual fall conference of the Journalism Association of Community Colleges Southern California Regional. The competition was held at Fullerton College on Nov. 14.
JACC, which was founded in 1955, brings professional writers and reporters, photographers and videographers, editors and publishers together to meet with community college students and share their experiences.
The fall event included five on-the-spot contests in newswriting, opinion writing, copy editing, digital photography and critical review for students to participate in. Awards for publications contests were handed out in 37 categories.
Staff writer Emily Cristler-Hermosillo won an award for on-the-spot opinion writing at the conference. She explained her experience at JACC and the challenge of writing a story in under an hour for the contest.
"It was a stressful but fun challenge, so it was very rewarding to see what you really could do in a time crunch," Cristler-Hermosillo said.
Clarion desktop publisher Darius Johari participated in workshops on ethics and stepped out of his comfort zone entering a critical analysis competition where participants had 40 minutes to write their reaction.
"It was a great learning experience," Johari said.
The Clarion, which has served the Citrus College community since 1922, also won the highest honor of JACC: Newspaper General Excellence. Managing Editor Evan Solano, who is JACC SoCal student president, won eight individual awards; a record for a Clarion staffer.
"This one was definitely a lot of fun," Solano said. "Regionals is definitely a close knit group between us and the rest of the schools."
Three Pulitzer Prize winners from the Daily Breeze, based in Torrance, California, delivered the keynote address at the conference. The Daily Breeze won the 2015 Pulitzer Prize in Local News Reporting for their coverage of widespread corruption of Centinela Valley Unified School District in Lawndale, California.
Overall, the JACC Southern California regional conference was a successful experience. Students had the opportunity to participate in professional workshops, on-the-spot contests and roundtables for editors, photographers and writers.
"I think that overall it was really cool," Solano said. "The new staffers got a chance to see what we do outside of the campus and I think it worked out pretty well."
The Clarion staff will be participating in the JACC State Convention in March 2016 in Burbank.
JACC results below:
Front Page Layout 1st Place Evan Solano
Inside Page Layout (Tabloid) 1st Place Evan Solano and Mickey Romero
Inside Page Layout (Tabloid) 2nd Place Evan Solano
Illustration 3rd Place Pat Cordova-Goff
Informational Graphic 2nd Place Evan Solano
Photo Illustration 1st Place Evan Solano
Photo Illustration 3rd Place Evan Solano
Student Designed Advertisement 2nd Place Evan Solano
Student Designed Advertisement 3rd Place Evan Solano
Webcast/Broadcast News 2nd Place Mara Sullivan
Column Writing 4th Place Dillon Cooper
Enterprise News Story/Series 4th Place Megan Bender
Newspaper General Excellence Citrus College
On-the-Spot Opinion Writing Emily Cristler-Hermosillo
---
---