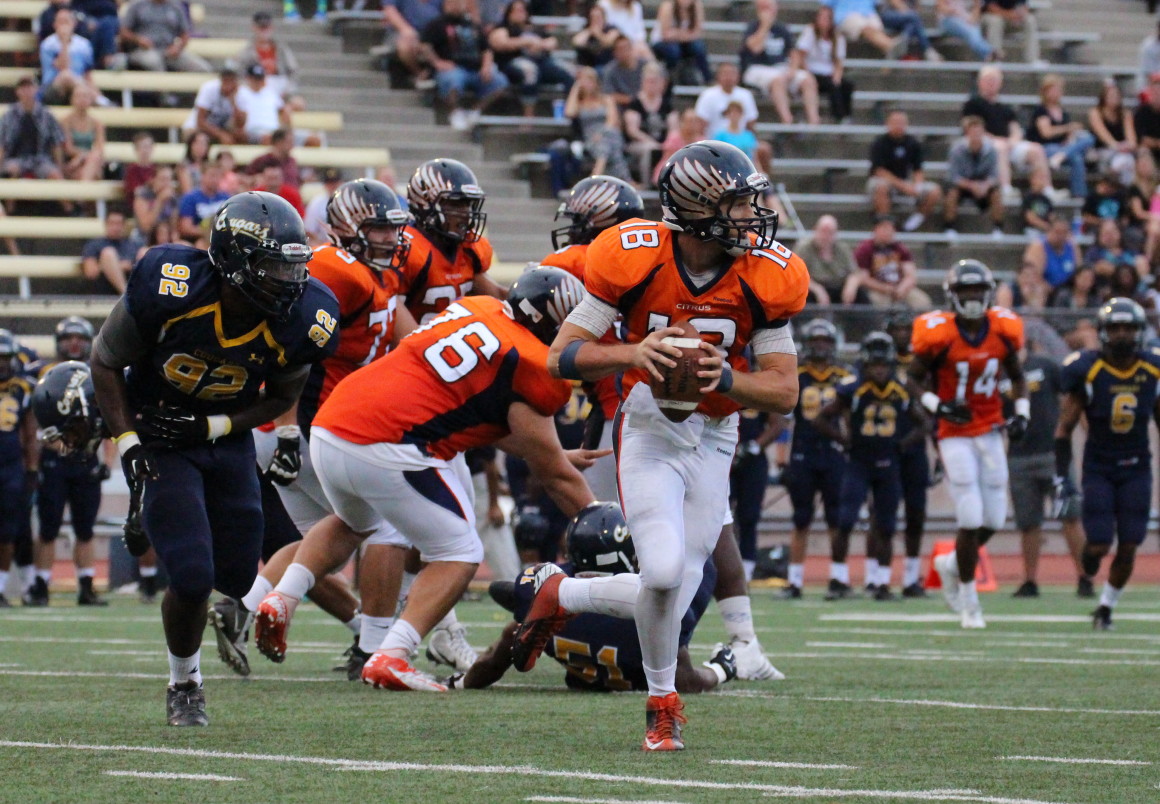 ---
The Citrus College Fighting Owls fell short against the Riverside City College Tigers in their season finale, 45-24 at Citrus College Saturday on Saturday, Nov. 14.
The Owls put up a fight before the Tigers were able to pull away in the second half.
With Citrus looking to play the role of spoiler of Riverside's postseason hopes, the Tigers were able to hold off the Fighting Owls.
"They've just done a terrific job and we're going on fumes right now, we're so banged up," Riverside head coach Tom Craft said.
Citrus has known all too well about injuries themselves this season.
"Well, I think they're pretty resilient to say the least," Citrus head coach Ron Ponciano said. "We lost seven kids before the season started, before our first game. Seven starters. And since then, we've lost sixteen, which brings the total to 23 starters."
Despite the injuries, Ponciano was encouraged with his team.
"It's amazing these kids compete, I'm really proud of them," Ponciano said. "They're good kids. Really proud of them."
The Riverside City College Tigers got the scoring going a couple of minutes into the game when sophomore quarterback Ian Fieber found his 6'3″ target sophomore wide receiver Alonge Brooks for a 25-yard touchdown pass.
Before the score, the two previously connected on a 31-yard pass to put Riverside deep into Citrus' territory.
On the next drive, a 44-yard touchdown from Fieber to Brooks was negated due to an offensive holding. The Tigers' persistance would eventually pay off when Brooks hauled in a 4-yard pass from Fieber, each giving themselves their second touchdowns of the day.
The only thing that seemed to not got Riverside's way in the early going was making extra points. Freshman kicker Julian Castro would miss his first three point-after tries.
After trailing 12-0 early, Citrus would get back into the game with a 27-yard field goal from freshman kicker Luis Vasquez, followed by a 13-yard strike for a touchdown from freshman quarterback Brian Meyette to sophomore wide receiver Britton Noskoff.
The touchdown was set up by a 76-yard pass play from Meyette to freshman wide receiver Andre Long from the Citrus 3-yard-line.
The Tigers would respond with a 9-yard touchdown pass from Fieber to freshman wide receiver Dominique Maiden and a 5-yard rushing touchdown from freshman running back Seth Acda, giving Riverside a 25-10 lead.
The Fighting Owls had an answer right before the half though, with a beautifully thrown 74-yard pass from Meyette to sophomore wide receiver Brayton Newton for a touchdown to cut the deficit to 25-17 at the half.
"Man, we've always been able to put up a fight," Citrus sophomore defensive lineman Brandon Hayashi said, who had 3 solo tackles and 5 assisted tackles. "I mean, I love these guys to death. Last year I thought it was cool, but this year I've never finished a season with this amount of guys that love the game so much. I mean, it's just so much passion for the game in these guys."
The second half was was all Riverside, as the Tigers would outscore the Owls 13-0 before both teams would trade late touchdowns in the final two minutes.
"You know, we just came together as a team," Tigers' receiver Maiden said, who finished with 3 catches for 35 yards and one touchdown. "We really started listening to coach, you know, doing what he told us to do. And we just played a great game in the second half."
Although Citrus was up against a team headed for the postseason, the Fighting Owls did not pay too much attention to records, once on the field against the Tigers (8-2, 5-1).
"I feel like it was a good game," Citrus freshman defensive lineman David Jimenez said, who tallied one solo tackle, 4 assisted tackles and 0.5 sacks. "I mean, coming in 2-7, not many people thought we would put up the fight we did. We came in and gave them a fight, we gave 'em everything we had until then."
Meyette would finish 20-32 for 372 yards with 3 touchdowns and no interceptions. Newton had 7 receptions for 180 yards and one touchdown. On the defensive side for Citrus, freshman defensive back Antonio Sparrow would finish with 5 solo tackles, one assisted tackle and one forced fumble.
"These coaches are just, they're everything you can ask for from coaches," Hayashi said. "We've been through some stuff this year. A lot of injuries, but this group right here probably is one of the groups that I believe can get somewhere next year."
Citrus finished the season at 2-8, 1-5 in conference play.
---
---