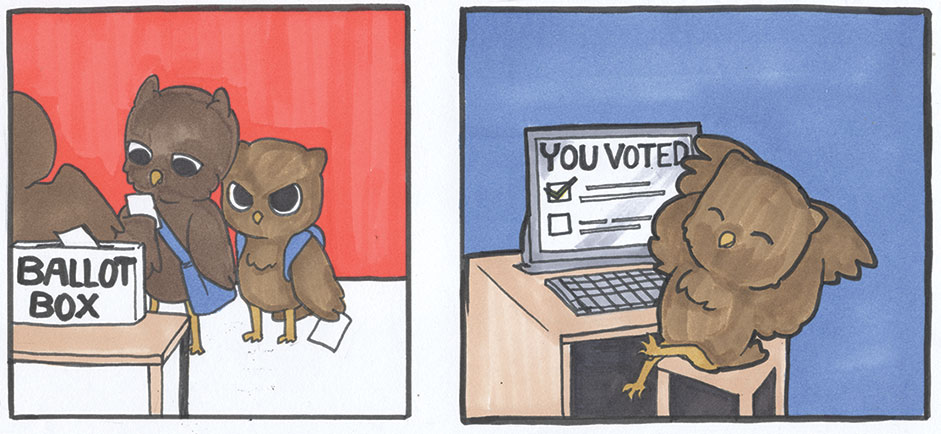 ---
In order to register for classes, review past semester expenses, communicate with professors and check on financial aide information most students' use an online portal.
Citrus College students use portals such as Blackboard or WingSpan to handle personal information linked to their I.D. numbers and passwords.
What is not available is the ability to vote electronically for the Associated Students of Citrus College executive board on either student portal.
According to chief information services officer, Linda Welz, updates to WingSpan are made at the request of functional areas that use the portal, while Blackboard is hosted off-site and managed by the Distance Education office.
Technology and Computer Services, Distance Education, Student Services and Student Life need to arrange for an update to either platform to allow for online voting.
ASCC elections are held in the student center over the process of two days for at least 11 hours.
Student life supervisor, Adrienne Thompson, said out of 12,863 students in the spring 2015 semester, only 151 voted.
This means only 1.17 percent of Citrus students participated.
Outside voting programs such as Votenet have quoted Citrus $5,000 for a year's worth of services in the past, according to Thompson.
Using the Banner system that Citrus already has in place would not be as costly an option.
Voting results would be significantly easier to collect with the use of an online platform and voter turn out would increase with the accessibility of e-voting from a computer or cell phone.
Other groups on campus, like the Faculty Learning Institute or the Citrus College Faculty Association, already use online voting for their elections.
Community colleges such as Mt. San Antonio College use their online portal to vote for their associated student body government.
According to student life coordinator, Edwin Romero, Mt.SAC has been using online voting for approximately eight years.
Although Mt. SAC was originally paying an outside company, Romero arrived and set up online voting through the school's Banner system instead.
Romero said by providing the ballot as a survey, it ensured students had paid student fees and that they only had one vote.
This method produced a "huge bump" in voter turnout.
WingSpan as the voting platform would be the most ideal because it is already used to access students' personal information.
If active attempts are not at least made to test run online voting on Blackboard, WingSpan should be considered instead.
ASCC executive board spring 2016 elections take place on Dec. 2 and 3 from 9:30 a.m. to 8 p.m. and will be using the standard ballot process.
---
---