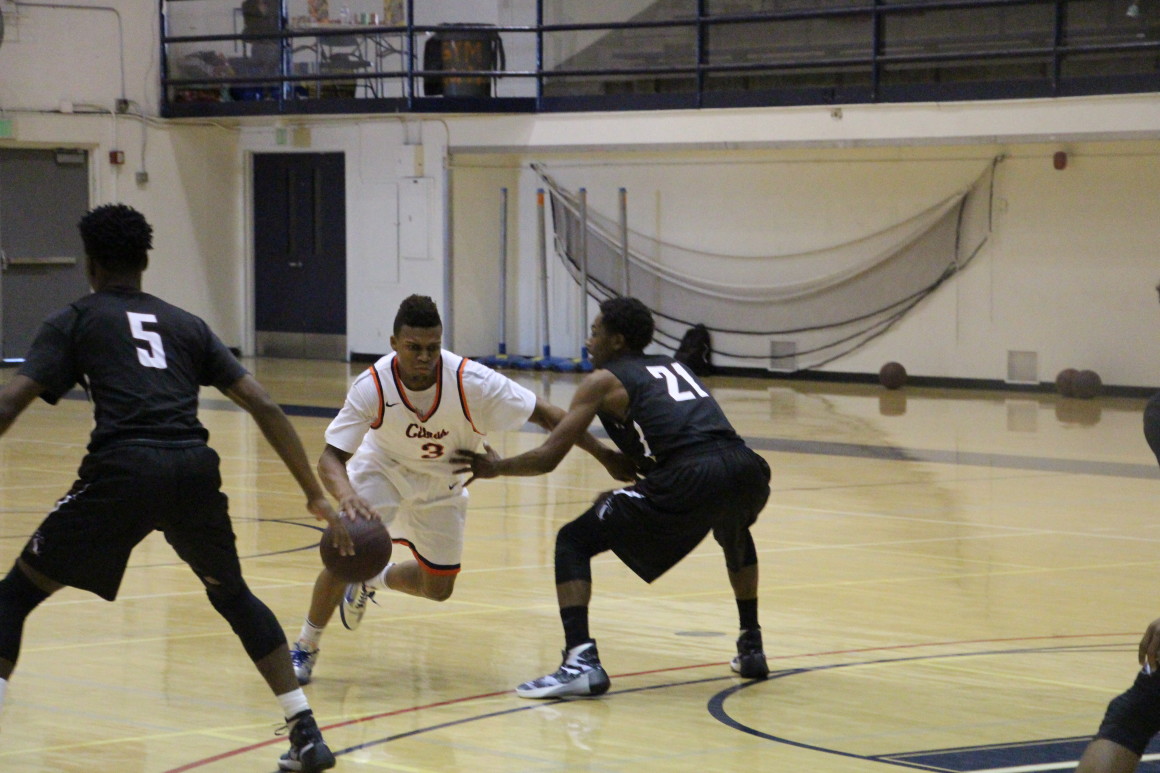 ---
The Citrus College Fighting Owls defeated the El Camino College-Compton Center Tartars 88-83 in overtime on Saturday, Nov. 28 at Citrus College.
El Camino-Compton Center sent the game into overtime with a three-pointer with three seconds left in regulation.
Compton's sophomore forward Marquise Harris, who scored a game-high 29 points and grabbed 10 rebounds, hit a three-pointer early into the overtime period, giving Compton their first lead since late in the first half.
But Citrus sophomore guard Jordan McNellys, who finished with 18 points, answered with a couple of baskets to give Citrus back the lead; a lead they would hold on to for the victory.
"We just fit together as a team today and that was it," Citrus sophomore guard Mark Williams said.
El Camino-Compton Center was in control for most of the first half, holding on to a 31-25 lead with 6:30 to go. The Tartars were led in the early going by freshmen Michael Chavers and Calvin House, each contributing 8 points to build the early lead.
The Fighting Owls responded with a 15-6 run to give themselves a 40-37 lead to close the half.
"We tried everything," Citrus head coach Patrick Johnson said. "Battling the whole day, just trying to find something that works."
Citrus came out aggressive to start the second half, building a 15 point lead at one point, but El Camino-Compton Center cut the lead to 59-54 with 6:17 to go.
With El Camino-Compton Center inching closer to Citrus, McNellys hit one of his four three-pointers made for the game to give Citrus a six-point lead with 4:20 left in regulation.
Each team had an answer after big plays and Citrus held a 64-60 lead with 3:30 to go. After a basket and foul for Citrus, El Camino-Compton Center responded with a couple baskets on the other side.
With 43 seconds left in the game, El Camino-Compton Center was finally able tie Citrus at 69-69. After Citrus was able to hit pair of free throws and Compton missed a pair on the other side, Compton had to resort to intentional fouling.
A missed free throw by Citrus left the door open for El Camino-Compton Center, however, for the late-game heroics of the three-pointer that sent the game into overtime.
In the end, the game had a total of 7 ties and 6 lead changes.
All five Citrus starters finished in double figures. Along with Williams and McNellys, sophomore forward Ryan Wiley stuffed the stat sheet with a line of 11 points, 12 rebounds, 5 assists, 3 steals and a block.
Citrus freshman guard Kenneth Cyprian finished with 15 points, 10 rebounds, 4 assists and 5 steals before fouling out in overtime.
Sophomore guard Caleb Richey contributed with 15 points, 4 rebounds and 4 assists and was aggressive for Citrus getting to the free throw line, converting 9-15 at the charity stripe.
"The guys were gutsy to pull it off," Johnson said.
Citrus outrebounded El Camino-Compton Center 62-48 and had a 20-8 advantage in assists. El Camino-Compton Center stayed in the game by converting Citrus turnovers into 33 points.
Chavers flirted with a triple-double, scoring 20 points, 7 rebounds and 7 steals for El Camino-Compton Center and House contributed with 12 points and 7 rebounds before fouling out.
The Neil Edwards Classic continued on Sunday, Nov. 29 when Citrus College (5-3) hosted San Diego City College (6-3) at Citrus College.
The two teams had already met twice in the early going of the season. San Diego defeated Citrus 80-65 on Nov. 4 and Citrus defeated San Diego 87-81 on Nov. 15 in the third place game at the Knight's Invitational, which was played at San Diego City College.
---
---