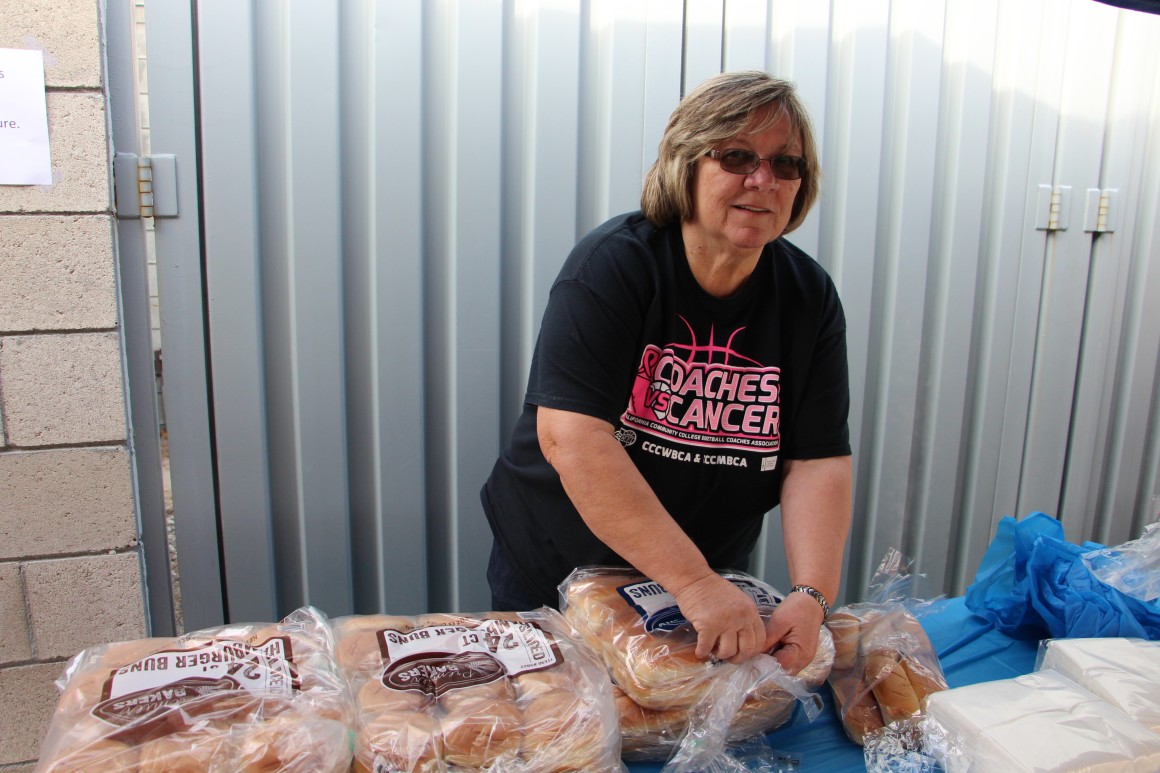 ---
Jody Wise, Dean of Kinesiology and Athletics, serves hot dogs and hamburgers at the 9th annual Scholar Baller night. This event helped raise awareness for the Coaches vs. Cancer fundraiser happening now until the January 29. (Brianna Sewell/Clarion)
The Citrus College Athletics Department celebrated its 2015-2016 Scholar Baller class and began their Coaches vs. Cancer fundraiser on January 23.
Coaches vs. Cancer is a program started by the American Cancer Society and the National Association of Basketball Coaches that has helped coaches raise almost $100 million for the fight against cancer. The basketball games and the free hot dog or burger meals helped raise awareness. Donations were accepted at the door during the games that night and will be accepted in the Main Athletics Office (PE 112) until Friday January 29 2016. Between the women and men's games was a ceremony honoring the scholar ballers.
"We started with Scholar Ballers about eight years ago as a way of honoring the student athletes who receive a GPA of 3.0 or higher," said Cliff Wurst, Assistant Director of Athletics. "We've seen progressive growth in the amount of scholar ballers every year."
During the 2014-2015 academic and athletic year, the Citrus College Athletic Department recognized 114 Scholar Ballers, Saturday's ceremony honored a new record of 125 student athletes.
The Scholar Ballers event brought people on campus that found out about Coaches vs. Cancer and wanted to donate.
"We want to donate to Coaches vs. Cancer because it is such a worthy cause," said Mary Brawner, Assistant Director of Athletics.
"We get more people who wanted to donate on Scholar Baller night so we combined celebrating the student athletes and the fundraiser."
---
---