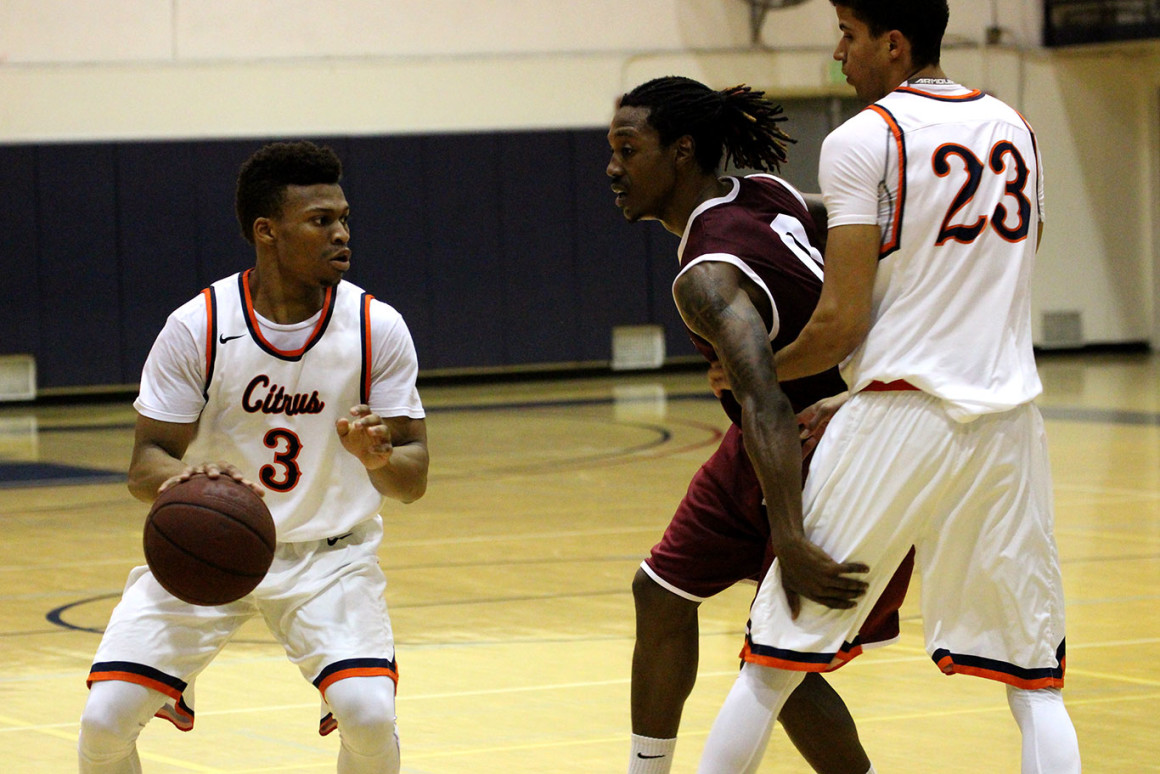 ---
Citrus forward Ryan Wiley (#23) blocks Vaquero guard Jeri Mask (#0) to help teammate Caleb Richey (#3) in a game against the Glendale Community College Vaqueros. The Owls won the game 89-71. (Evan Solano/Clarion)
Citrus College defeated Glendale Community College 89-71 with Citrus guard Mark Williams leading all scorers with 30 points, 7 rebounds, and 2 assists, Cole Currie contributed 19 points for Glendale.
It was a tight start for both teams as the game went on, with Williams making an early impact for Citrus, dropping 8 points early in the first to put up his team 18-16 by the 9-minute mark. Williams, who is averaging 14.2 ppg on the season, made his presence known throughout the game, as he converted off multiple assists from teammate Caleb Richey, who poured in 21 points for Citrus, behind Williams.
Glendale kept it close at the start of the game up until the half-point mark, however could not keep pace with Citrus, who pulled away in the second half with improved rebounding and player contributions from players across the roster like Ryan Wiley, Jordan McNellys, and Kenneth Cyprian.
Caleb Richey acknowledged his strong start, describing what his on-court production was like. "My coaches just let us play, they let me know that I just gotta let it fly, and that's what I did on the court," Richey said.
Similarly, Williams shared that he feels the team is on the right track, after having endured a slow start to the season, the team now finds itself riding a three-game winning streak following tonight's win.
"Honestly right now, I just feel like we're really starting to click, when we play hard, we play together, we're really hard to beat," Williams said. "Once we have that cohesiveness going on, it's really hard to stop."
Head coach Patrick Johnson agrees that the team really kept it at a "good pace," adding that the team feels great going forward, despite the slow start, he thinks that some things have been solved in the second part of the season, and guys "feel great" right now around the team.
Citrus College next faces the West LA Wildcats on January 27th, with tip set for 7 P.M. sharp.
---
---