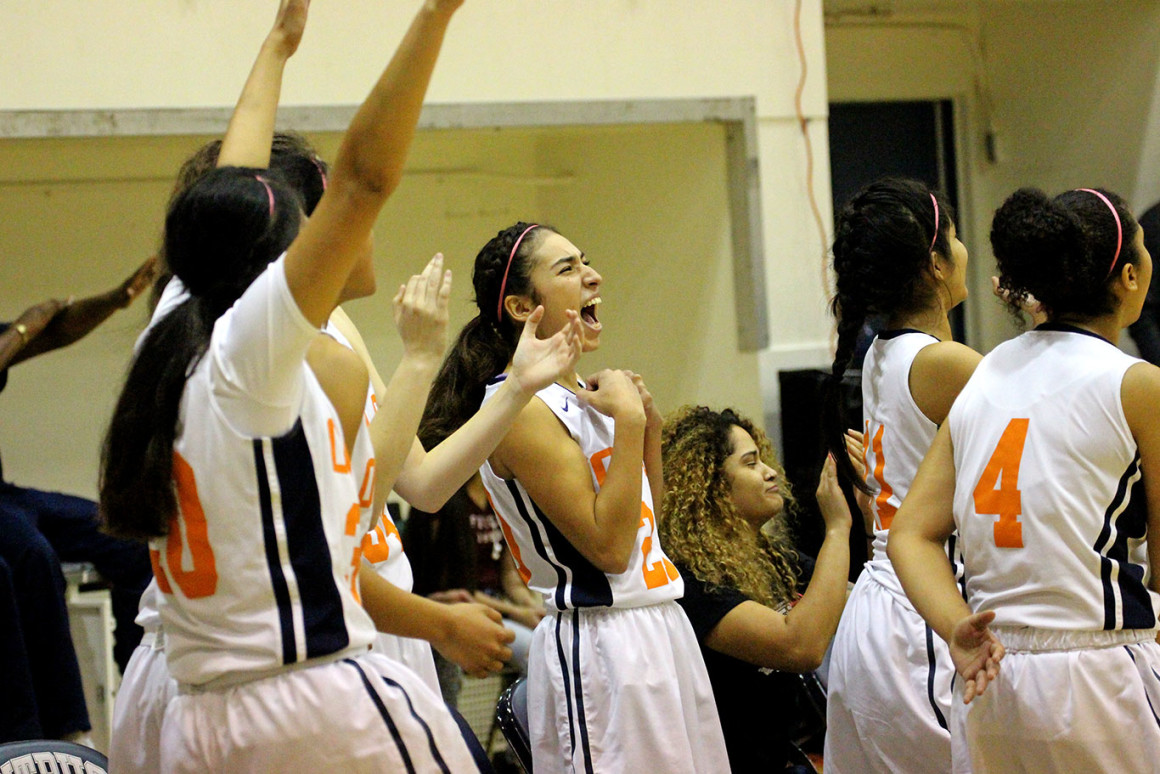 ---
Citrus guard Jessica Rosas, #20 celebrates on the bench as the Citrus College Women's Basketball team defeated the Glendale Vaqueros 97- 47 on Saturday, Jan. 23. (Evan Solano/Clarion)
The Citrus College Women's Basketball team (11-8, 4-2) had no mercy for the visiting Glendale Community College Vaqueros (3-16, 0-6) in a 92-47 rout. The Owls were looking to turn things around following back-to-back close losses against Canyons and LA Valley heading into Saturday's afternoon match up.
From the get go, the Owls came out hot, hitting four first quarter three-pointers and found themselves up 13 at the end of the quarter. The Vaqueros had no answer for the Owls offense in the first half, who struggled themselves from the field, shooting only 21 percent versus 50 percent for the Owls.
Citrus College dominated the second quarter with stingy defense and hot shooting from the field and headed into halftime leading comfortably 56-23.
Sophomore G Tiffany Villaruz's outstanding first half of 11 points, five assists and four total rebounds helped stretch the Owls lead. She lent her performance to "confidence and simply going to out there and playing," as she finished the game with a team tying high of 13 points, with nine assists, shooting a perfect 3-3 behind the arc.
The Glendale Vaqueros entered the second half with no answer giving up 13 straight points to open the quarter. By the end of the third, the Vaqueros found themselves down 47 points. Freshman Guard Luna Panosian finished with a game-high 19 points and seven total rebounds in 32 minutes played.
The Vaqueros managed to outscore the Owls in the fourth quarter but not before the game had long been decided.
Owls head coach Loree Moore saw her team score a conference play high of 92 points following losses of 75 and 59.
"They came ready to play," said Moore. "Everybody played well and played together," she said, referring to the 53 bench points scored by her team in today's effort against the Vaqueros' eight.
Directly after the game, the Citrus College athletics department acknowledged a record 125 student-athletes who maintain a 3.0 GPA. A proud Coach Moore coaches 10 players herself and says pushing them toward being Scholar Ballers is something she looks forward to doing.
The Owls host West LA (6-13, 2-4) on Wednesday at 5 p.m.
---
---