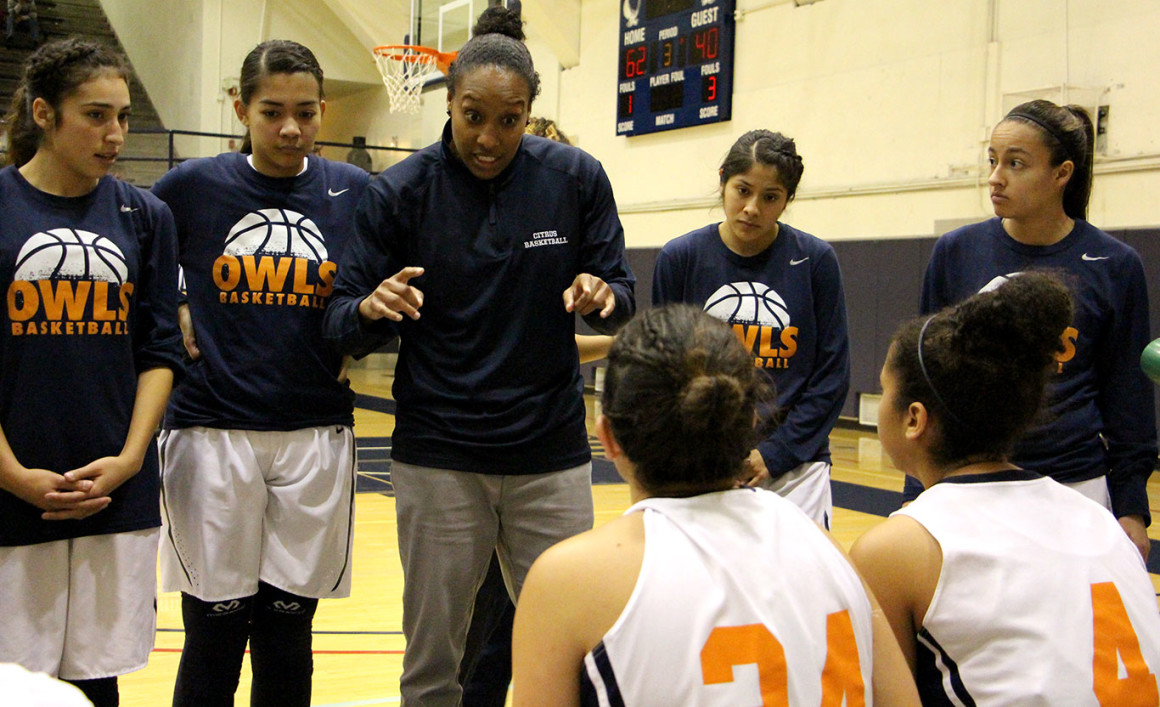 ---
Citrus Women's Basketball head coach Loree Moore talks to Citrus guard Natalie Gutierrez during a timeout against the West L.A. Wildcats. The Owls defeated the Wildcats 88-72. (Evan Solano/Clarion)
Coming off their of their blowout victory over the Glendale Vaqueros last Saturday, the Citrus College Women's Basketball (12-8, 5-2) team defeated the West L.A. Wildcats (6-14, 2-5) 88-72 on Wednesday nights match up.
Citrus came out strong in the first quarter scoring 27 points to West L.A.'s 18. Freshman forward Marisol Chavez-Delgado kicked things off for the Owls, making a layup 20 seconds into the first quarter.
Citrus guard Janae Chamois, who played 34 minutes, led the teams scoring with 21 points while Sophomore guard Natalie Gutierrez garnered 15 of the Owls points.
Citrus guard Tiffany Villaruz made an impressive half-court with 48 seconds left in the first quarter.
The Owls dominated the first two quarters of the game shooting 40.7 percent while the Wilcats barely trailed behind with 39 percent shooting. Although the Wildcats slumped with 11 total points int he 3rd quarter. The team soon found a burt of energy in the fourth and out scored Citrus.
"After we started pressing a little we started playing better," said West L.A. head coach Colleen Matsuhara.
Although West L.A. out scored the Owls in the 4th 23 to 12, it was not enough to dig them out of the 17 point deficit the Wildcats found themselves in.
"Our focal point is to keep carrying on keep it together," said head coach Loree Moore, who recently took over coaching duties for the Owls this season.
"We played good solid defense when we needed to," she elaborated.
The Owls head to Bakersfield City College this Saturday to take on the Renegades and will be playing Antelope Valley at home on Feb. 3.
"I'm excited to see how we carry over into the second half of the season and keep the momentum going." Moore said.
---
---