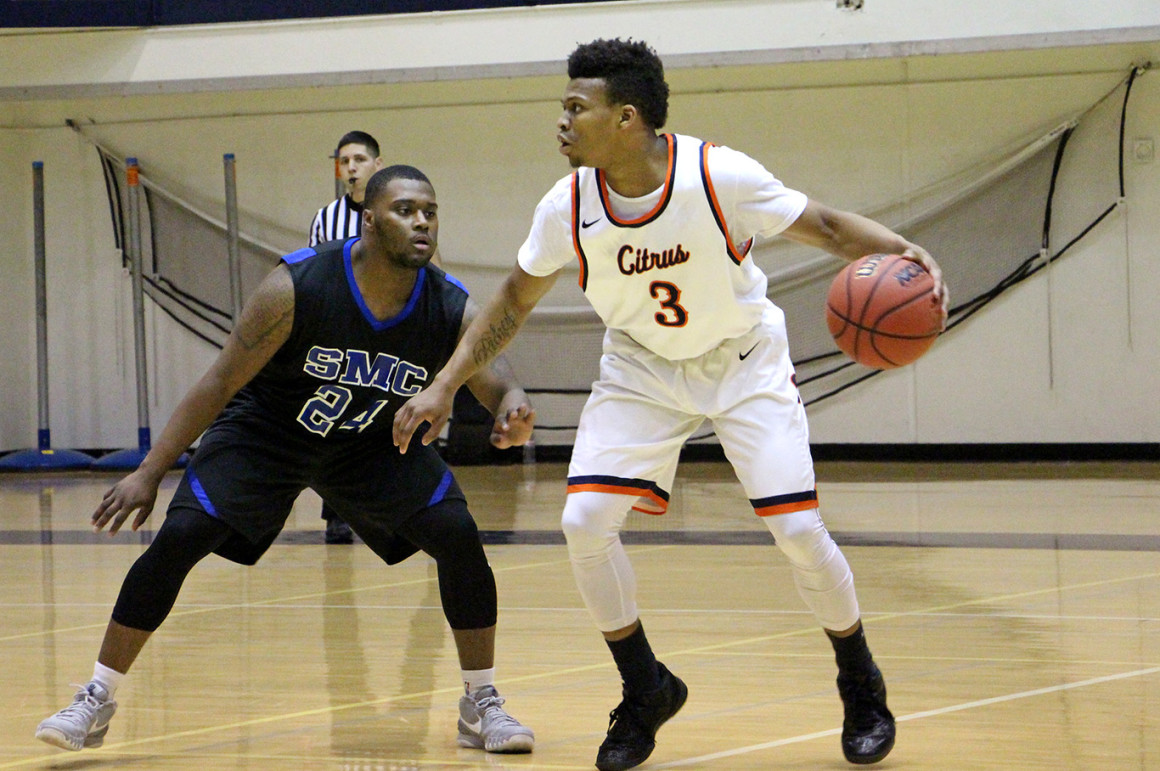 ---
Owls guard Caleb Richey makes a play against Santa Monica City College player Jordan Starling in a game on Feb. 6. The Owls defeated the Corsairs 87-59. (John Michaelides/Clarion)
The Citrus College men's basketball team ran away with an 87-59 victory over Santa Monica College on Saturday, Feb. 6 at Citrus College.
Led by five players scoring in double figures, Citrus was able to take the lead for good midway through the first half and never look back.
Citrus had success the entire game in transition, outscoring Santa Monica 25-6 in fastbreak points.
Santa Monica could not keep up with Citrus, as they saw Citrus shoot 50 percent to their 38 percent.
Pushing the ball and getting high percentage looks helped Citrus pull away midway through the first half, to give them a 48-29 lead at the break.
"We didn't come out hard on Citrus this time," Santa Monica freshman guard Isiah Ajiboye said.
Mark Williams, Citrus sophomore guard, had another outstanding game, leading the team with 18 points and collecting 12 rebounds.
Freshman guard Kenneth Cyprian provided Citrus with 15 points and five assists, as Citrus dished out 25 assists as a team to Santa Monica's 10.
"We just came out with a lot of focus and energy," Citrus head coach Patrick Johnson said. "We were fortunate things broke right for us, and we kept it on them."
Santa Monica sophomore guard/forward Nicholas Smiley had a double-double in the loss with 11 points, 10 rebounds and four steals.
The loss drops Santa Monica to 17-6 on the season, including 6-4 in conference play.
Citrus improves to 11-12 on the season, with a 5-5 record in conference play.
"If we play hard, good things will happen and we were able to sustain that for forty minutes," Johnson said.
The Citrus men's team will go out on the road to face College of the Canyons (5-17, 0-10) on Wednesday, Feb. 10 at 7 p.m.
---
---