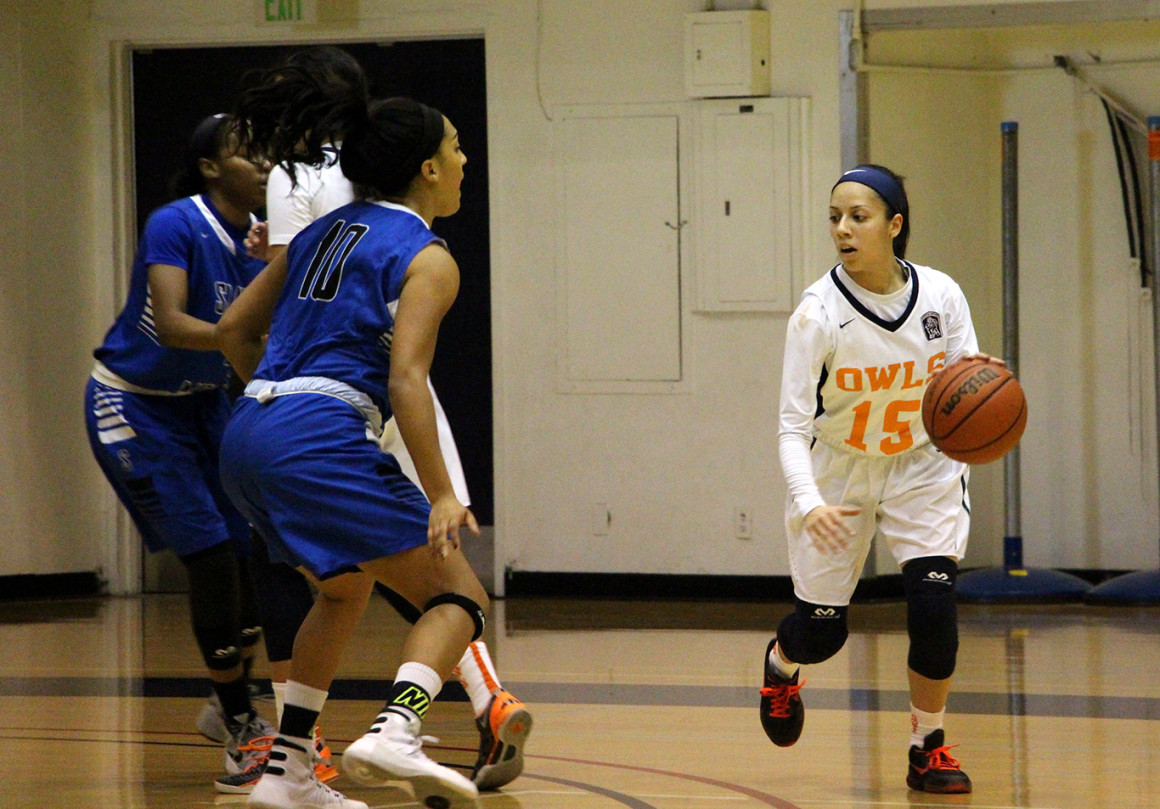 ---
Citrus sophomore guard Elsie Mejia in a game against the Santa Monica College Corsairs on Feb. 6. The Owls defeated the Corsairs 77-73. (John Michaelides/Clarion)
The Citrus College women's basketball team defeated Santa Monica College 77-73 in a hard fought game on Saturday, Feb. 6 at Citrus College.
In a game that featured 11 lead changes and seven ties, Citrus was finally able to hold off Santa Monica in the final minutes of the game.
Citrus freshman guard Joy Adlao provided a huge spark off the bench, as she poured in 22 points, finding her touch from long range. Adlao also contributed with five rebounds and five assists.
In the early going of the first quarter, it seemed like Santa Monica was on the verge of pulling away by applying backcourt pressure against Citrus to get them out of their comfort zone.
Santa Monica had a 24-13 lead at the end of the first quarter, only to see Citrus outscore them 23-10 in the second quarter, giving Citrus a 36-34 lead at the half.
"It was a grind for us, where shots weren't falling for us offensively," Citrus head coach Loree Moore said. "We had to get stops defensively."
Citrus was able to outrebound Santa Monica 56-40 with help from freshman forward Marisol Chavez-Delgado, who grabbed 13 rebounds to go along with her 14 points.
Santa Monica had strong games from freshman forward Katya Echavez, who had a game-high 26 points, and sophomore guard Oshaela Gray, who filled the stat sheet with a 15 point, seven rebound, nine assist and six steal line.
"We didn't execute and make the shots that we needed to make at the end," Santa Monica's freshman forward Keonna Evans said.
Sophomore guard, Janae Chamois, had another strong game for Citrus, scoring 15 points, grabbing eight rebounds and notching seven assists.
Each team had an answer for every big shot and Adlao and Echavez put on a show from downtown, each making six three-pointers for their teams.
"They were motivated, they had a good game plan," Citrus assistant coach Greg Dineen said. "They got us out of a few things we like to do, but we regrouped a couple of times."
The win puts the Citrus women at 15-8, 8-2 in the conference, with a tough test next at College of the Canyons (20-4, 10-0) on Wednesday, Feb. 10 at 5 p.m.
Santa Monica (7-17, 3-7) will continue their road trip, visiting West Los Angeles (7-16, 3-7) on Wednesday, Feb. 10 at 5 p.m.
---
---