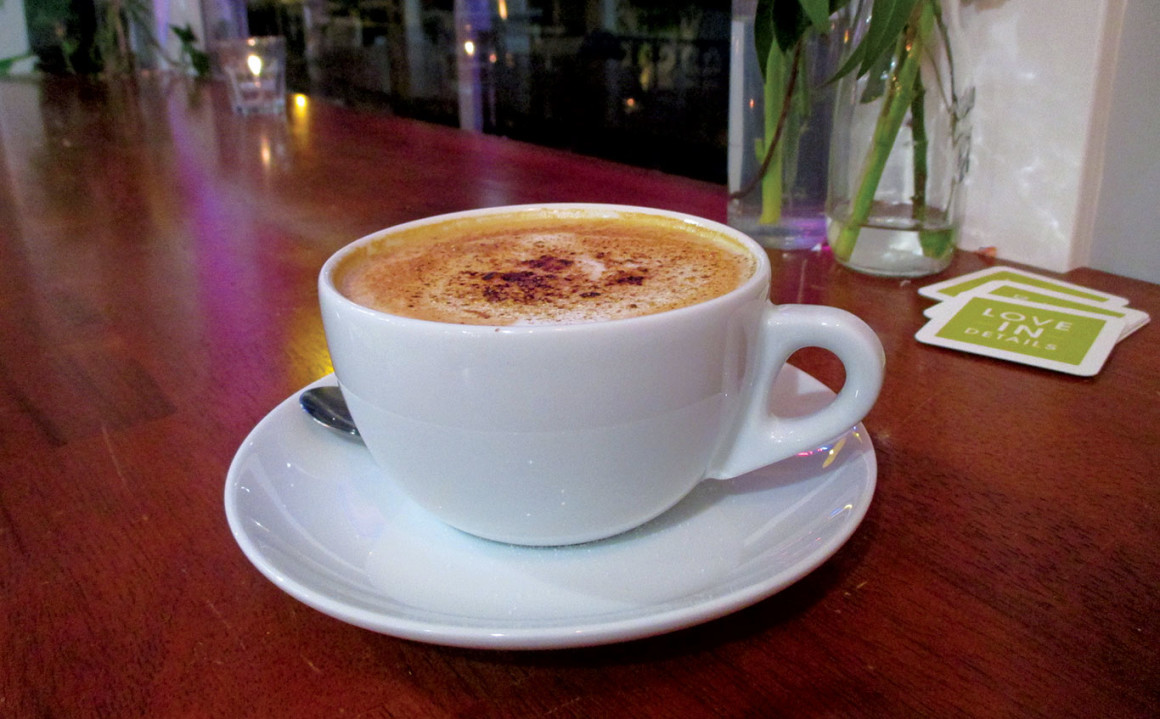 ---
Welcome to the new 2016 Spring semester fellow students. Bipolar weather is rolling in once again and it is that time of year where we must bury our faces on our textbooks.
The city of Azusa has a new addition to our cafe listings besides Starbucks and Thirsteas Fresh Juice and Boba Teas.
This cute cafe is called Mantra Coffee Company. From Citrus College, it takes 5 minutes by car, 18 minutes using Foothill Transit Bus 187 and 35 minutes by foot.
Upon arrival, Mantra does not look like your ordinary cafe. Normally, cafes are built in smaller establishments. I almost missed it because I thought it would be a small coffee shop. Instead they have a large house as their establishment. Passed the gates you will see a water fountain on your right, lots of chairs and tables, a walkway leading to the patio and the front porch to the cafe.
Entering the cafe feels very much at home, literally. The menu is located on the left side as you enter what feels like a living room and there are comfortable chairs and a couch to sit on located on the right. In the far left of the house there are more chairs and tables available for customers to do homework, browse the internet or just have some coffee time with friends.
The patio area also has tables and chairs for those who favor the outdoors and fresh air. They have two heat lamps available outside for your convenience.
On their menu, they offer standard espresso drinks like Lattes, Mochas, Cappuccinos and Vietnamese Coffee. One of their popular drinks is the Creme Brûlée latte. It is served hot like a creme brûlée with sprinkled sugar on the top of the drink , torched to caramelize the sugar. They also offer coffee from Chromatic Coffee Company. They serve pour overs, cold brews, french press and bottomless drip coffees.
Not a coffee lover? They offer teas, hot chocolate, chair, affogato and Ice cream floats. There's no reason for you to not try this place out.
Other than drinks they also sell small pastries such as croissants, biscotti, french macarons and cheesecake. The night I visited, I tried the quite amazing nutella cheesecake. It is served in a cylinder form instead of the usual pie slice. The pastry window does not look like much but they do have them stocked up in the back, so don't worry if your favorite cheesecake is not on display.
I feel I must warn you about parking and busy hours. Since the cafe is located on the main street where busy cars drive by, it is difficult to find a spot in front of the cafe.
They do have a back parking lot but you have to find and drive through an alley to get there. Besides these two parking options, there is another parking lot across the street from Mantra, so be careful of oncoming traffic when crossing.
Mantra gets busy at random times, but almost always around 3 p.m. and after when students are out of school.
As I scoped out the shop, I visited their website and researched more about Mantra Coffee Company. They have a tab titled 51% Policy describing the goal of Mantra to give back. "Here at Mantra, we give away 51% of our profits to charities that benefit and support our local community," stated at the Mantra website. Every time you visit Mantra Coffee and get a drink of joe, you also help Mantra contribute to help charities.
Mantra Coffee Company is located on 615 N. San Gabriel Avenue, Azusa, 91702. They are open everyday from 6 a.m. to 1 a.m. for those night-owls to come by for a late night study session.
---
---