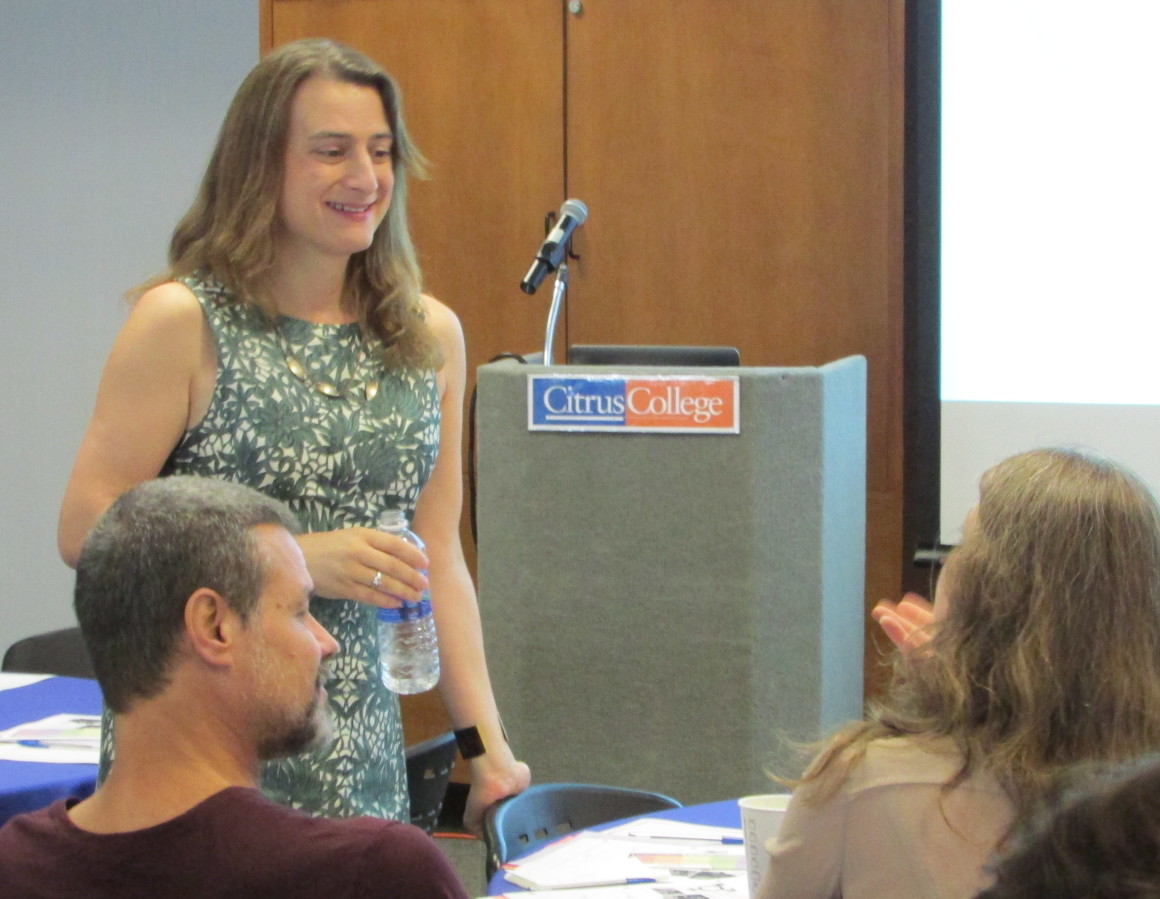 ---
Faculty and staff members of citrus college attended a Trans* 101 Talk and Lunch on Feb. 19 to better understand and support their transgender students.
The Trans* 101 Talk and Lunch was presented by Professor Nancy S. B. Williams from the Keck Science Department of Claremont McKenna, Pitzer and Scripps colleges.
"The point of this is so you can better support your students" Williams said.
Williams shared her own experiences as a member of the transgender community and knowledge of chemistry to help faculty and staff of Citrus understand transgender and LBGT* related issues.
Images of chemical compounds illustrated the meaning of transgender and cisgender in a metaphoric way, but Williams also discussed the "brain sex" or biochemical gender inside someone's brain that may not match their reproductive organs.
In addition to terminology and classifications Williams discussed academic related topics such as the inclusion of transgender students in title IX and the CA Gender Nondiscrimination Act.
'Do's and Dont's' for supporting transgender individuals and the need to create a safe environment for them was a crucial part of the seminar.
"I've been to more than one-too-many vigils," Williams said.
When a professor sought advice on proper pronoun use, Williams suggested using gender-neutral pronouns, such as they/them, until the person's preferred pronouns are discussed.
Williams pointed out that it could be a dangerous situation for a teacher to "out" a student that may not be ready.
It would also be inappropriate to assign a transgender student to represent the whole of the transgender community to the classroom.
Multiple times during the talk, Williams presented interactive exercises to engage the audience in discussion.
Faculty and staff sat together in groups and discussed types of discrimination, stereotypes, hetero-normality, how to improve Citrus College's roll sheets to include students' preferred names and other situations that may effect transgender students.
Williams advised for professors to always assume there is a transgender person in the room, if you would not say it directly to a transgender person, don't say it at all.
If you make a mistake saying their pronoun, "apologize and move on" Williams said.
"I didn't know people like me existed," Williams, who is also transgender said. "Which is why transgender issues are important to talk about and included in everyday life on campus."
"More knowledge and experience will make us better at it" said Biology Professor Nora Sullivan.
There will be Safe Zone training for new faculty and staff on March 24 or April 29 in the Faculty lounge and student training is scheduled for the first week of April.
---
---