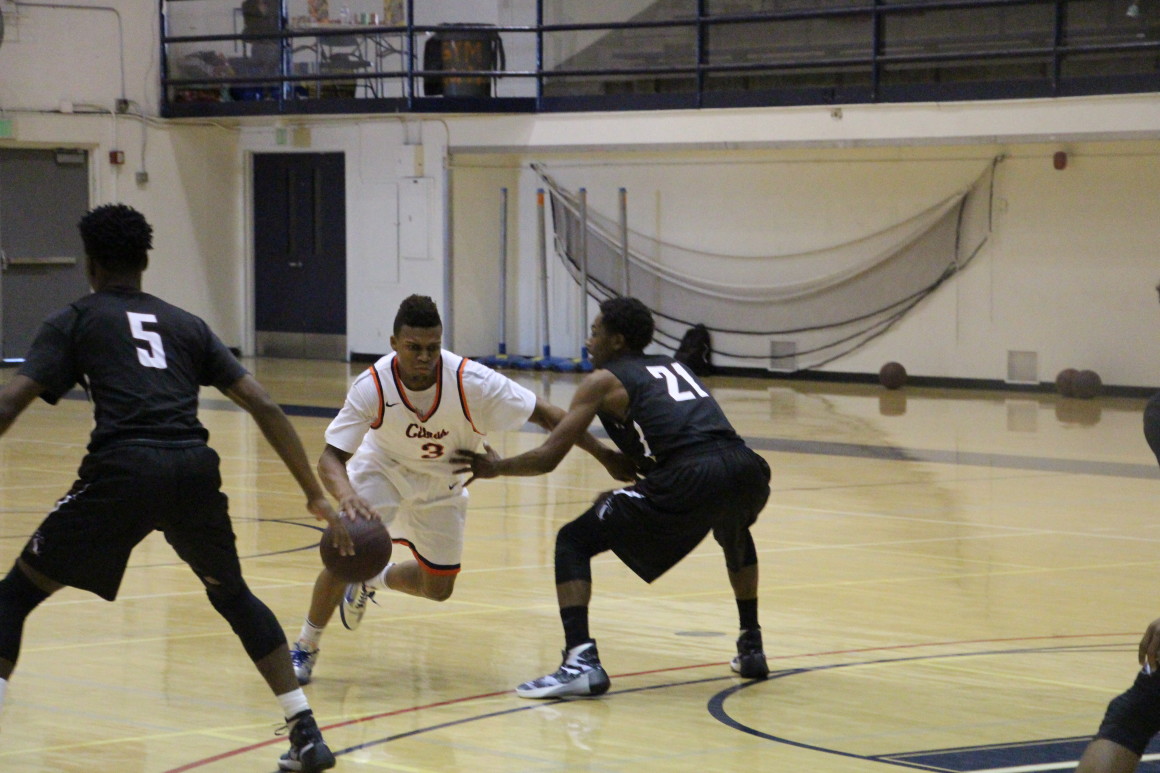 ---
The Citrus College men's basketball team fought hard the past month to ensure that they would get to participate in their tenth consecutive playoffs. The Owls wanted to make a presence and after taking down the 15 and two seeds on the road, there was a target on their backs.
With an Elite Eight appearance on the line, #7 Antelope Valley College outlasted #18 Citrus College 96-86 in a game that featured several lead changes in the second half on Wednesday night at Antelope Valley College.
Antelope Valley jumped ahead early, but Citrus was able to take the lead and a three-point shot by freshman guard Kenneth Cyprian gave Citrus a 49-43 halftime lead. Cyprian scored 19 points, including five three-pointers.
The Owls carried their momentum into the second half and a basket by sophomore guard Mark Williams extended Citrus' lead to 60-51 with 15 minutes to go. Williams finished with 23 points on 11-20 shooting, seven rebounds and five assists in his Citrus finale.
Antelope Valley responded with a 9-0 run to take a 68-66 lead midway through the half and the two teams traded leads over the next five minutes.
With Citrus down three, Cyprian hit another three-pointer to knot the game up at 83 with 4:20 to play. But Antelope Valley came out of a timeout and ran off a 9-0 lead that put the home side up for good.
Five players scored in double figures for Antelope Valley, led by sophomore forward Nevell Lenard, who finished with 16 points on 8-10 shooting and six rebounds.
Antelope Valley shot an efficient 61 percent for the game, while the Owls shot a respectable 49 percent. Citrus' bench was outscored 45-11.
The Citrus College Fighting Owls end their first season under head coach Patrick Johnson with a 16-14 record, including going 8-6 in the conference.
After suffering a six game slide, Citrus went 10-4 the rest of the way, including 2-1 in the playoffs.
Williams led Citrus in scoring this season, averaging 15.8 points per game on 52 percent shooting and 40 percent from the three-point line. Williams also averaged 7.9 rebounds per game.
Cyprian averaged 12.9 points per game and 2.7 three-point makes per game on 42 percent shooting from long range.
Sophomore forward Ryan Wiley averaged 11.3 points per game and a team-high 8.4 rebounds per game.
Jordan McNellys, Citrus sophomore guard, averaged 10.7 points per game on 38 percent from the three-point line.
Citrus sophomore guard Caleb Richey averaged 9.6 points per game and had team-highs with 4.2 assists per game and 1.5 steals per game.
---
---