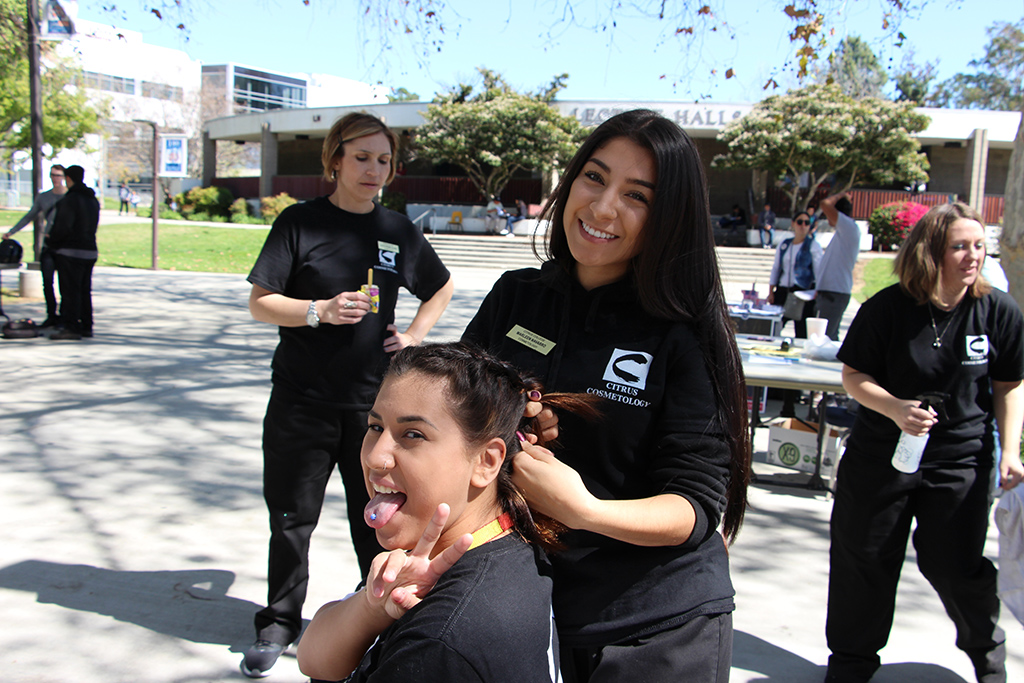 ---
Marleen Navarro shows off her hair braiding skills on Amanda Cabral during Club Rush on March 8 in front of the Cosmetology Club booth. (Brianna Sewell/Clarion)
Club Rush festivities for the Citrus College spring semester brought out the fun in everyone on the Campus Center Mall with decorated booths on March 8 and 9 to advertise and sign up new members.
"A lot of people get excited about clubs which makes me excited about our club," Amanda San Nicolas, treasurer of Alpha Gama Sigma said, "It's nice seeing all the clubs together because sometimes I forget what clubs are on campus and what Citrus has to offer for students so it's really cool seeing them out here and showing a lot of support towards what's important to them."
Both days of Club Rush lasted from 10 a.m. to 3 p.m. and featured at least 14 different booths with club members reaching out to other students to share what their club is about.
"My favorite part of club rush is being together and staying here the whole day," Latinos Unidos Student Association Secretary Anissa Pacheco said.
Pacheco's fellow club member Bianca Enriquez, biology major, agreed.
"Spending time with everyone and your club members is really fun," she said.
A majority of the clubs on campus were represented including Anime Club and Film Club who dressed up as various characters.
Sometimes recruiting members leads to fun tactics like the Swing Dance Club showing off some moves and members of the Psychology Club deciding to break dance to attract attention to their booth too.
Students not able to attend club rush can find information on Citrus' website and check out a meeting if they are interested in joining.
---
---